Bloody ell' I love this space. It's one that even from our first house viewing, I could instantly imagine, and although it's still nowhere near complete (hello non-existent curtains!) I thought it'd be nice to share where we're at with you lovely lot! The idea of having a dressing table has always been something I've loved but not always had space for, so when realising the main bedroom had this little area I was buzzing.
Mostly all of the furniture pieces are older and it was just luck that everything worked so well we didn't have to change much! The desk is West Elm and was actually an office desk in our old at home office. It's the perfect size, not too big or too small and the drawer pulls right the way out to fit all my make-up & skincare needs.  I found that small things like having a stool instead of a chair meant that everything could be tucked away and therefore didn't feel like the dressing area was taking over the whole bedroom space which was really important to me.
We finally decided to hang our full-length mirror, which is another West Elm piece and I'm so happy we did. It makes the area feel so much bigger and clearer. Leaving more space for full-length outfit checking and a little more room in front of the wardrobe which holds all of my long hang pieces!
One of the main things I really wanted to get "right" in our bedroom was the lighting, and when I spotted this Dunelm standing lamp I knew it'd look great stood right in the corner whilst giving us all the cosy evening lighting.
Colour-wise we wanted to keep things simple and in theme with the tones of the room. The print is Habitat and was originally bought for one of the spare bedrooms but we tried it here and loved it, so up it went!
We also stumbled across this rug in Homesense and think it gives just the right pop of colour against the darker grey and blues! Love it!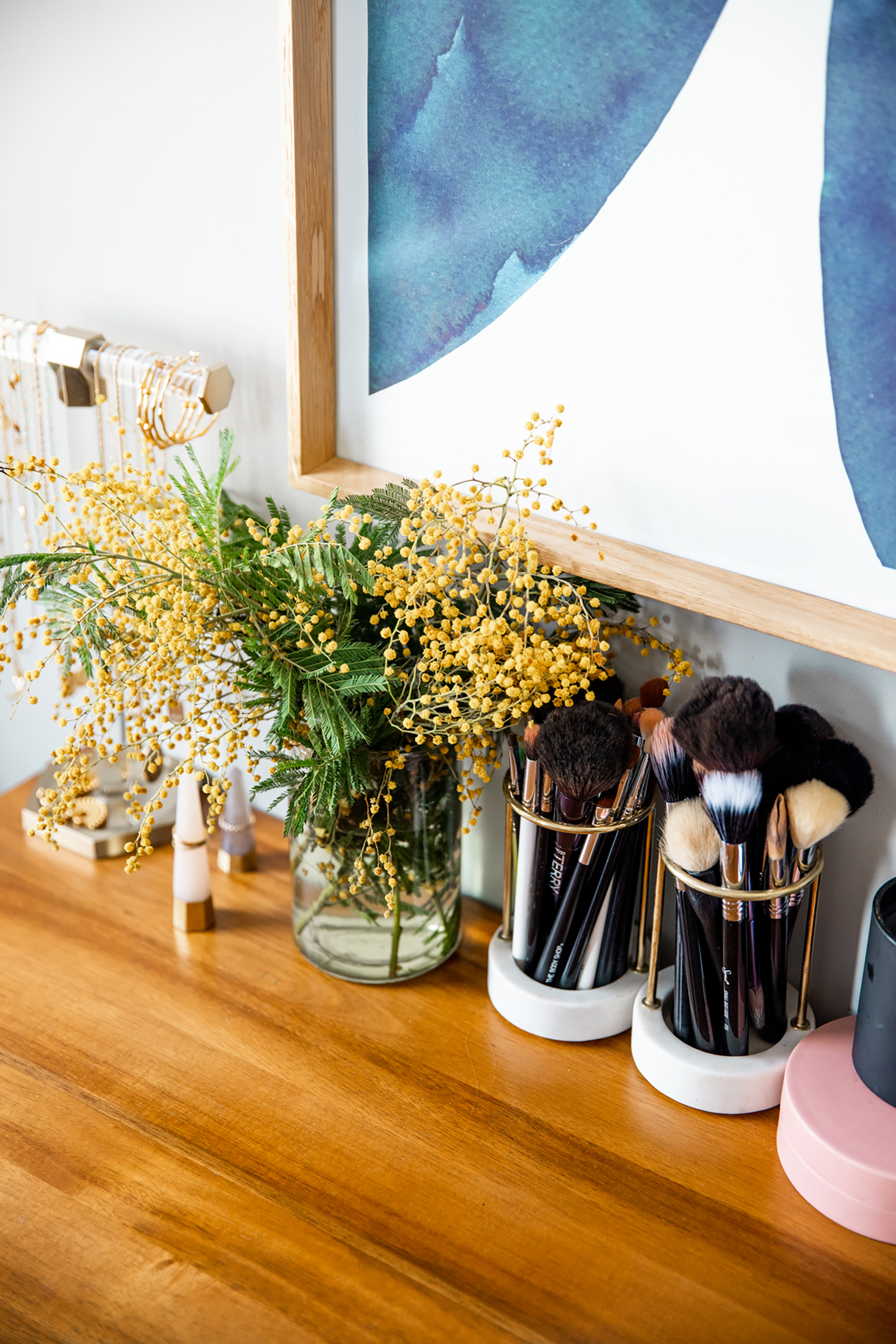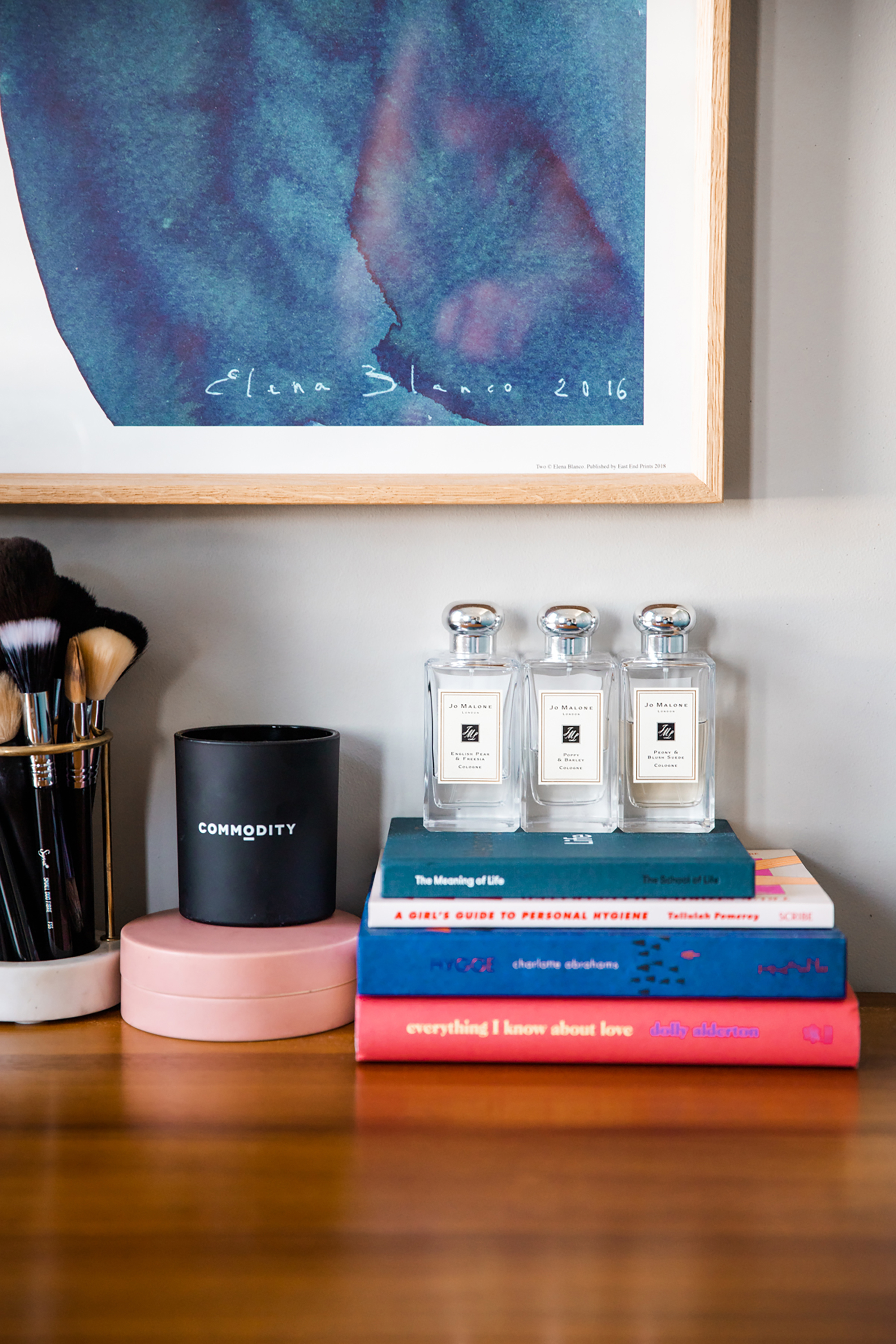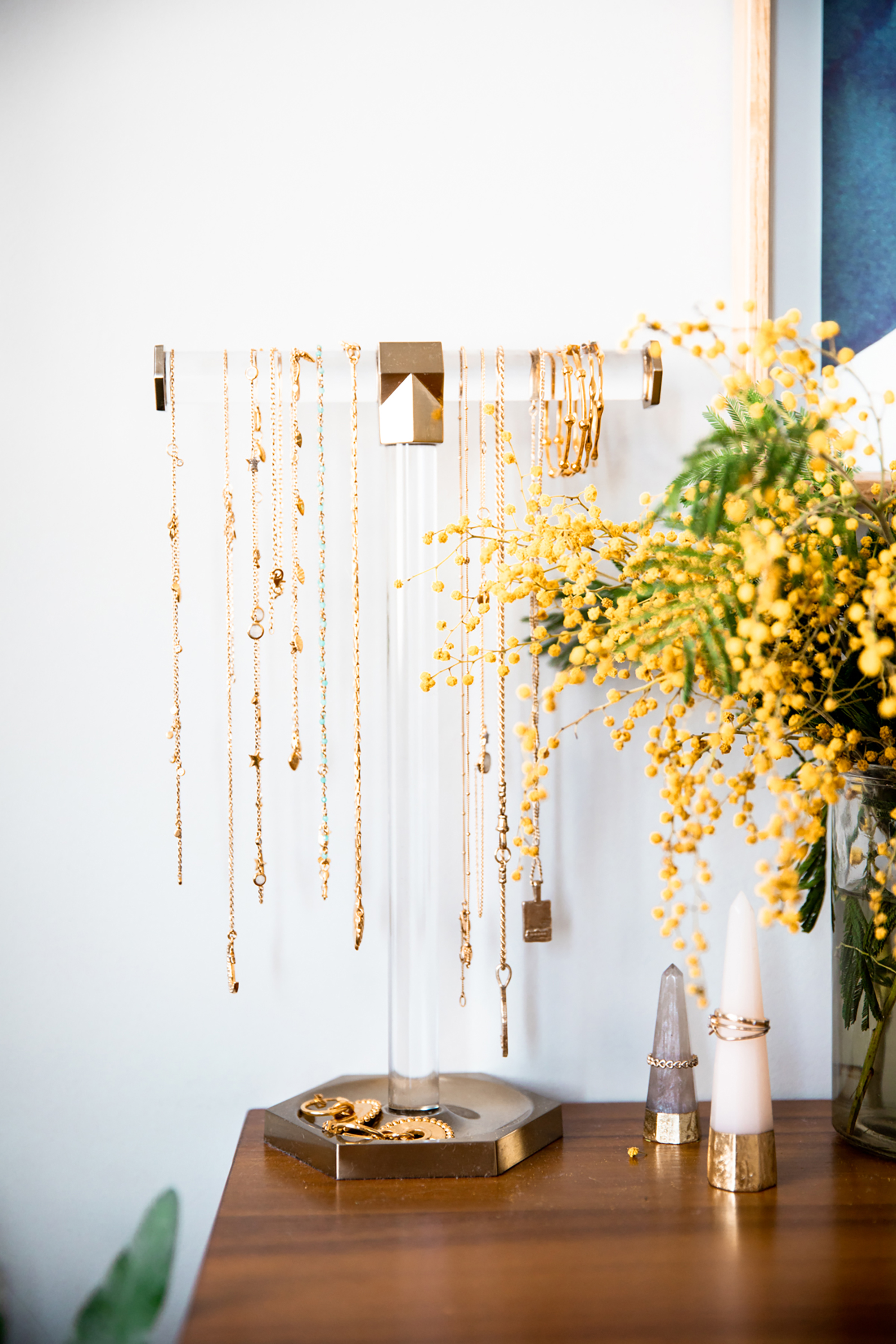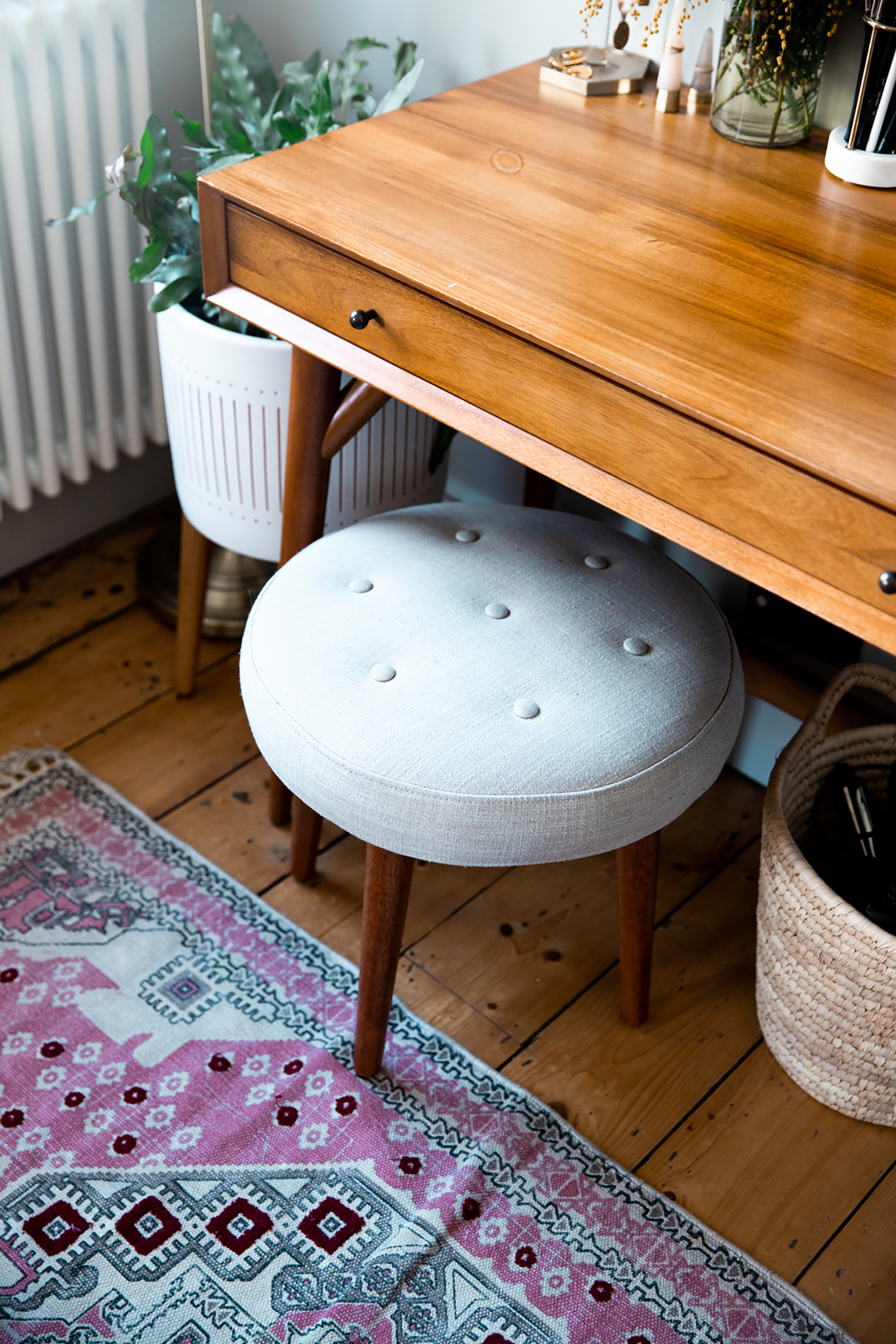 I try and keep things minimal and simple on the dresser itself – It's a place mostly for makeup brushes and jewelry and usually a couple of books and the odd candle – I call it organised clutter. These photos were obviously taken on a "good day" but usually the tidiest depends on how late I'm running that morning!
Anyway! The brush holders and ring stands are Oliver Bonas, the jewelry stand is West Elm (I think!?) and the lovely little pink jar where I keep all my hairbands is H&M Home.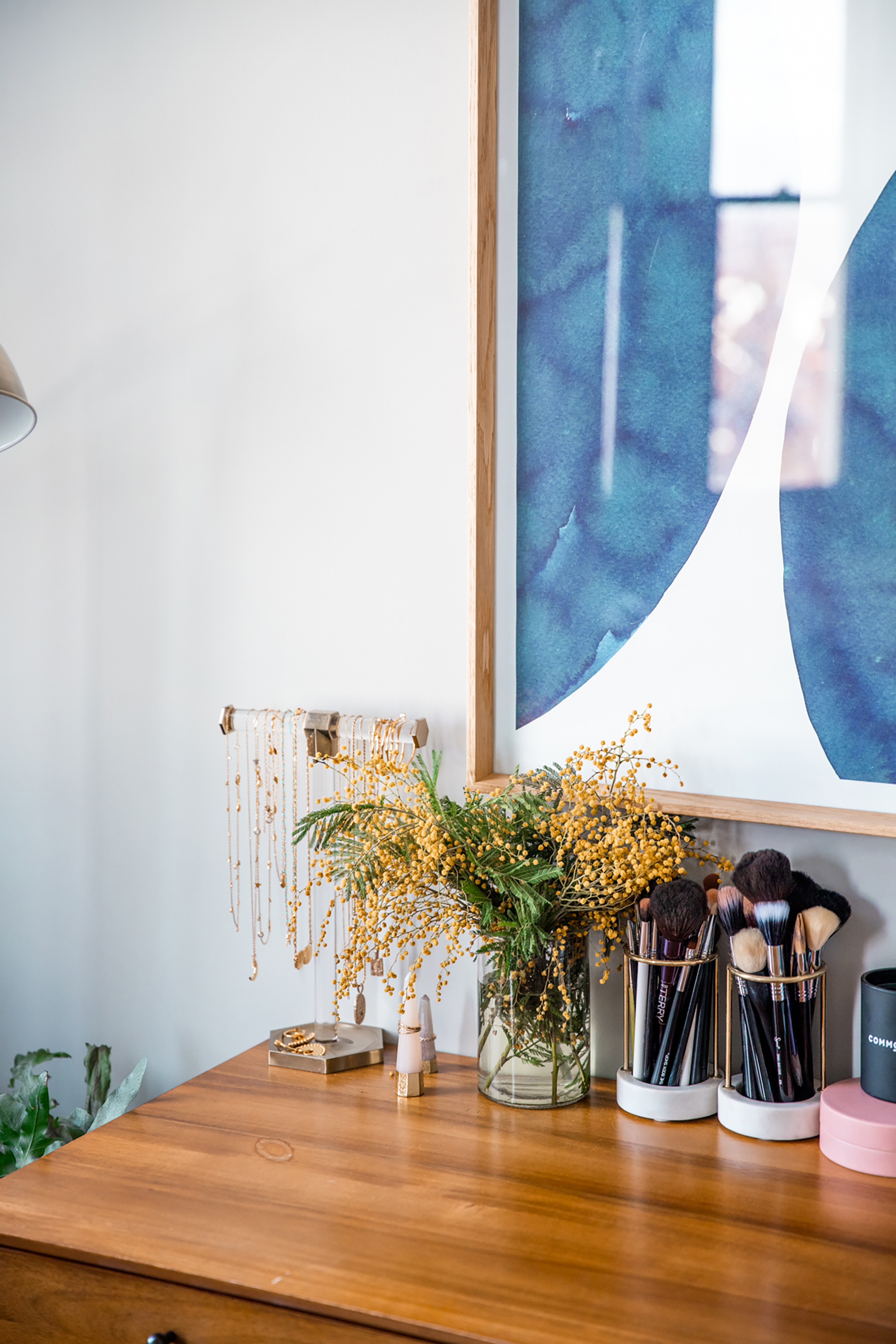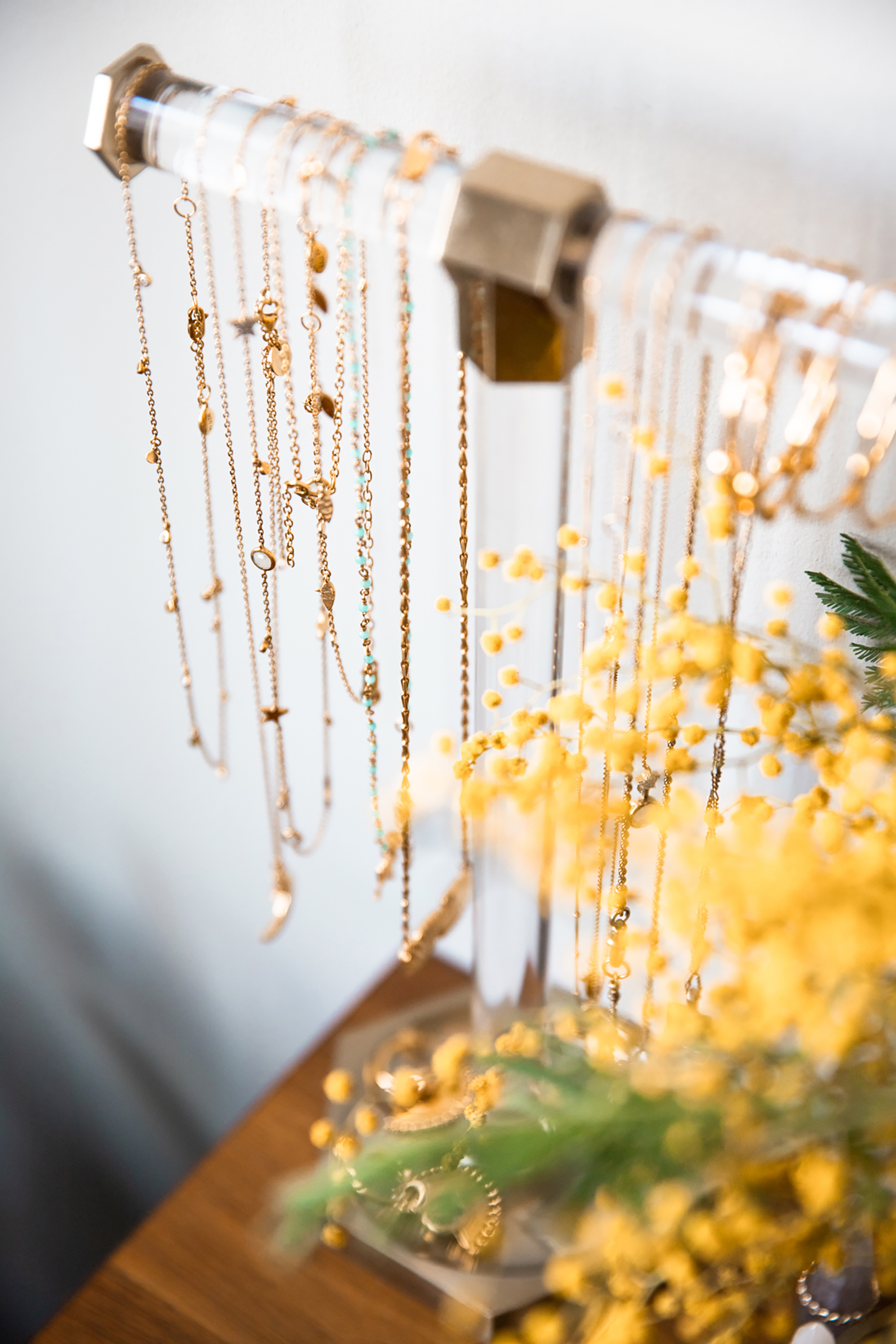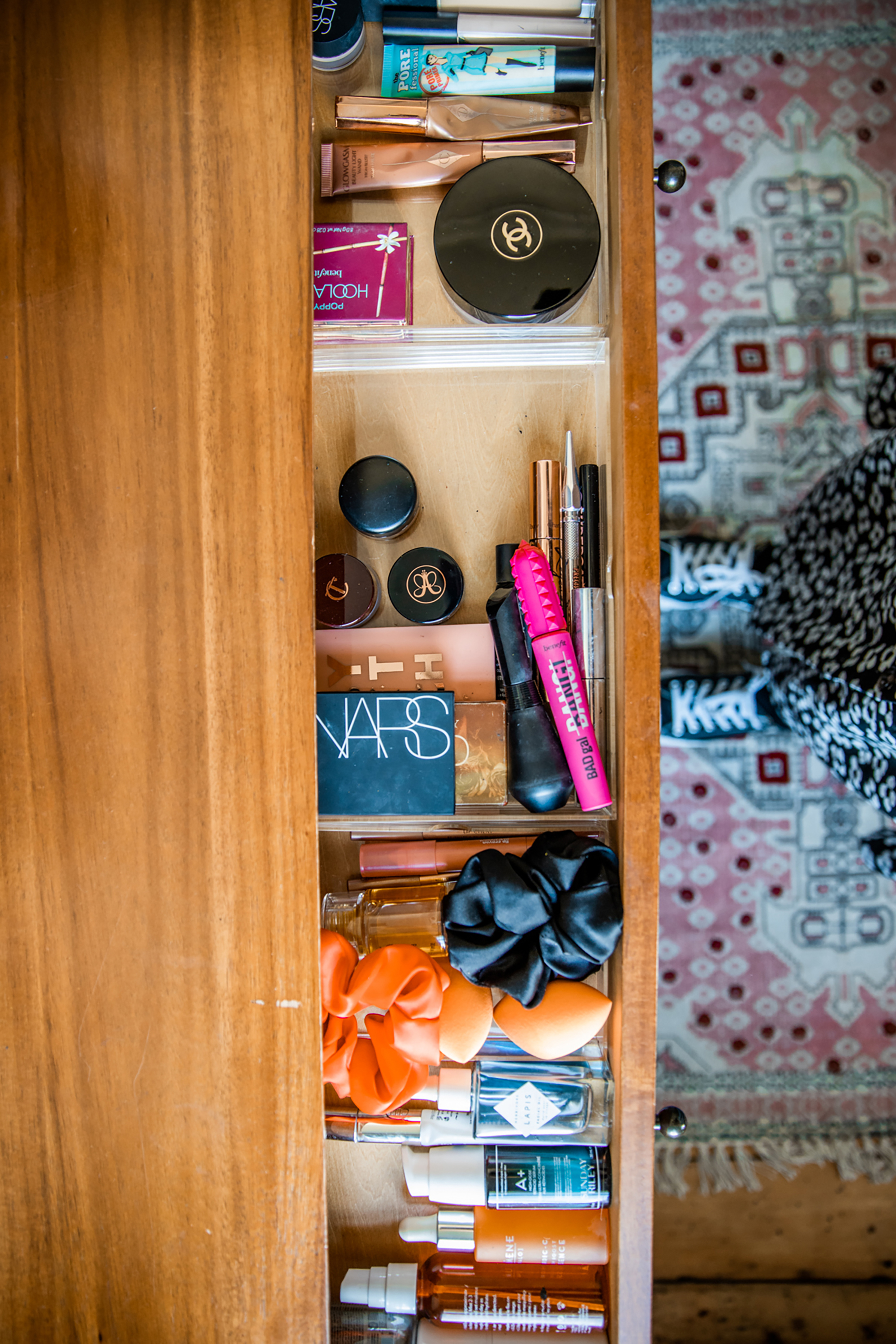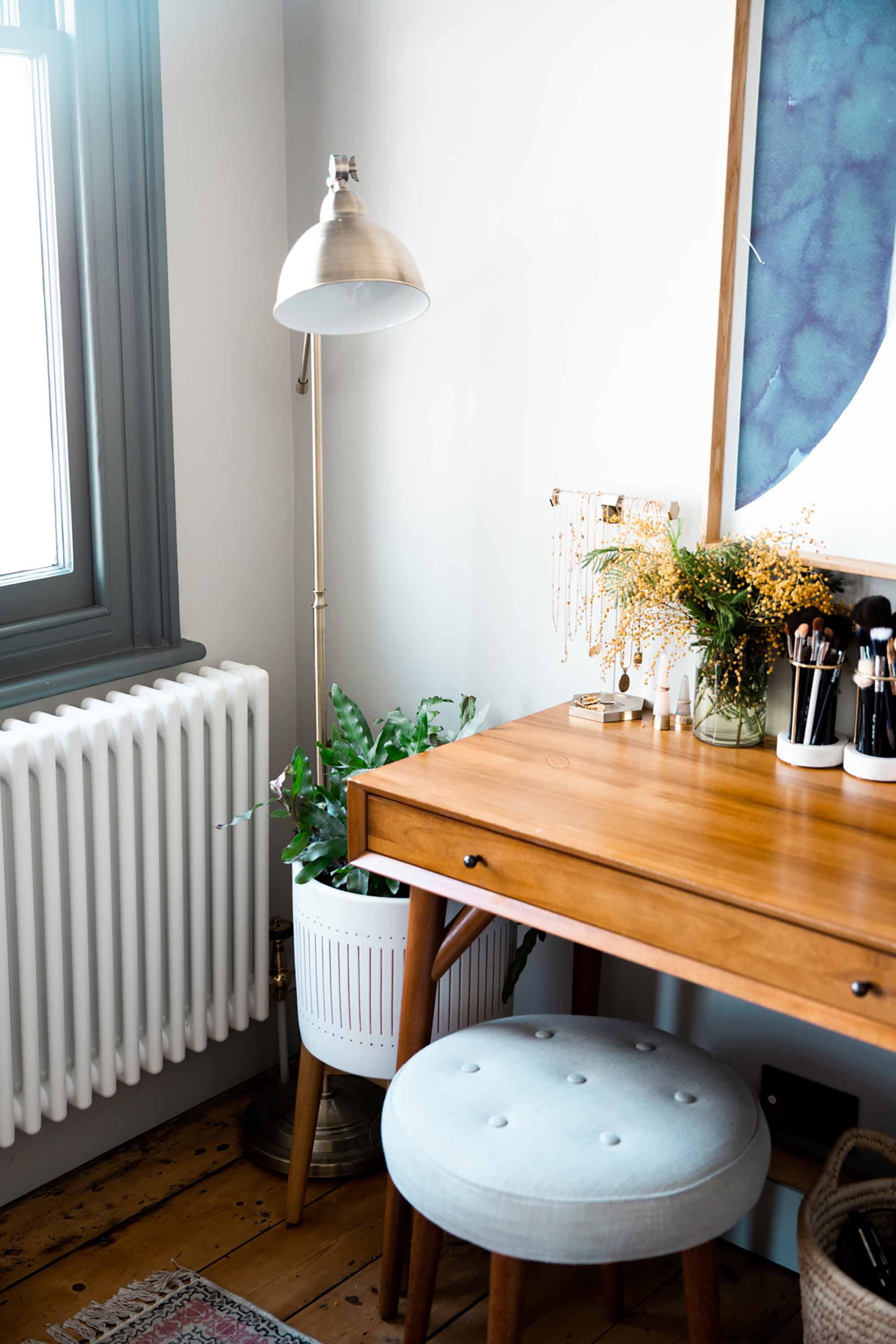 Storage-wise in my drawers I try and keep thing organised into "sections" skincare, face makeup and eye makeup, etc. I bought these Muji separators a couple of years ago and they've been so great!
Okay! I think that's evrything! Hope you've enjoyed and let me know if you have any q's & I've linked everything below 🙂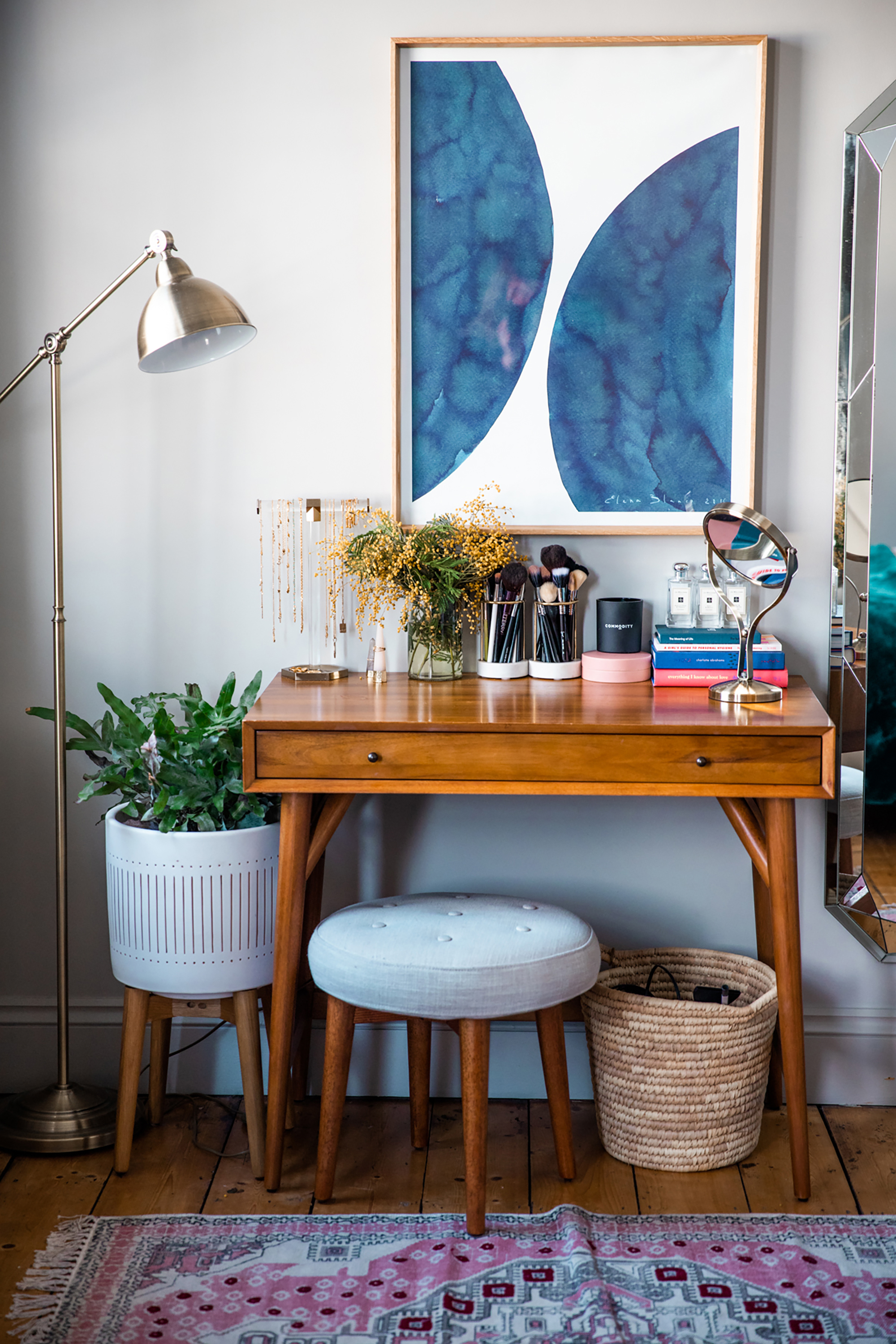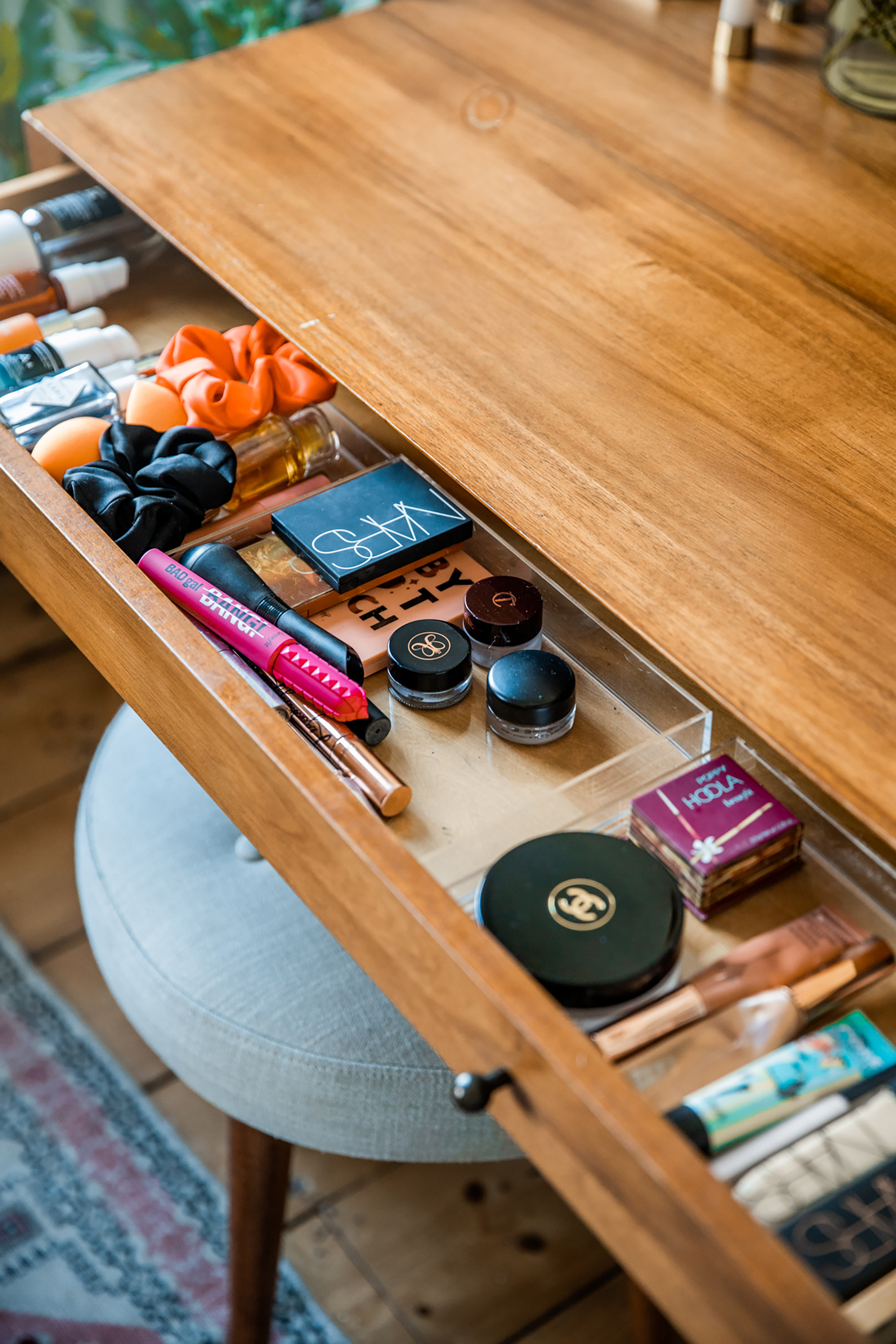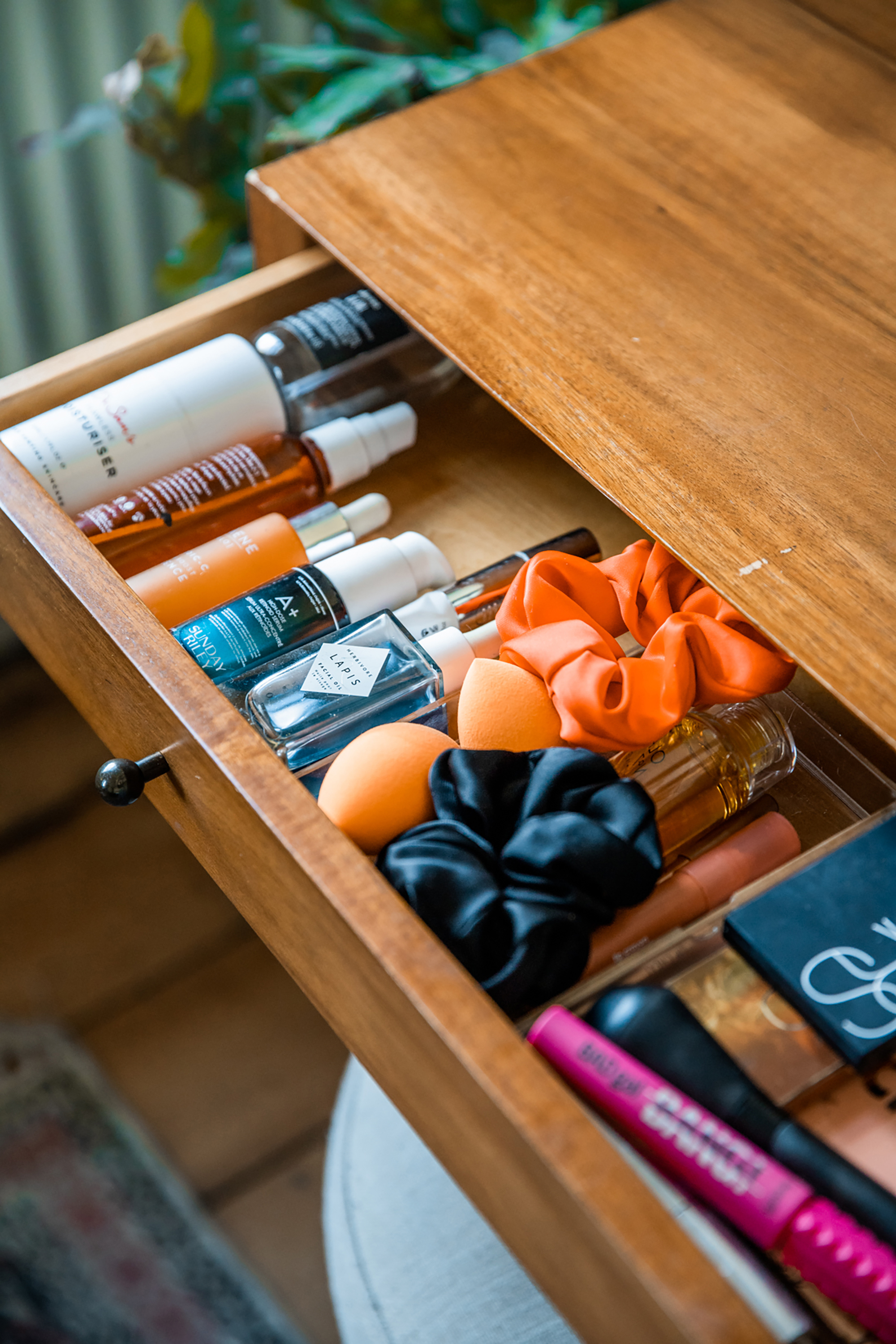 – SHOP THE POST –