Hiya! Welcome to our second lil renovation update! This week has been a little slower than the last as prep work has begun throughout the hallways and downstairs! We've had a new colour painted in the middle spare bedroom which I love, AND garden plans are fingers crossed being put into action! Hope you enjoy!!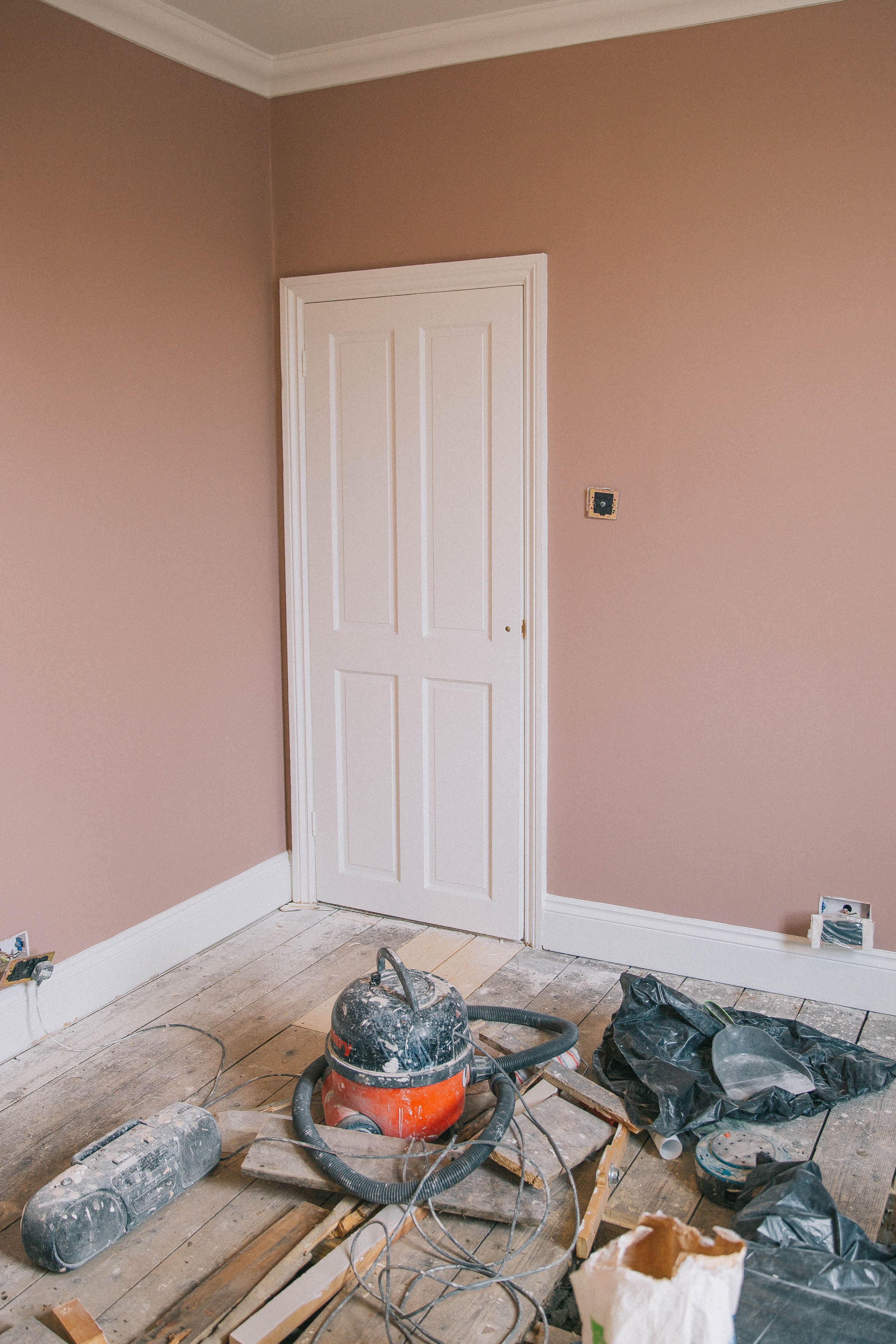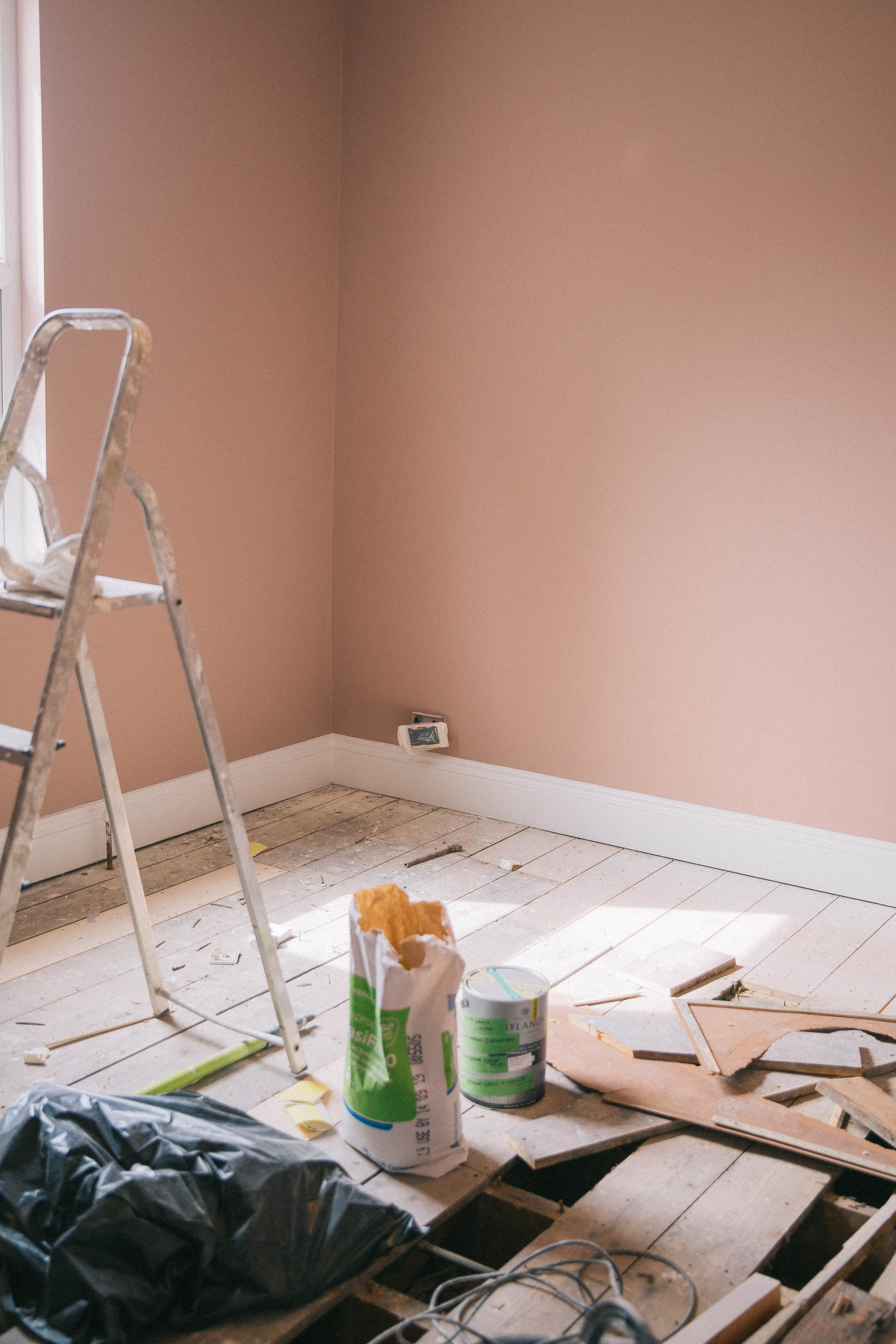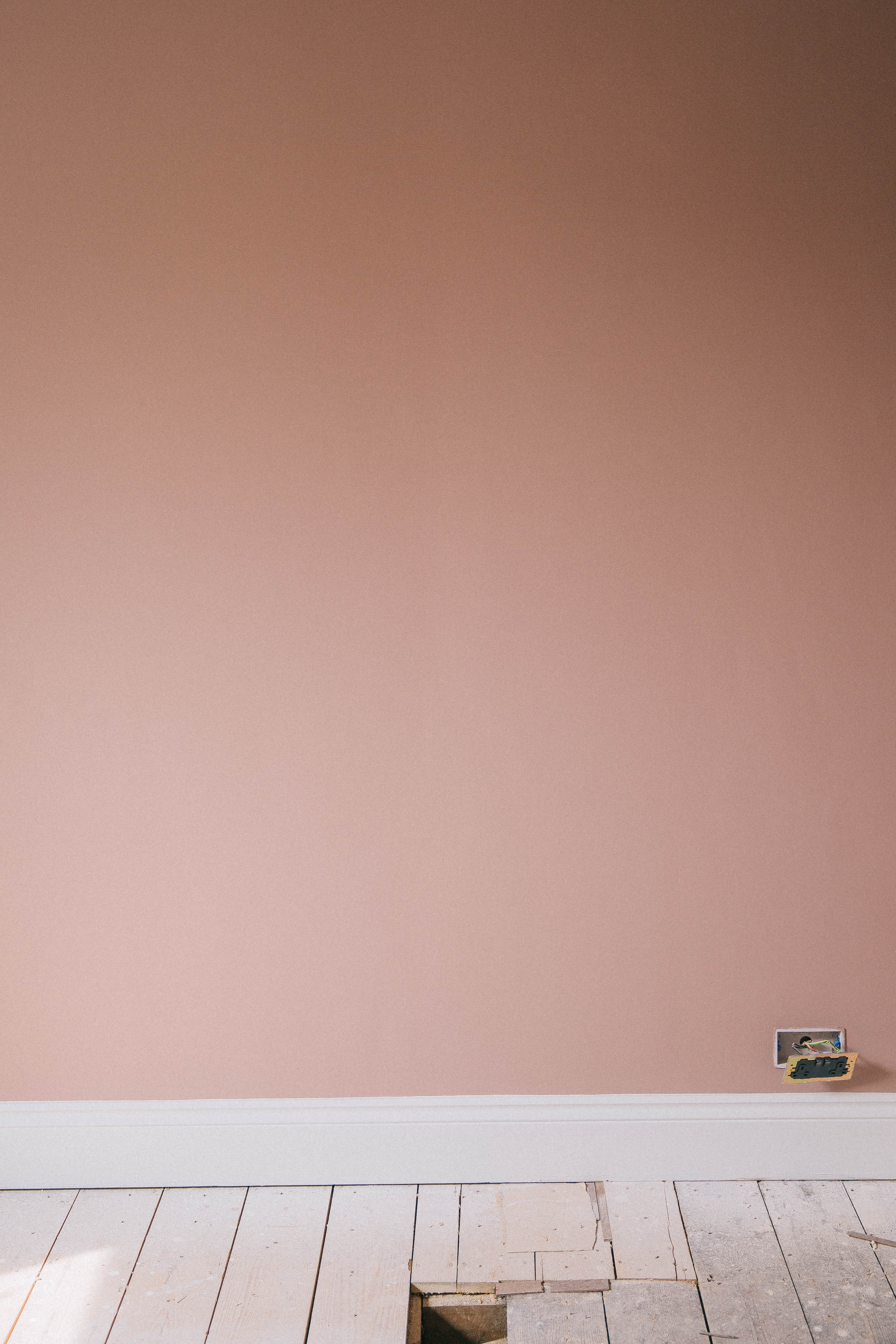 Let's start things off with a bit of colour! The middle spare bedroom has had its first lick of paint and I'm so relieved! Yes, I know relief probably isn't the first word you'd assume to come to mind, but, I was really questioning whether we'd made the right decision with this colour…
The idea of painting an entire bedroom pink left me v nervous… But, I'd seen so many images of similar colours on Instagram that looked fab, so we decided to do a "fuck it" and I'm soso happy we did. I'm imaging allll the green plants, some beautiful bedding and a couple of new art pieces… Fingers crossed it will become a lovely guest room!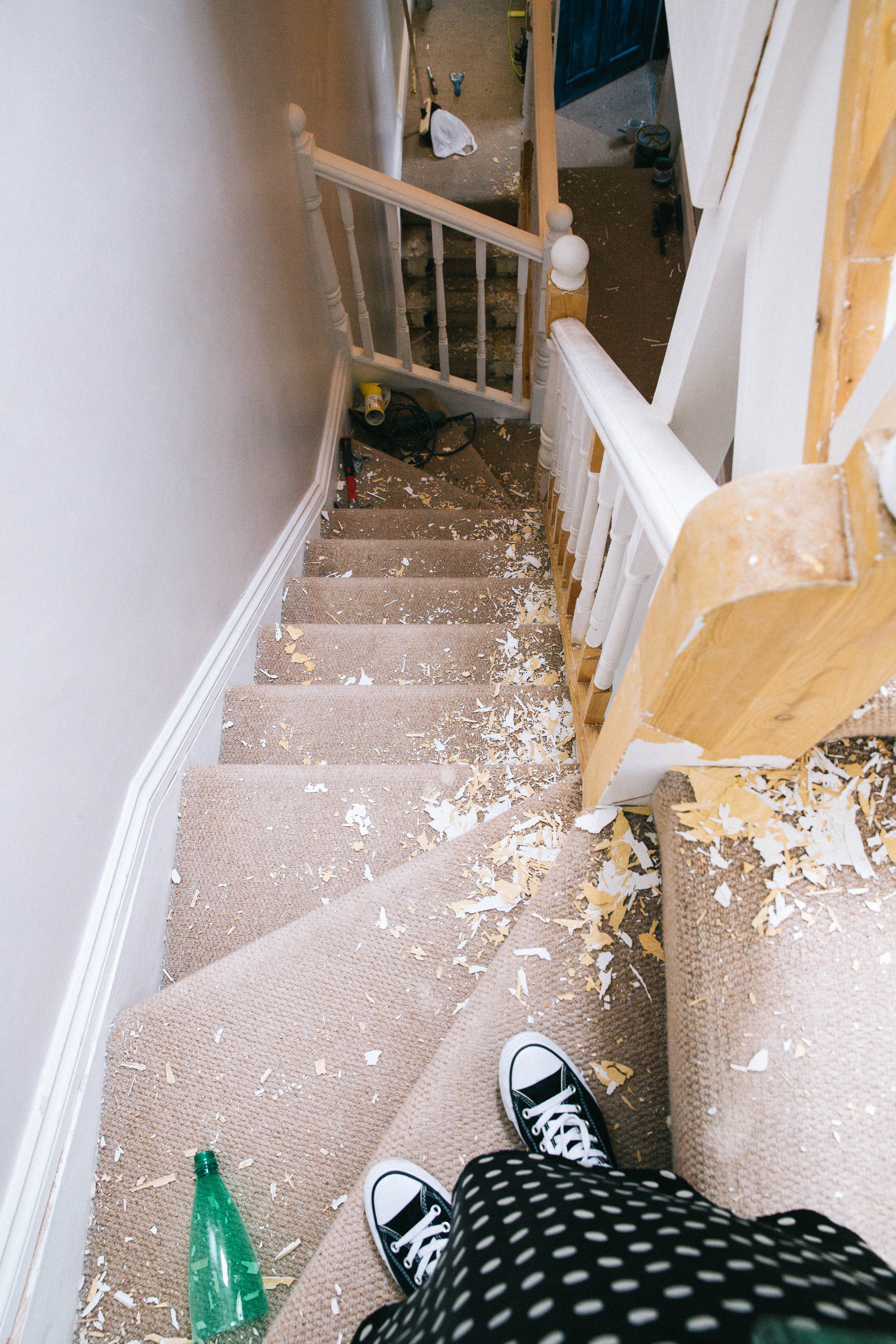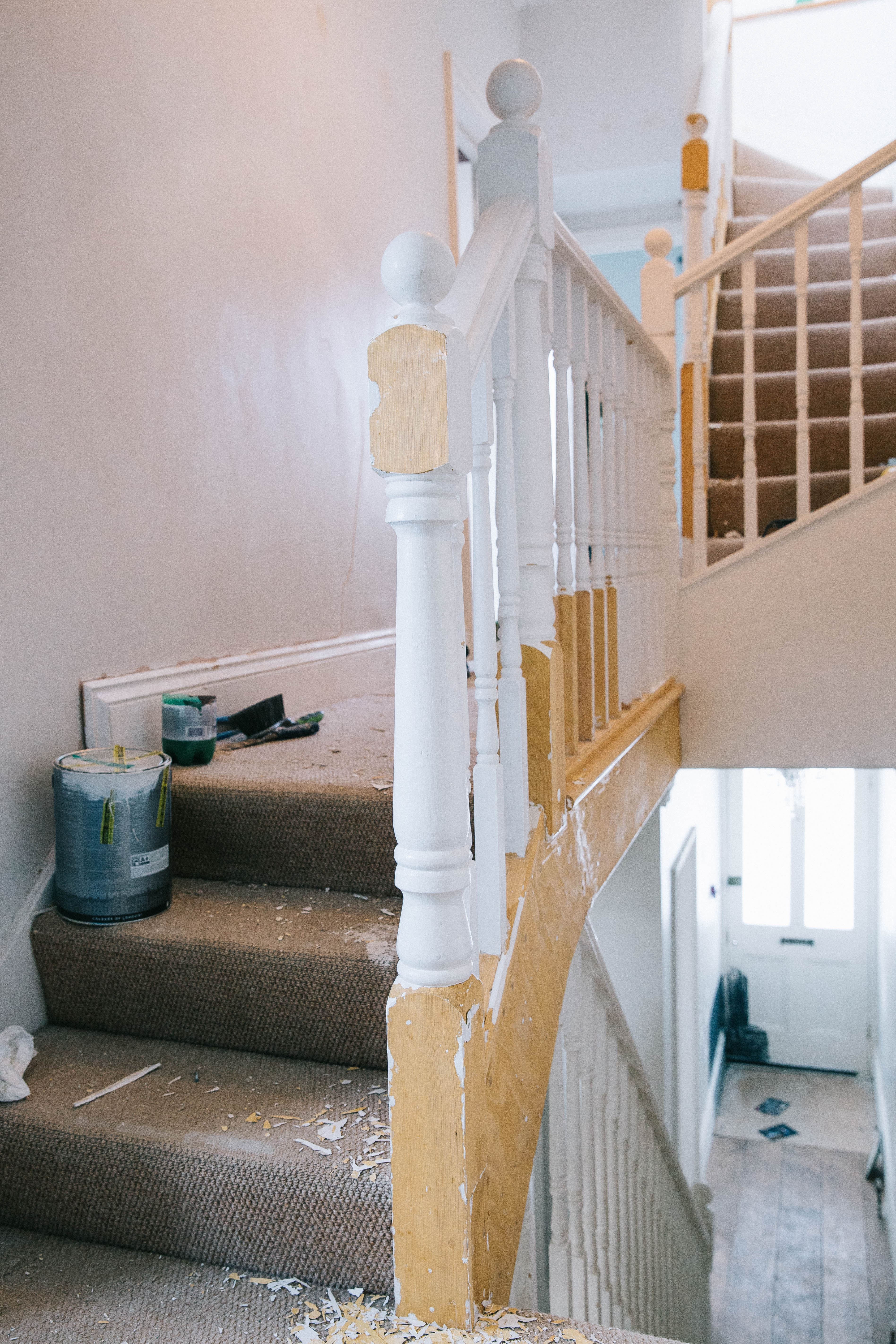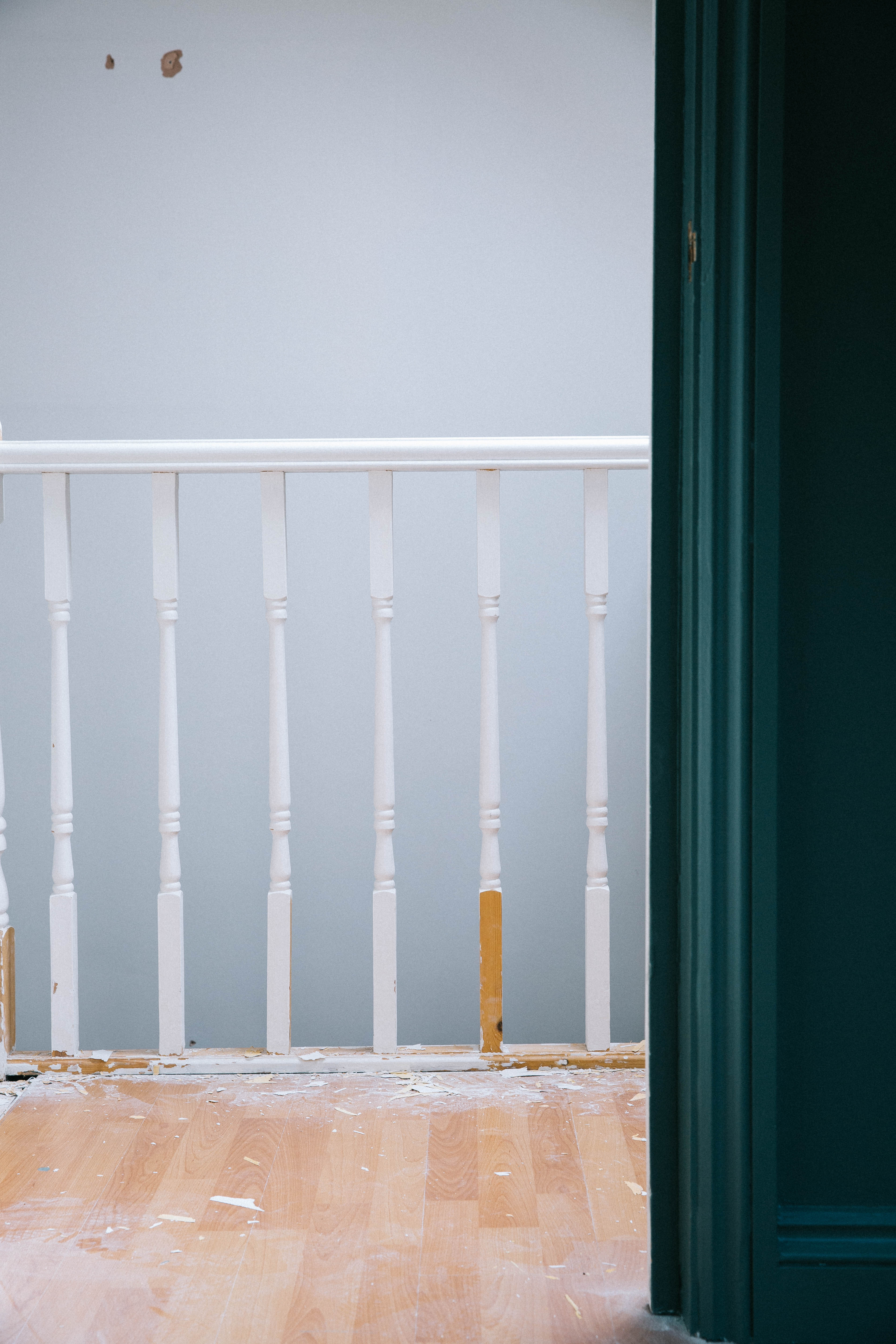 Onto the hallway… The bannisters are being stripped and prepped ready to be painted. We've decided to add a dado rail throughout the first and second floor and colour wise we've gone for a v v dark navy for below the dado and a traditional white for above. We wanted to give the hallways an equal amount of attention as each of the rooms so that the house will (hopefully) flow as a whole… In terms of downstairs we're keeping the wooden floors and having them sanded and re-varnished and then upstairs we've gone for a thick grey carpet. Hopefully, against the darker colours, the two will work well to ensure it feels super cosy! It's actually one of the areas I'm most excited to see come together!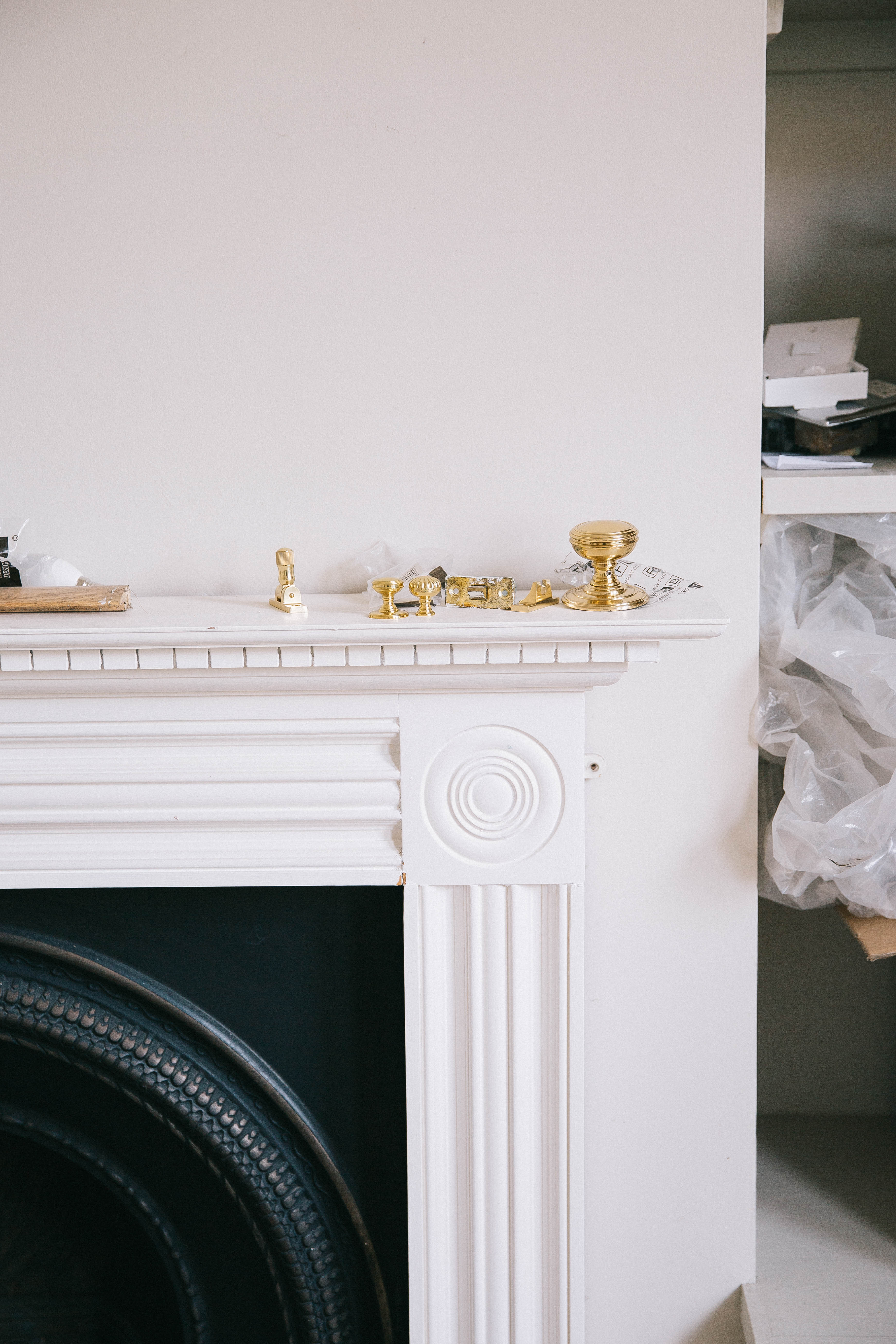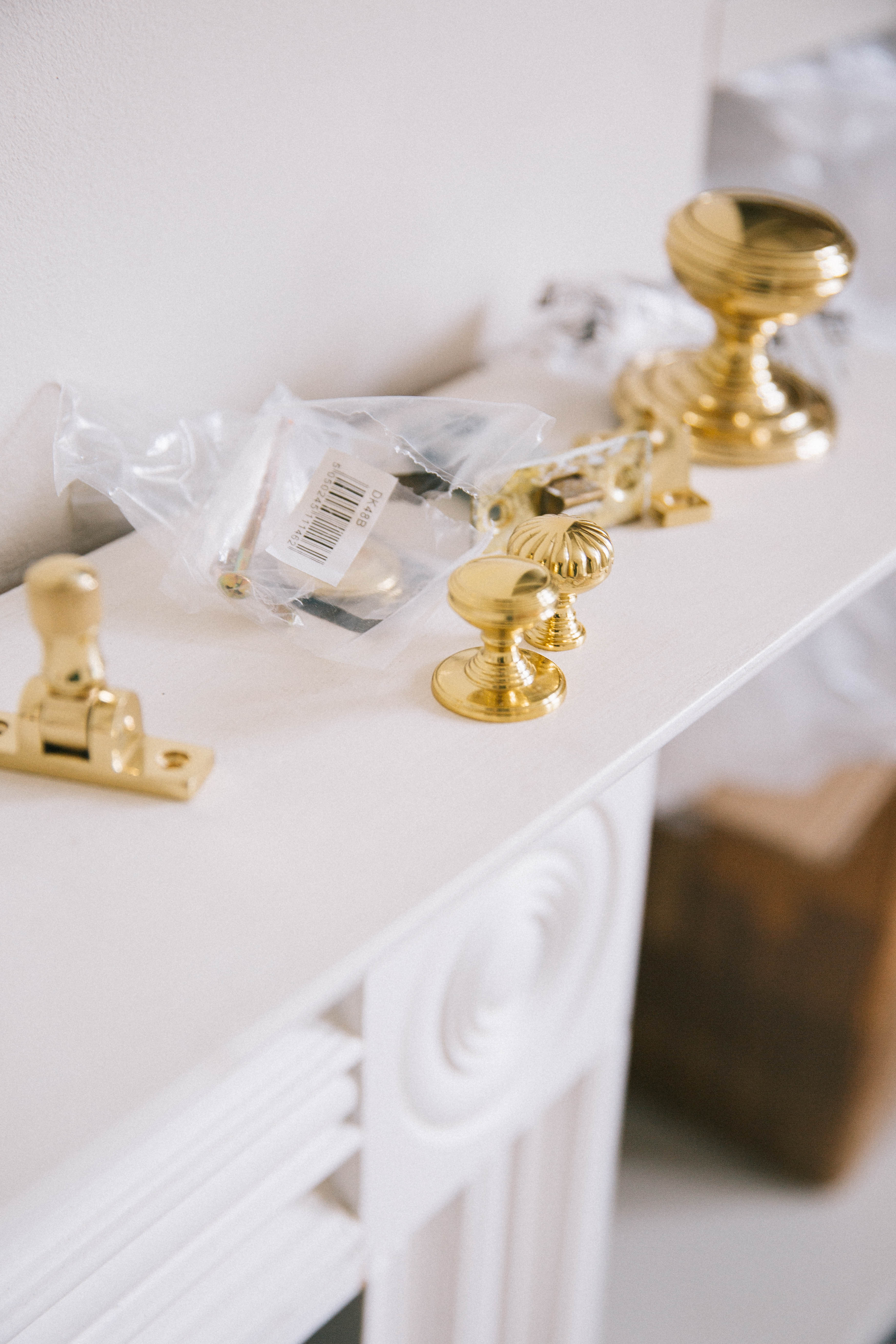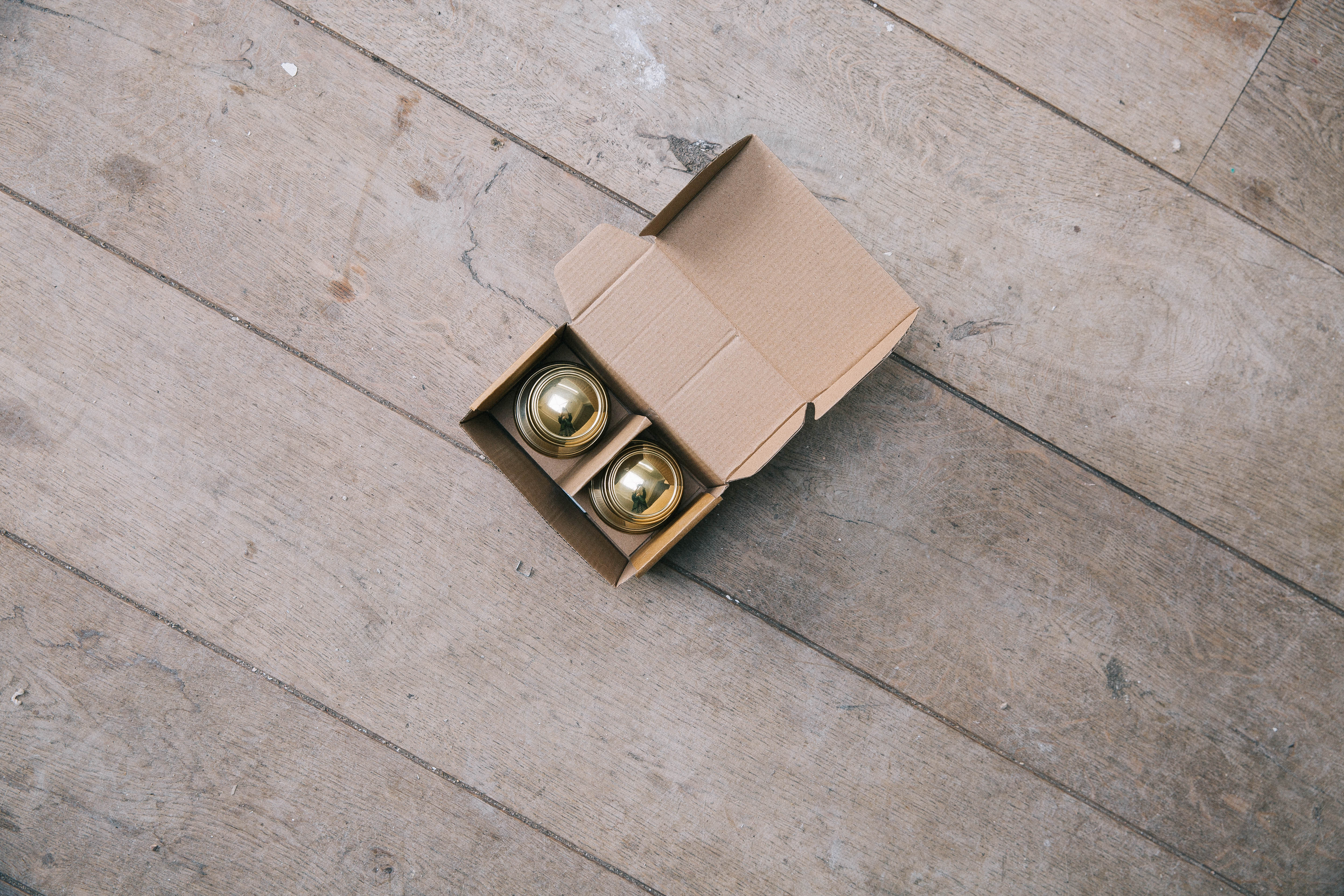 Okay, so finishing's…. I think we had a pretty clear image of what we wanted, but it was just making sure that we had found the ~perfect~ pieces. We've gone for brass throughout, with larger door knobs on each door and then smaller versions for the loft, bathroom and downstairs toilet. We've then gone for a slightly different design for small cupboard doors and also for the tv cabinet.
We've also decided on changing up all of the current hinges to brass and also the locks on each window etc. This is just so it hopefully looks consistent throughout!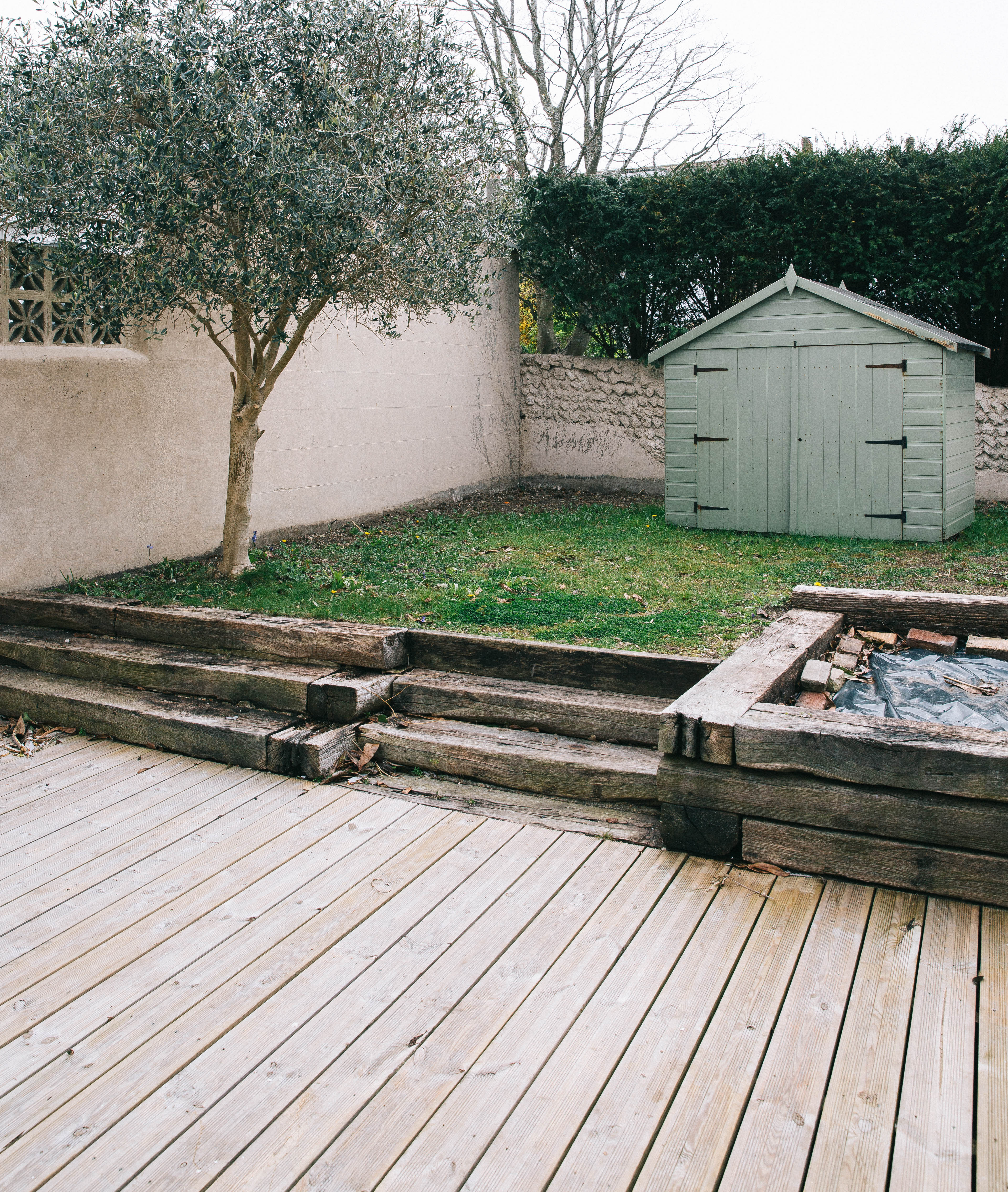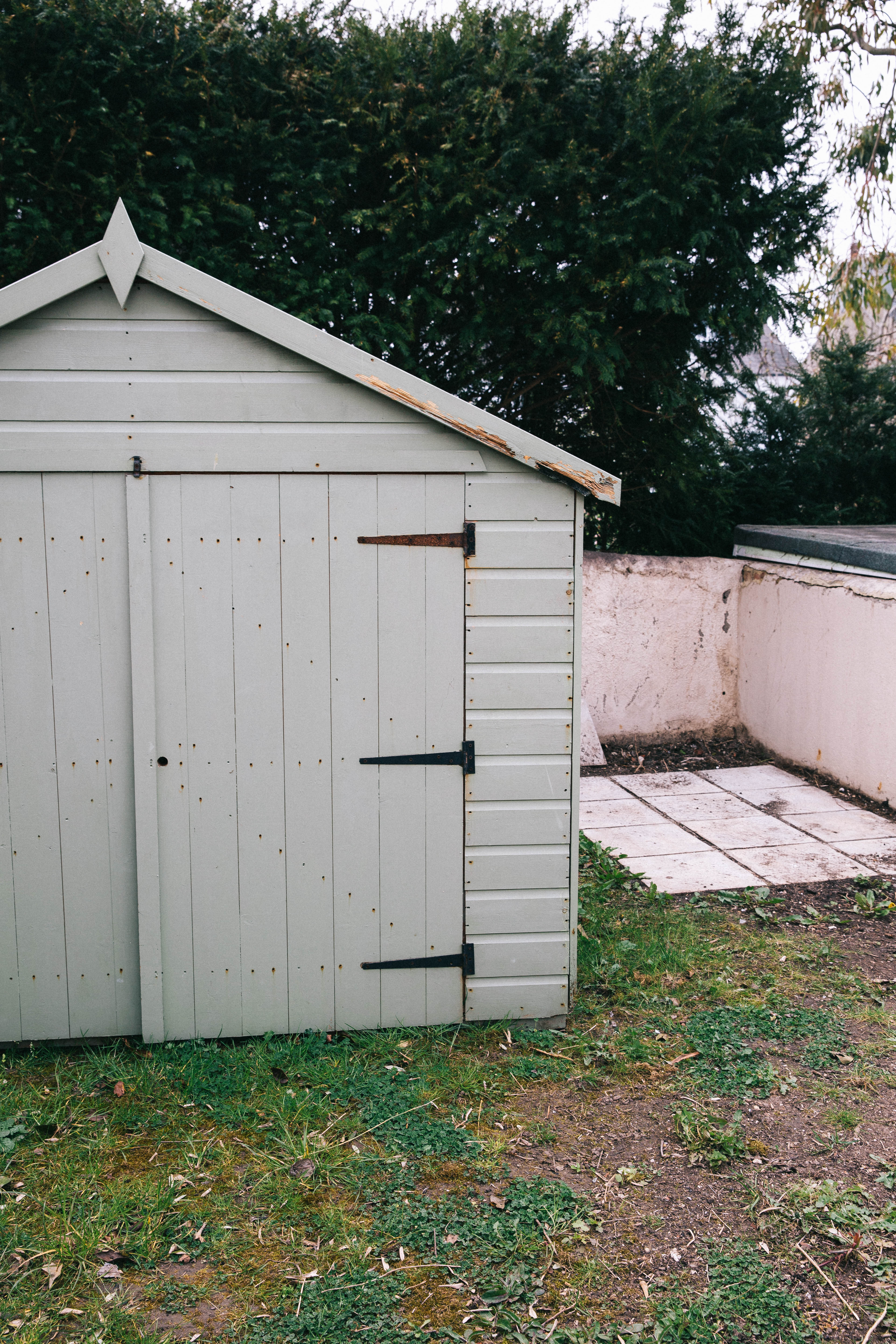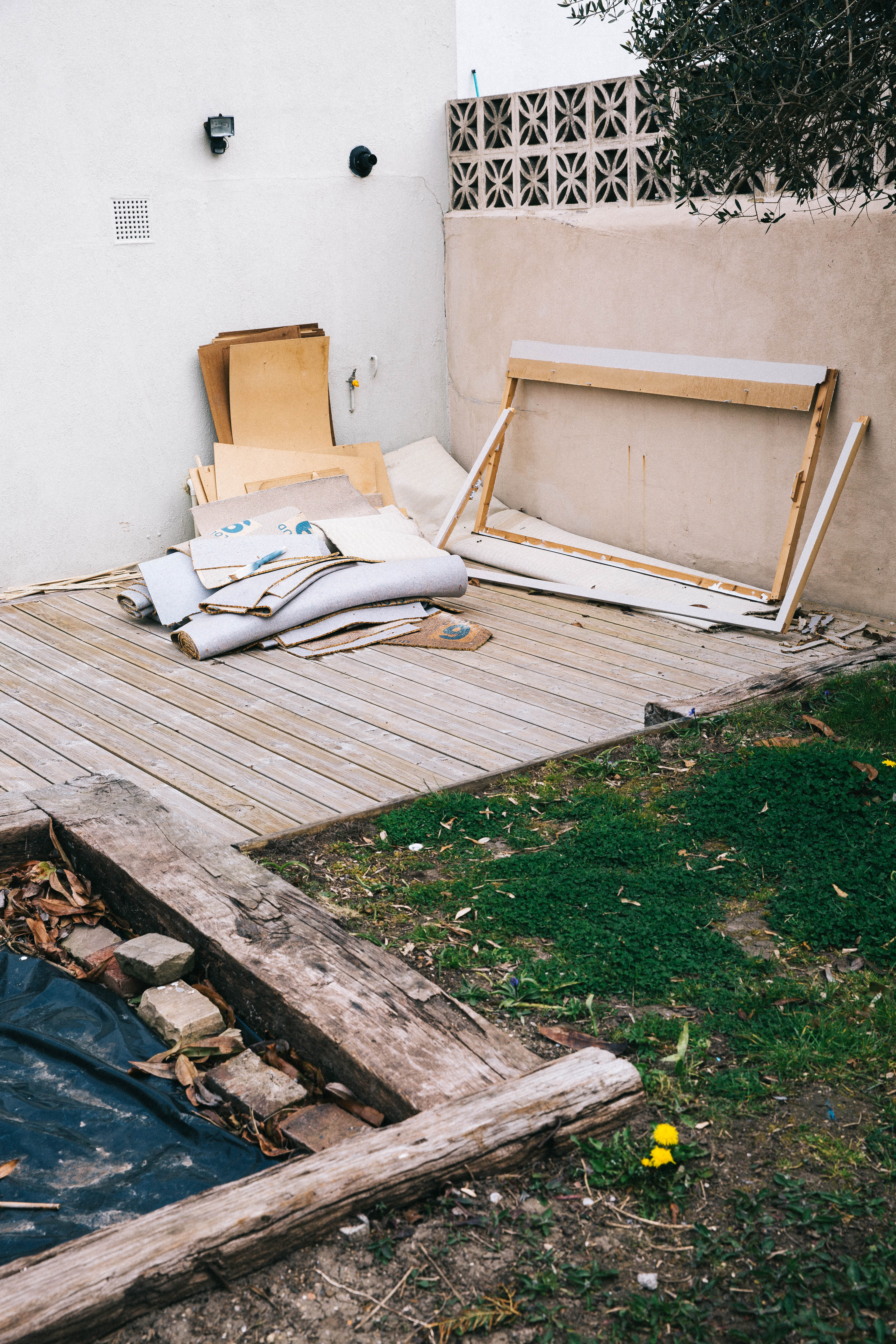 Anddd the garden! We're massively DIY'ing this space. It's already lead to ordering the wrong size fencing and I've taken months to decide on a final paint colour BUT we're getting there! We've removed all the original fencing. Have had to treat and cover the flower bed as apparently there's a weed in there that spreads like crazy so we're trying to "get rid". We've jet washed the entire garden and also found a decking colour we like! Productive!
Next step is to sort out the walls and then get painting the fences etc to go up! We've gone for a vv dark navy/grey colour (shocker) for both the walls and fencing, the shed is going to be pink and then decking a darker brown wood!
Okay I think that's everything today! See ya next week!