Hiya. Happy Wednesday. Happy almost Christmas and happy day nineteenth of Blogmas! Today we're chatting all things Friendsmas, the second most fabulous day in all of Christmas. In whatever way you do it, gathering all of your best mates together in one room and celebrating alongside food, drink and secret Santa is, in my eyes, pure bliss.
So, I thought I'd let you in on a couple of simple tips and tricks to help your Friendsmas be the most joyful, stress free, cheese filled, gorgeous evenings of all. AND, to help me do just that I'm working with Sainsbury's Home on this blog post to show you all of their festive homeware along the way. I mean, HELLO. Have you seen their most recent collections? They're absolute heaven and I can't wait to show you a sneaky peek at all they have to offer for your table setting this Christmas… *Spoiler, you're gonna love it all…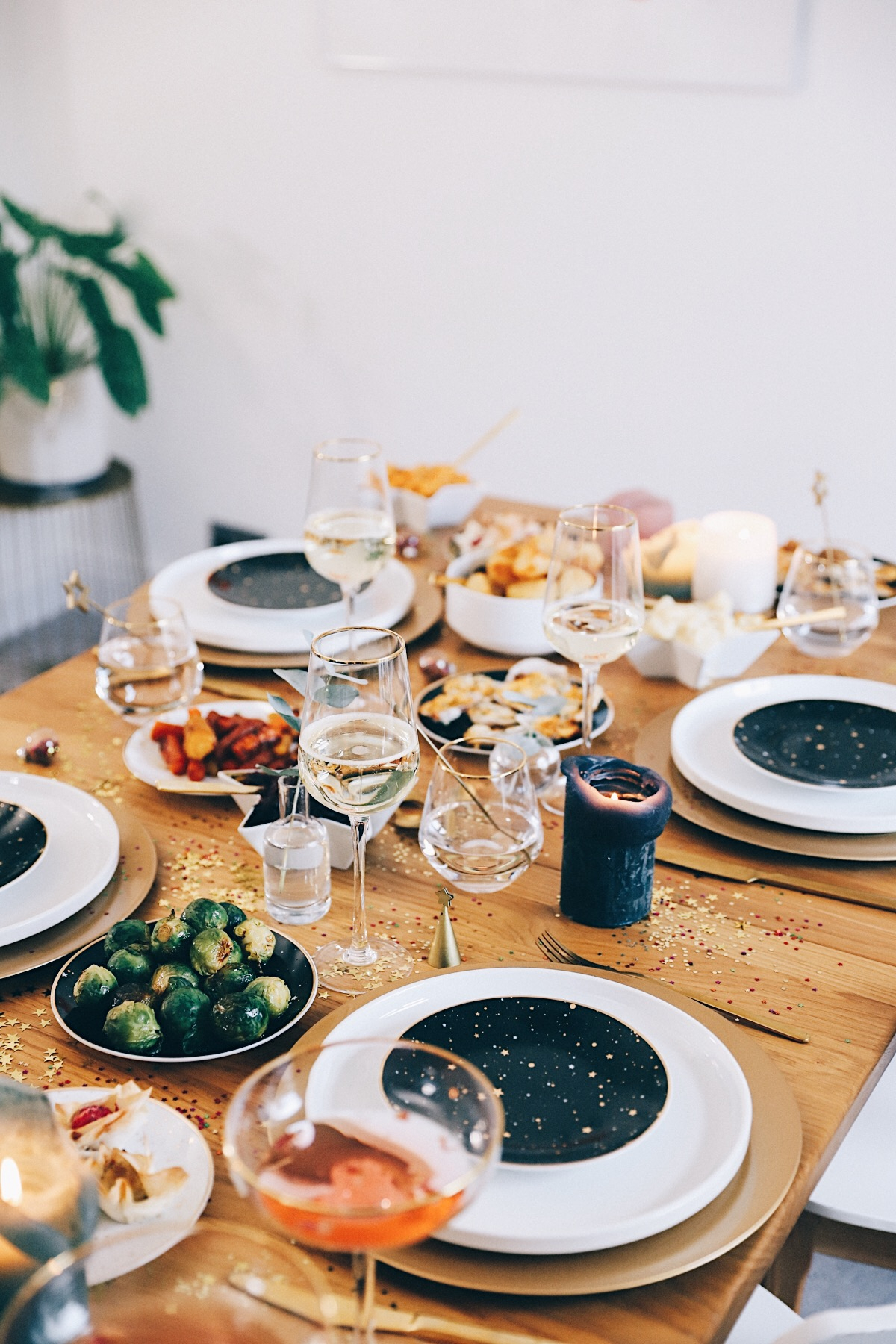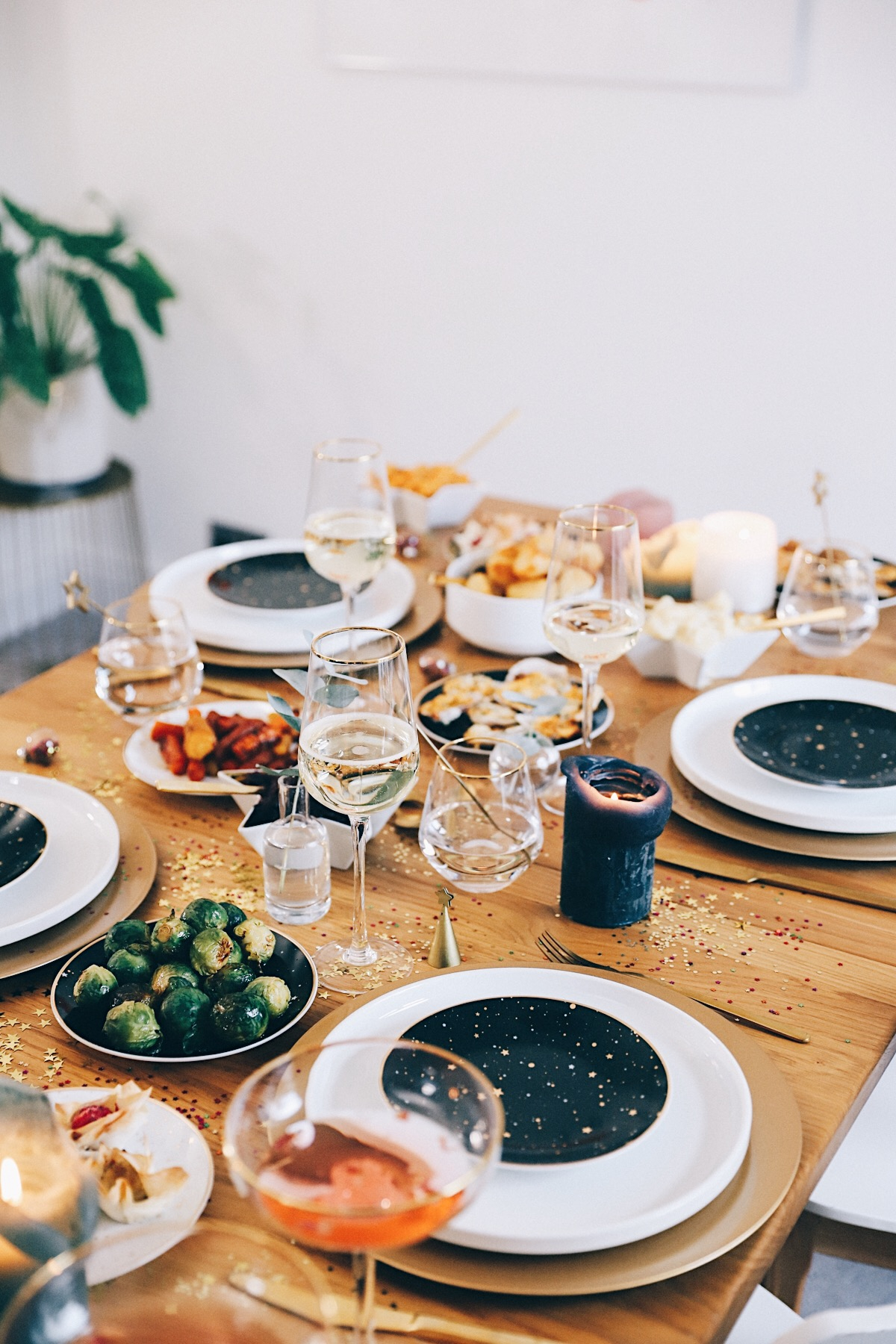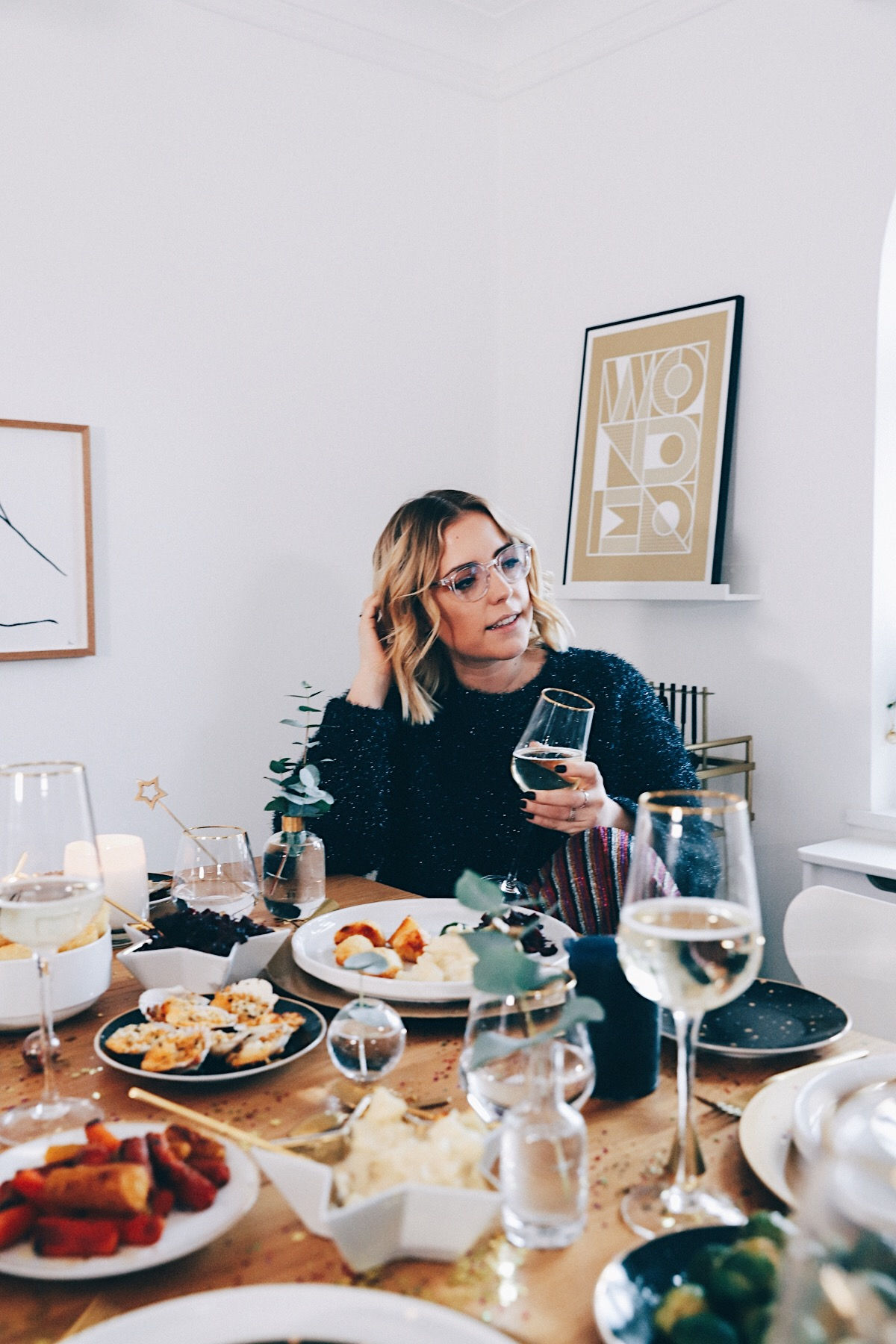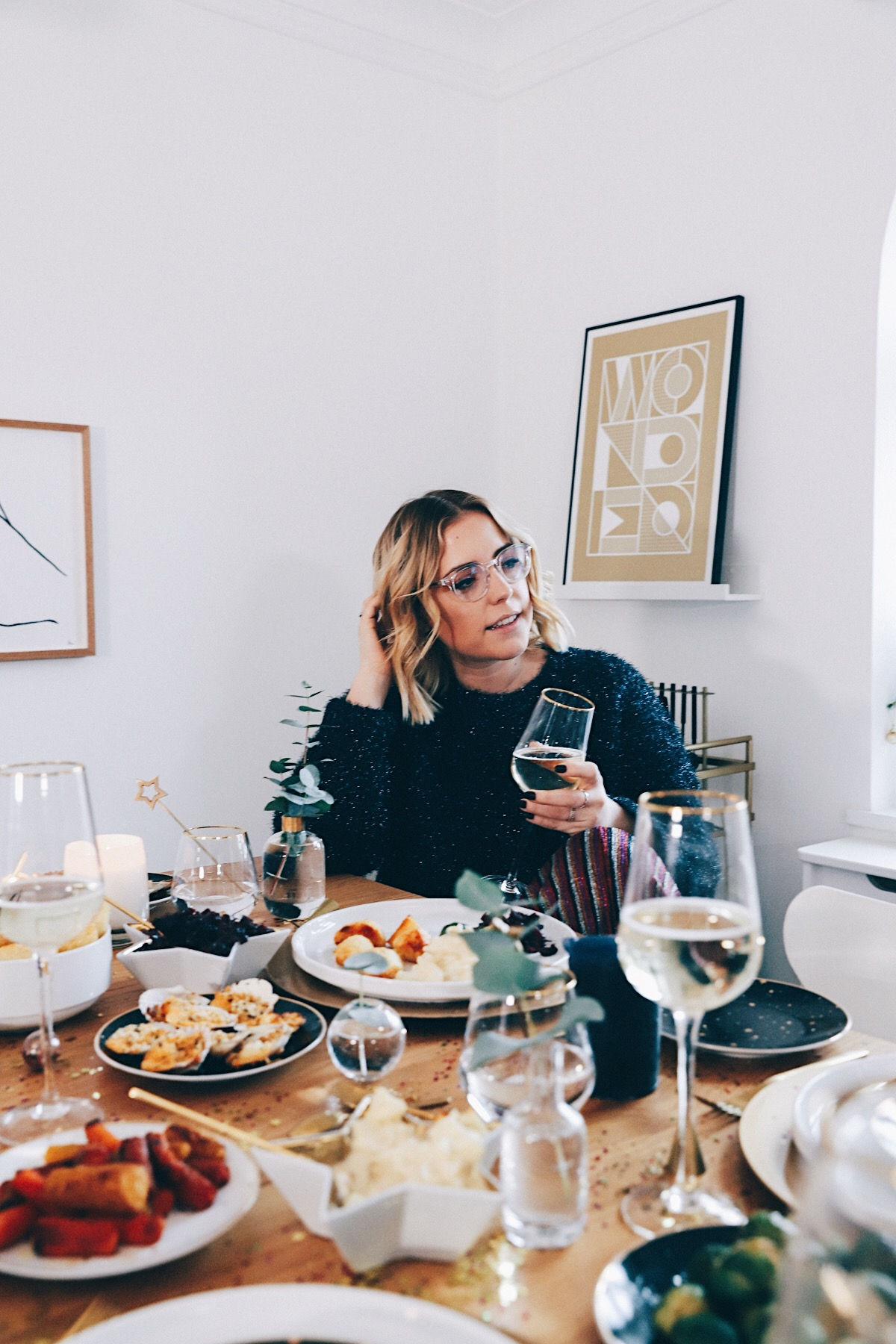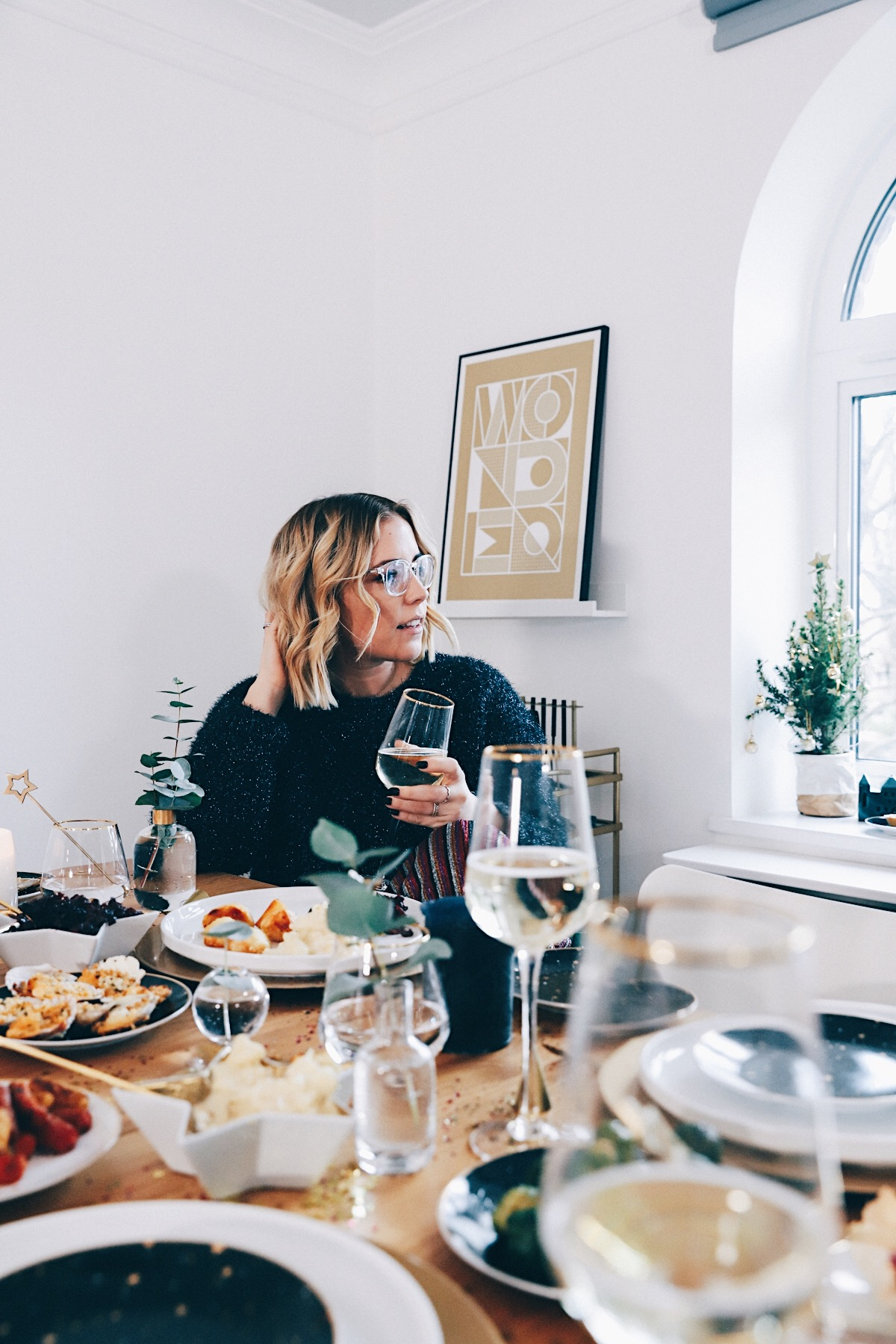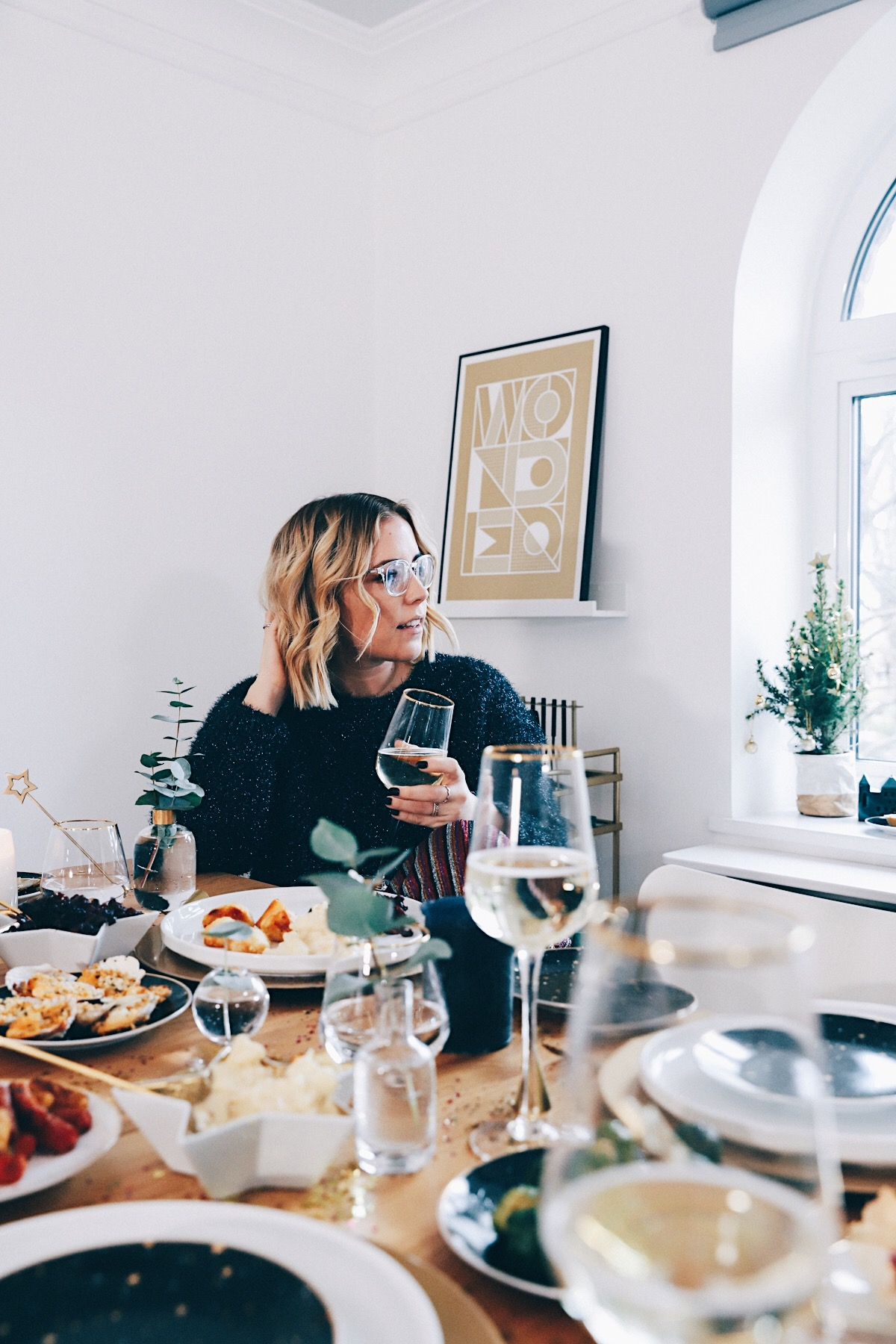 The Table Setting.
Okay, first things first, lets talk the table setting. Before the food, before the cocktails, let's think about the table and how to put something super cute, but super simple together within minutes – and I do mean minutes. I'm all about the table layering. I've said it before and I'll say it again, but it really doesn't need to be perfect or feel even close to it!
As you've probably seen already I'm v much into everything stars and glitter atm, so when I spotted the Sainsbury's Home Midnight Party collection it was love at first sight. Everything from the plates to the serving boards, to the glasses, gives the perfect touch to any table if you fancy something a little #extra without the price tag.
Layer your plates, grab your wine glasses and sprinkle that glitter. Friendsmas is all about the fun, so let ya table setting reflect that! Don't be worried about going too OTT, there really is no such thing!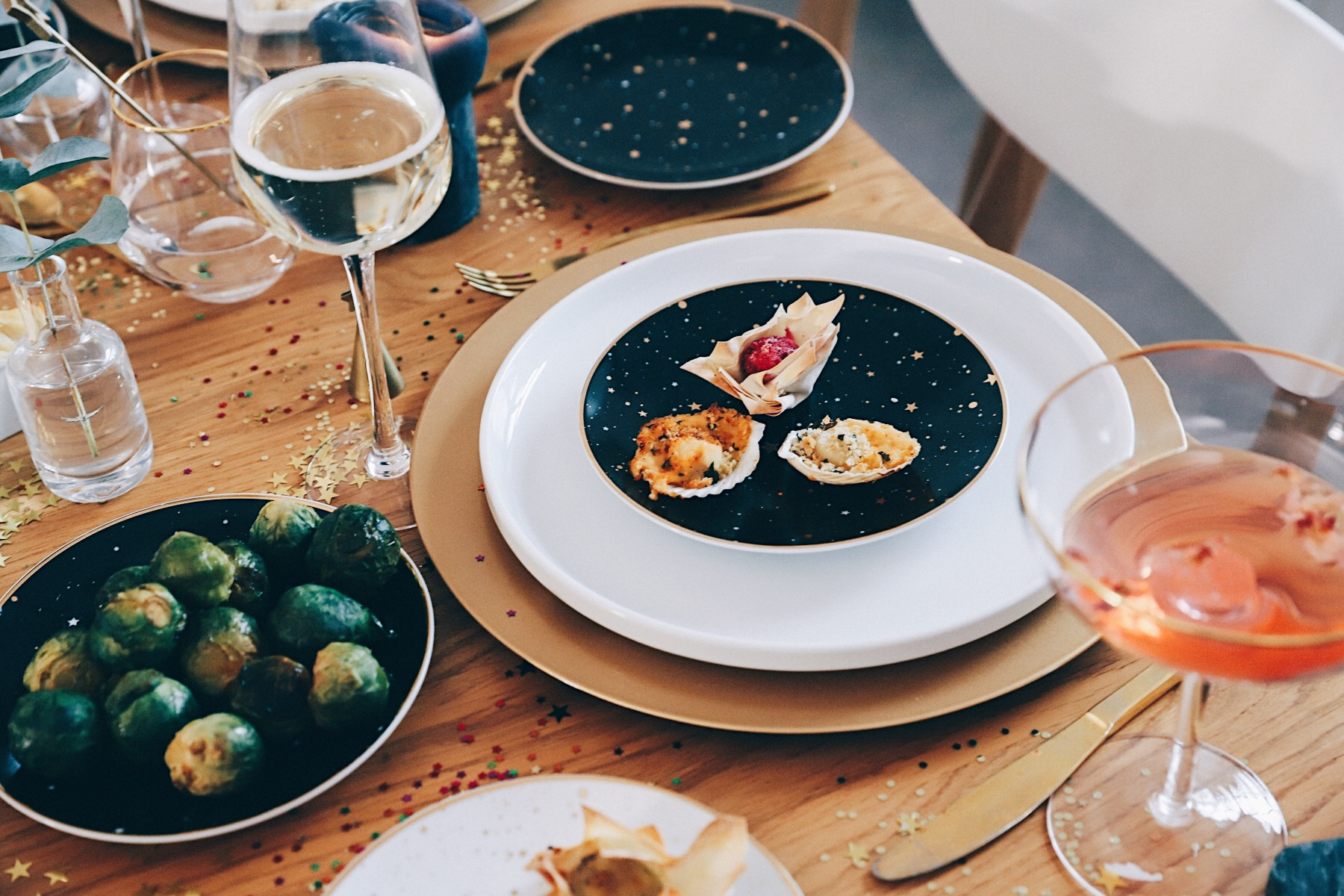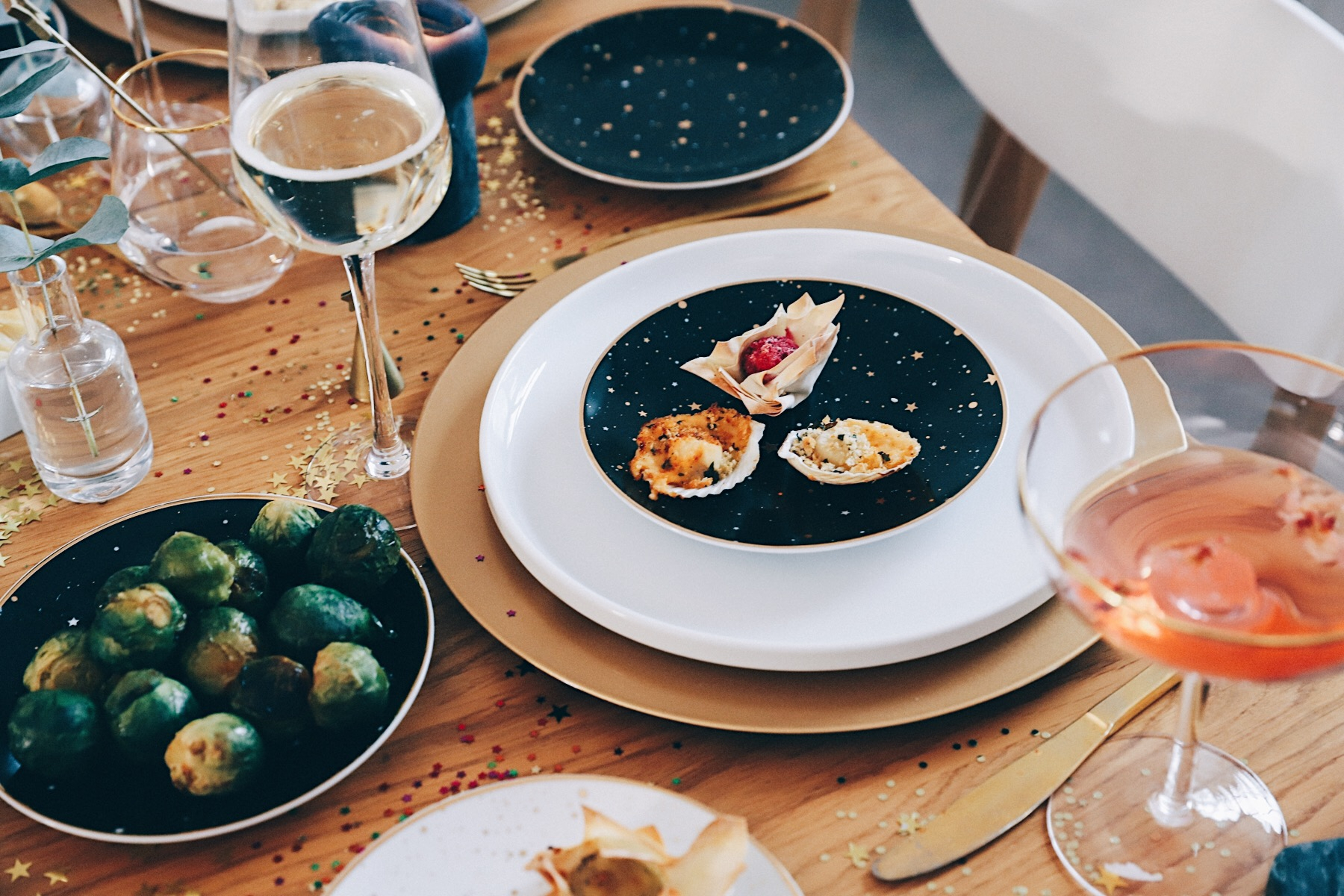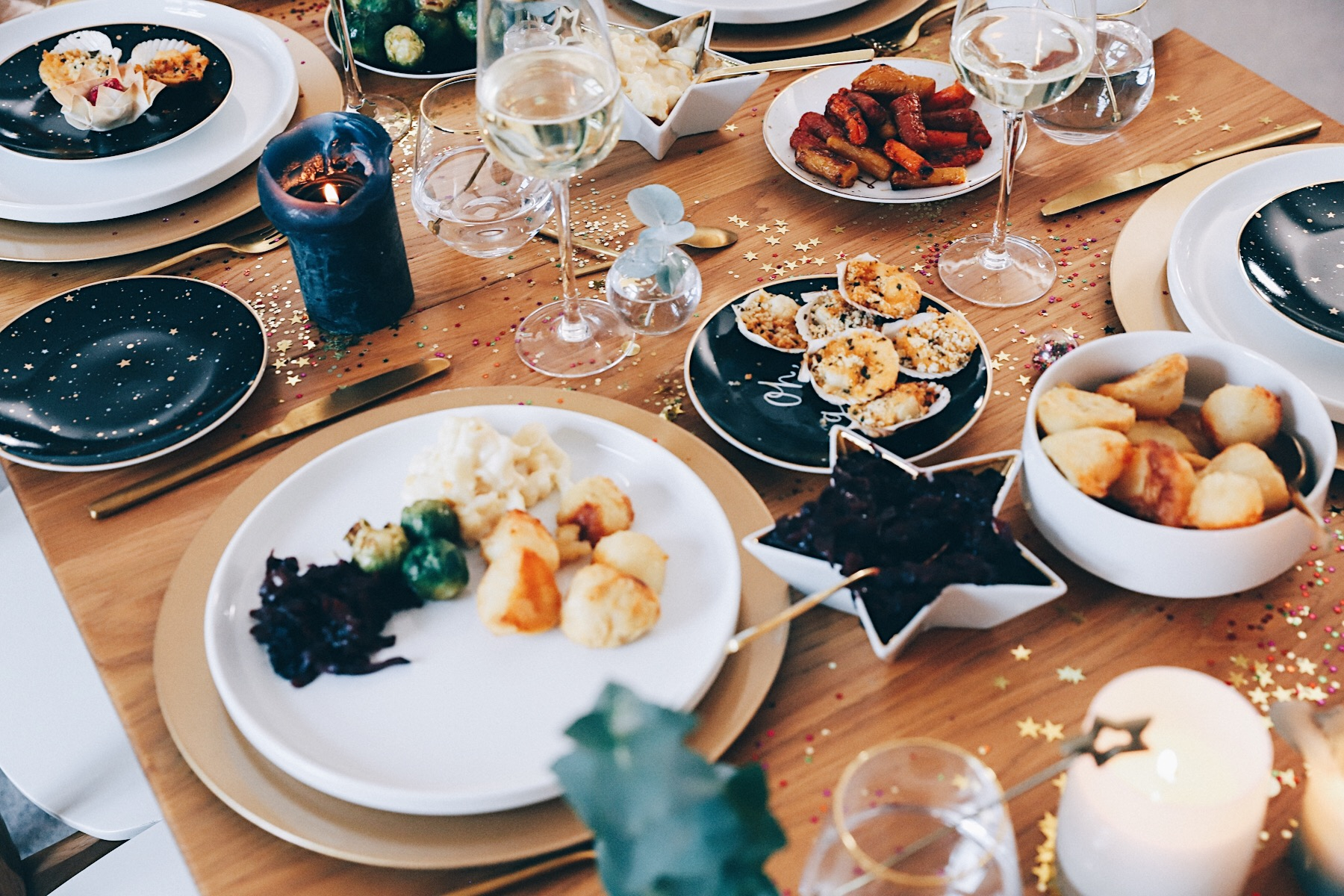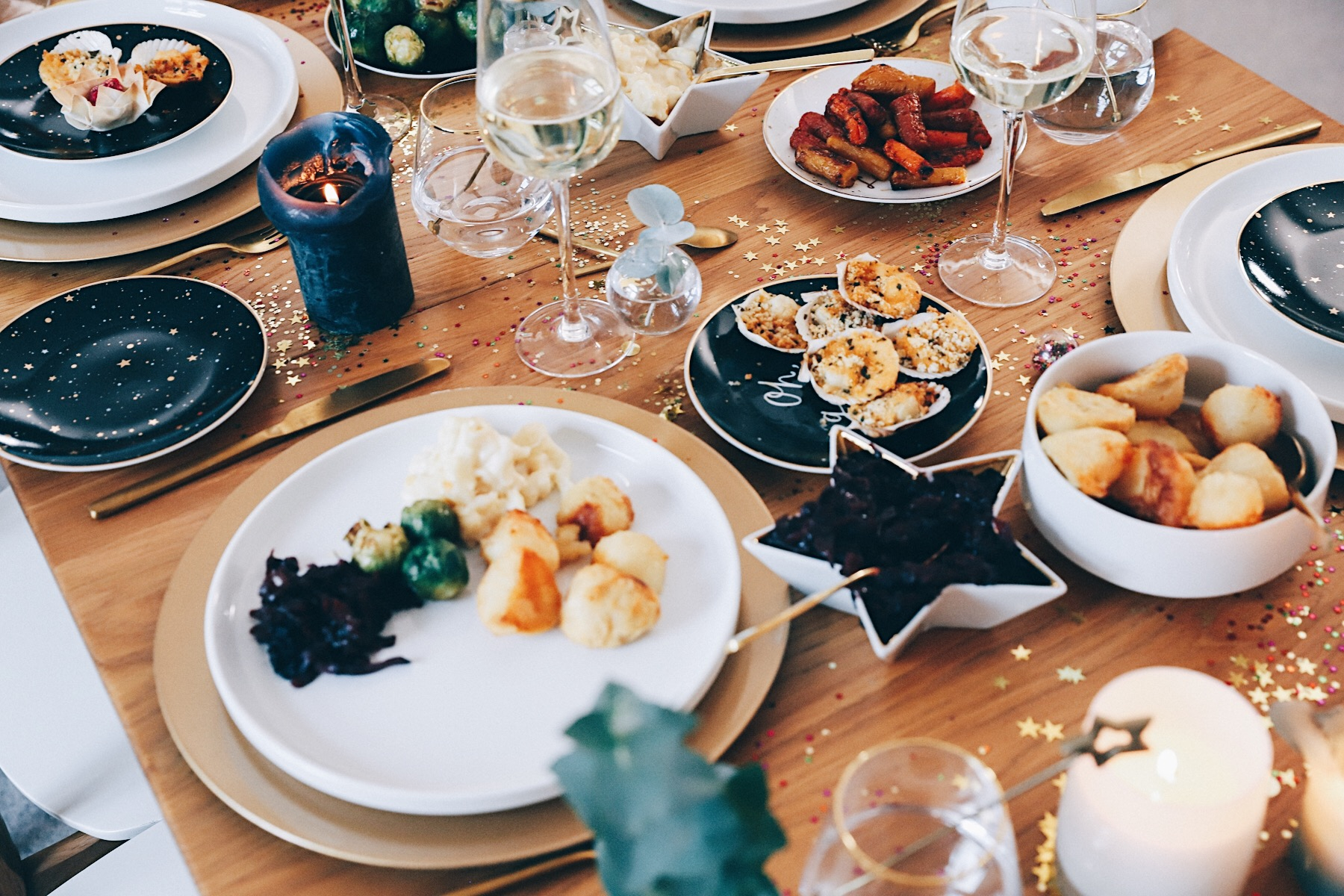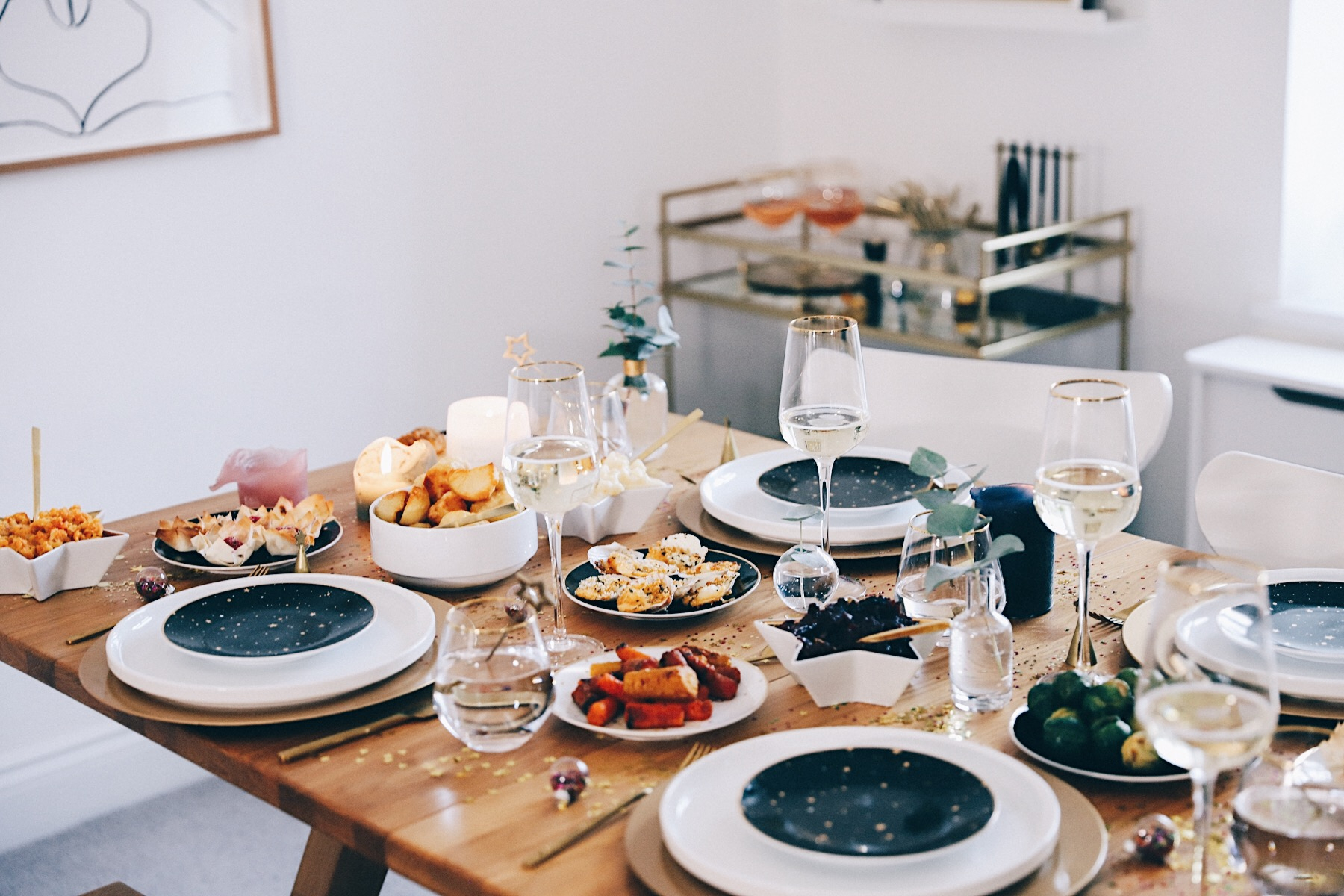 THE DECOR.
So this bit's easy as most probably it's already December by the time you host your 'lil shindig and the likelihood is that your tree is already standing tall and your lights are already twinkling away. And if not I wouldn't worry as everyone's coming over to eat lovely food, drink all the cocktails and have a good time (not to stare at your wall) so don't over think it! Throw some of that glitter confetti around, get the mood lighting going with some candles and chuck ya party dress on and voila!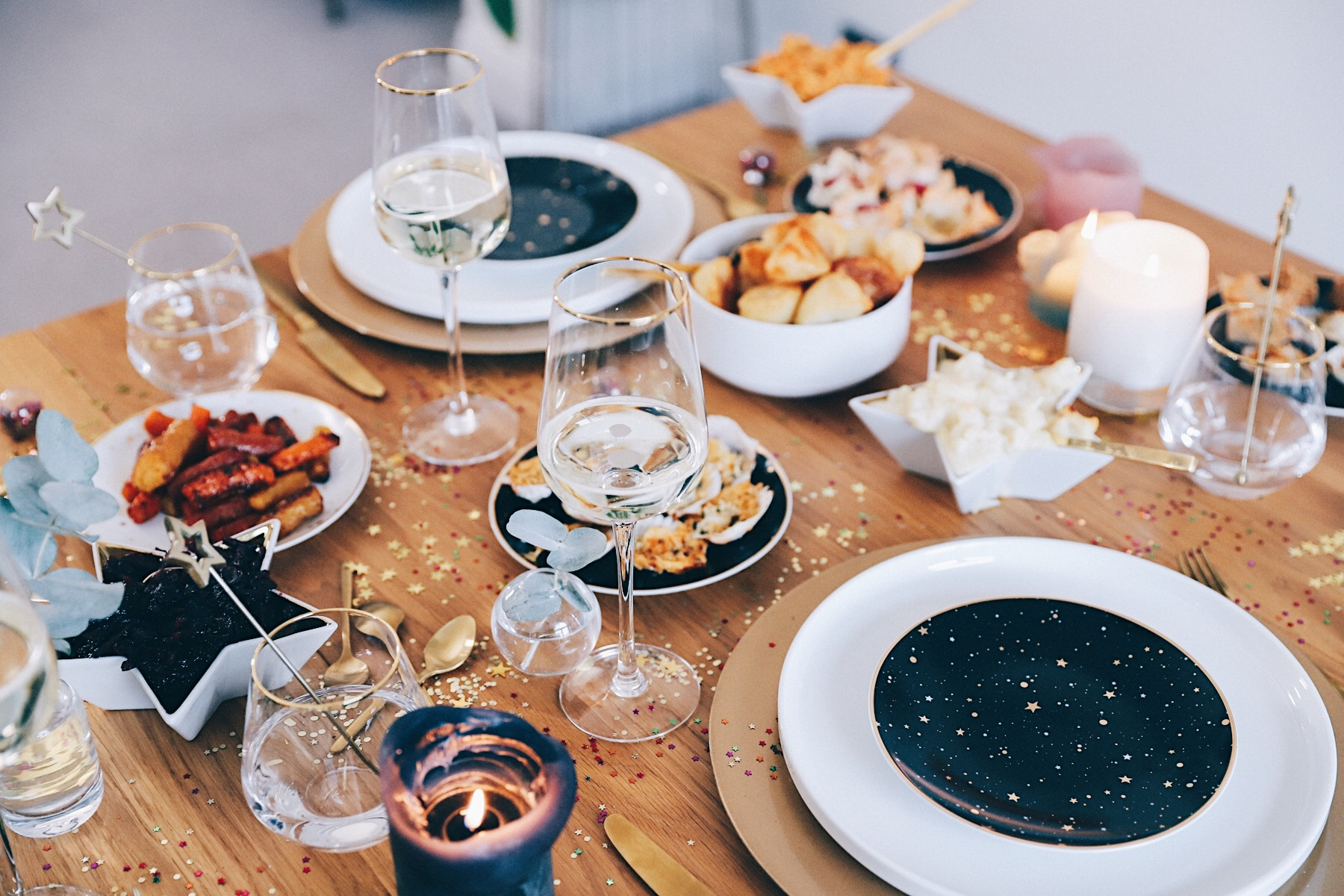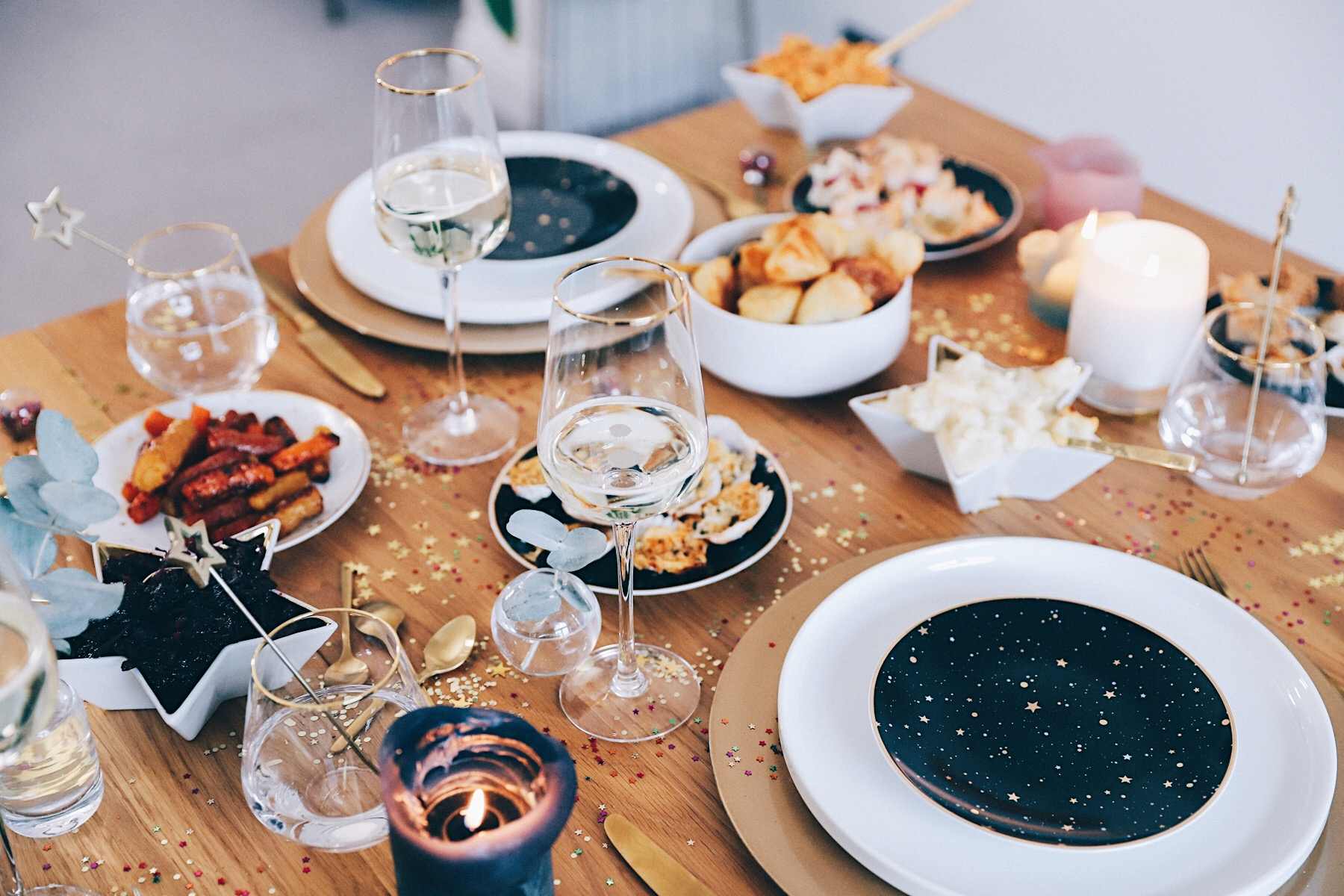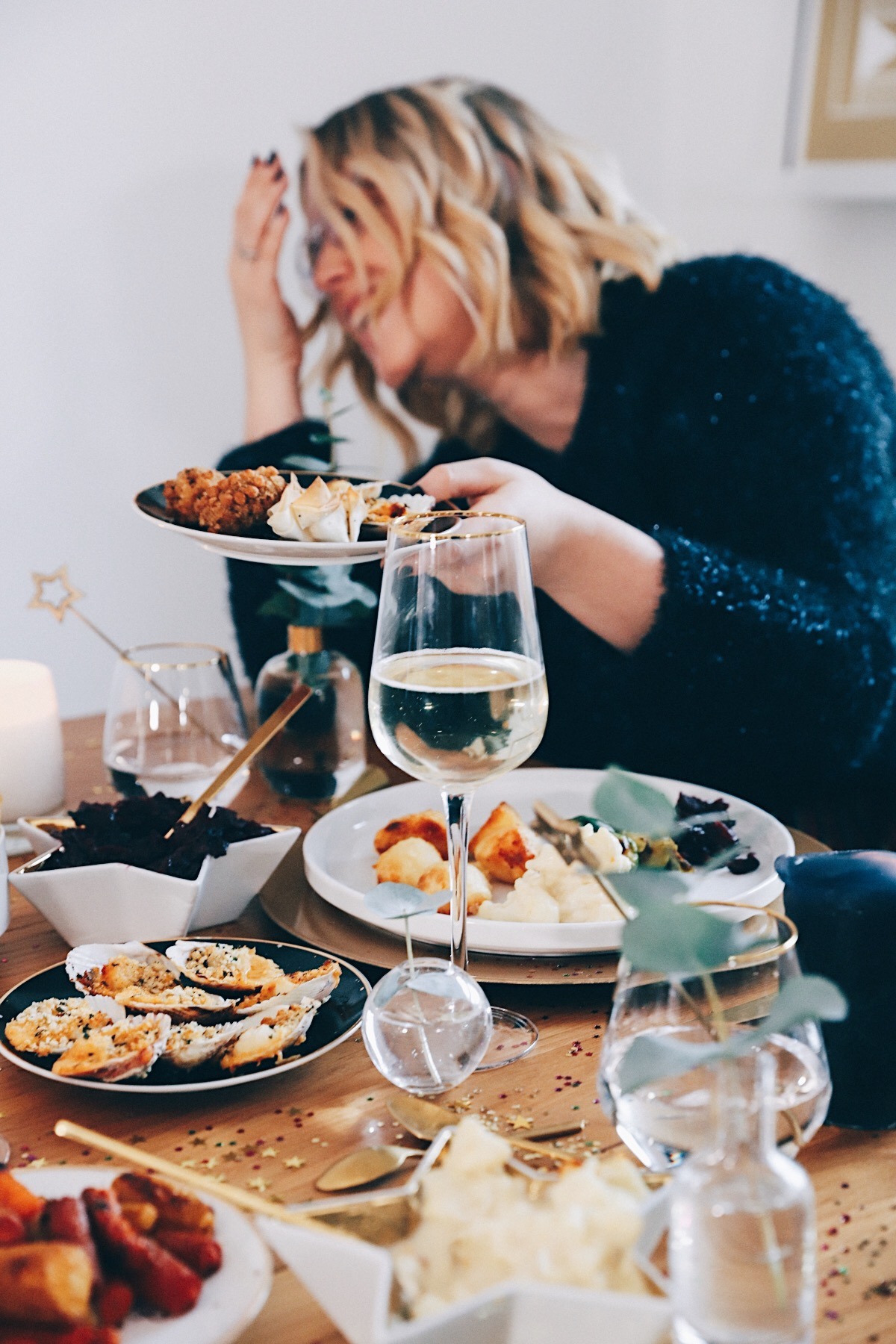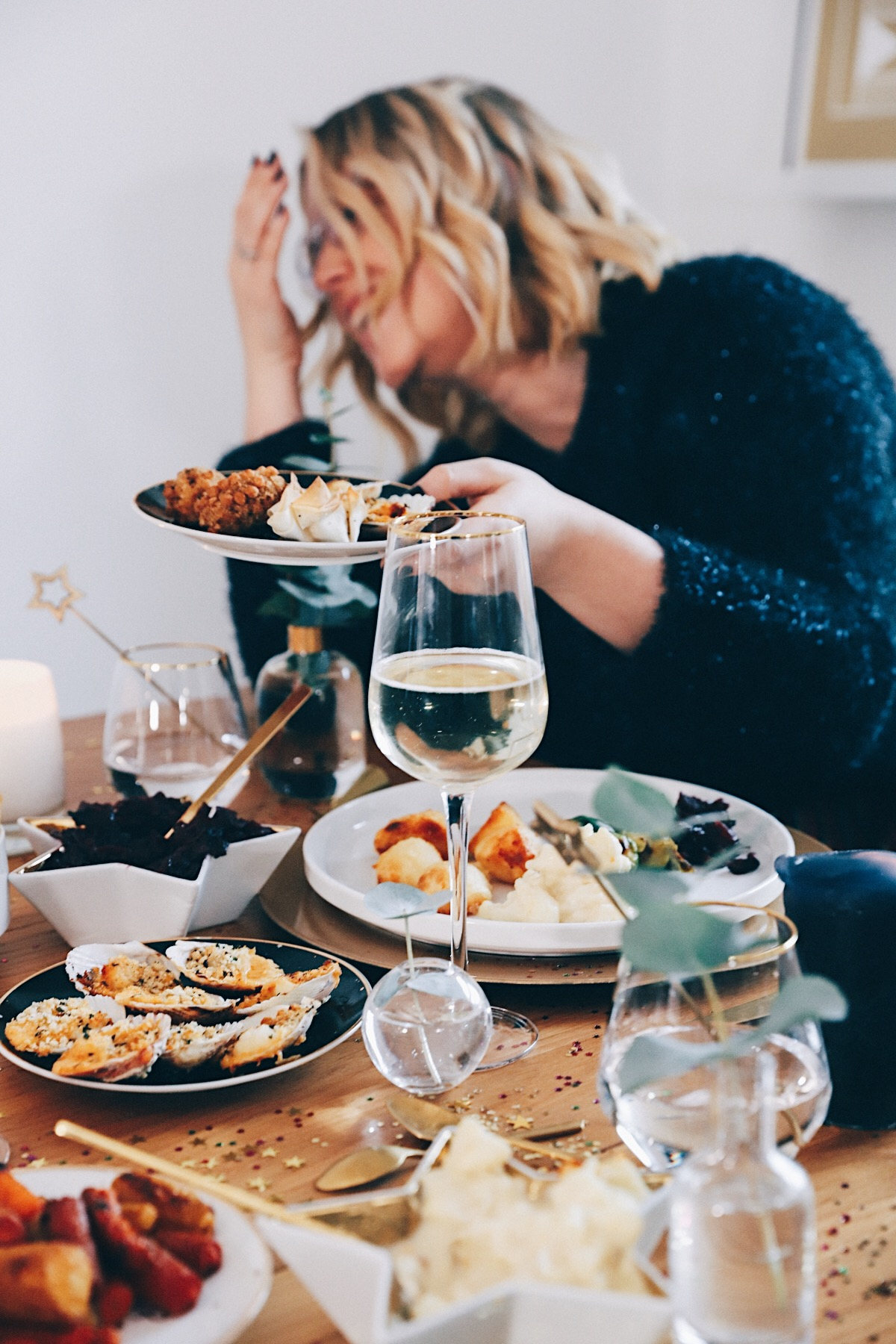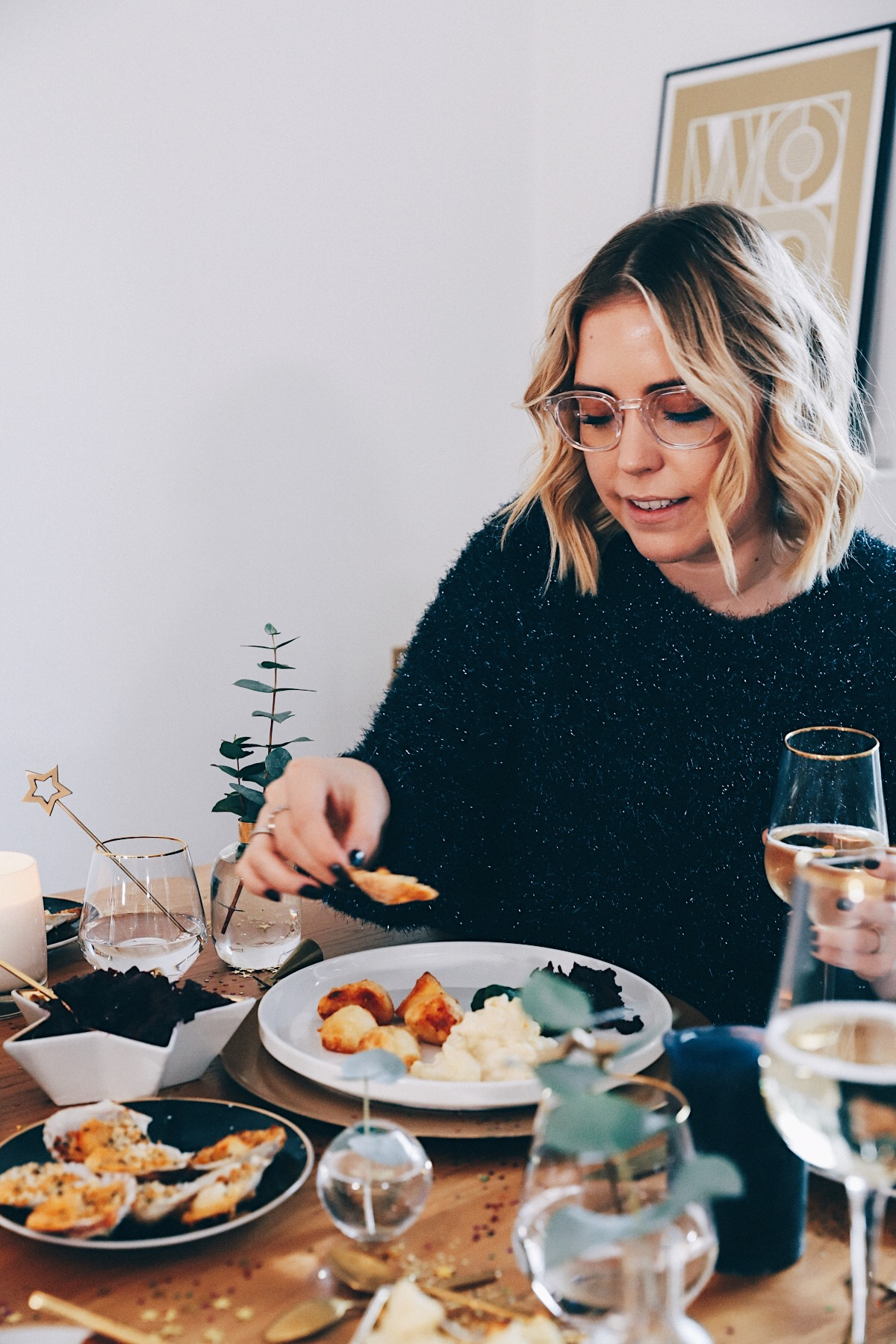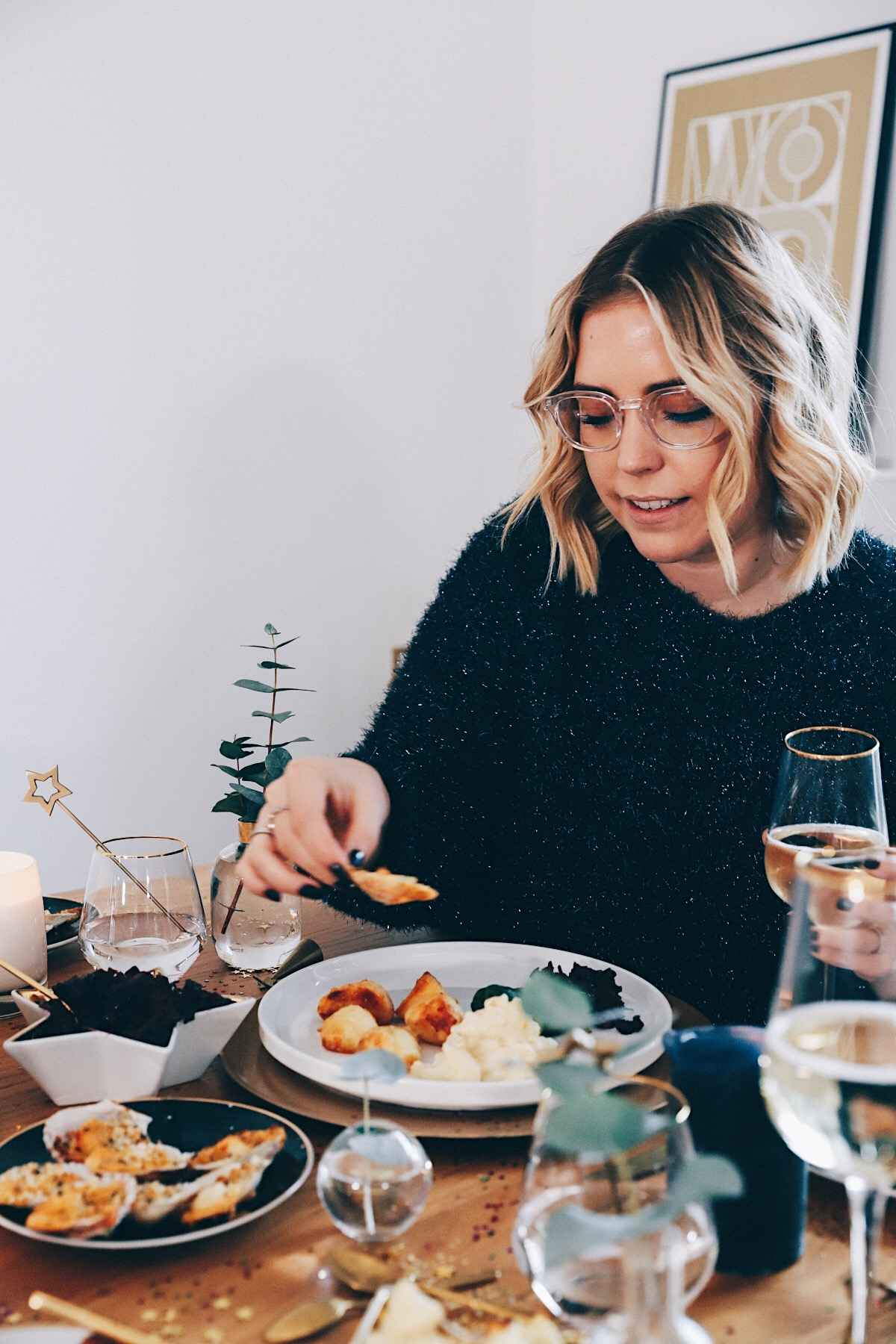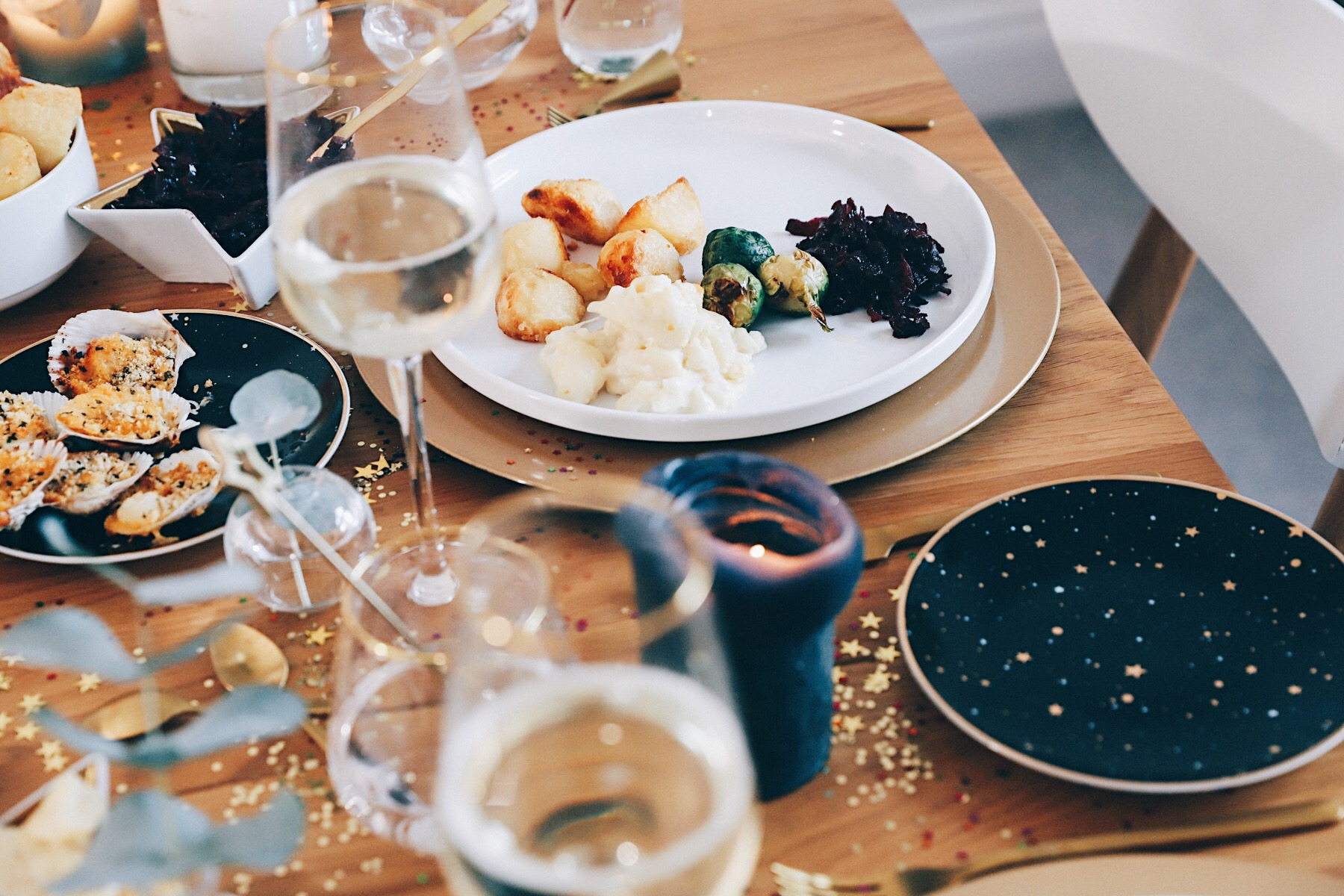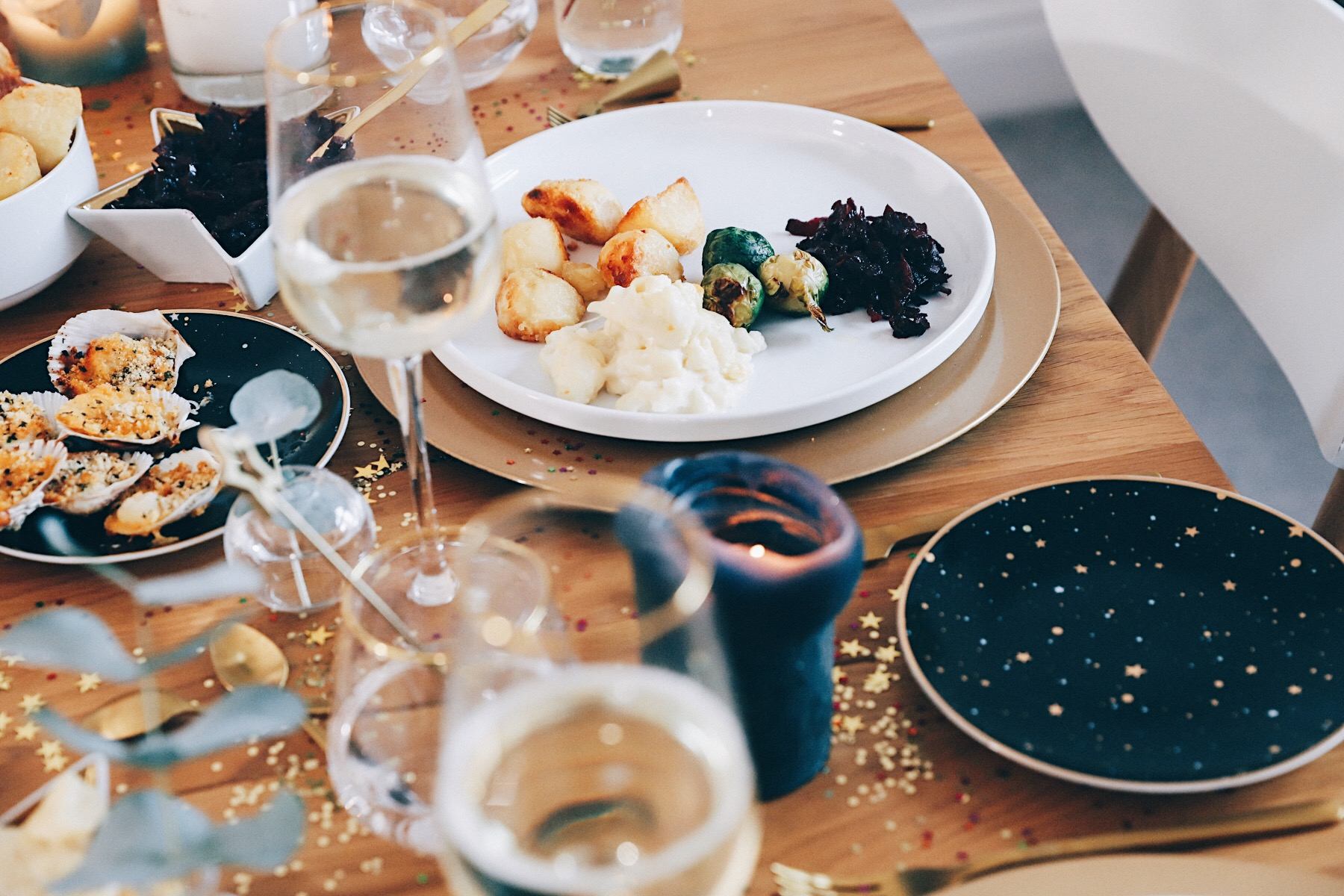 THE FOOD.
I mean, duh, obviously we gotta touch on the food. Now, let's be real, after a long day at work the thought of making a Christmas dinner from scratch probs doesn't sound too appealing… wellll dw babes, we've got you covered! Sainsbury's literally has it all. From canapés to scallops, from Mac and Cheese to brie and cranberry tarts, they're ready to sort you right out. Grab the snacks, chuck the roasties in the oven and crack open the prosecco, cause sometimes you just gotta let pre-cooked aisle do it for you…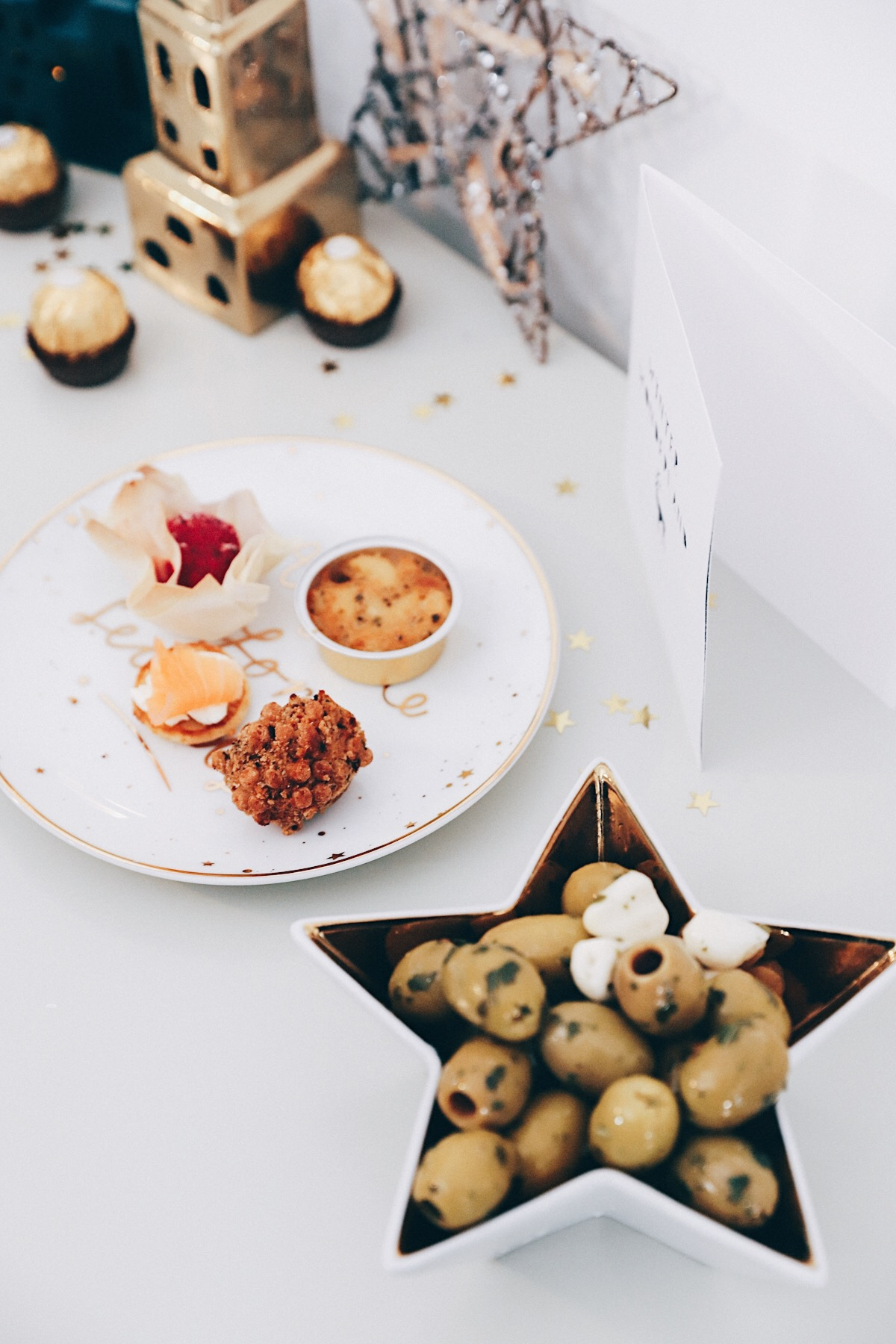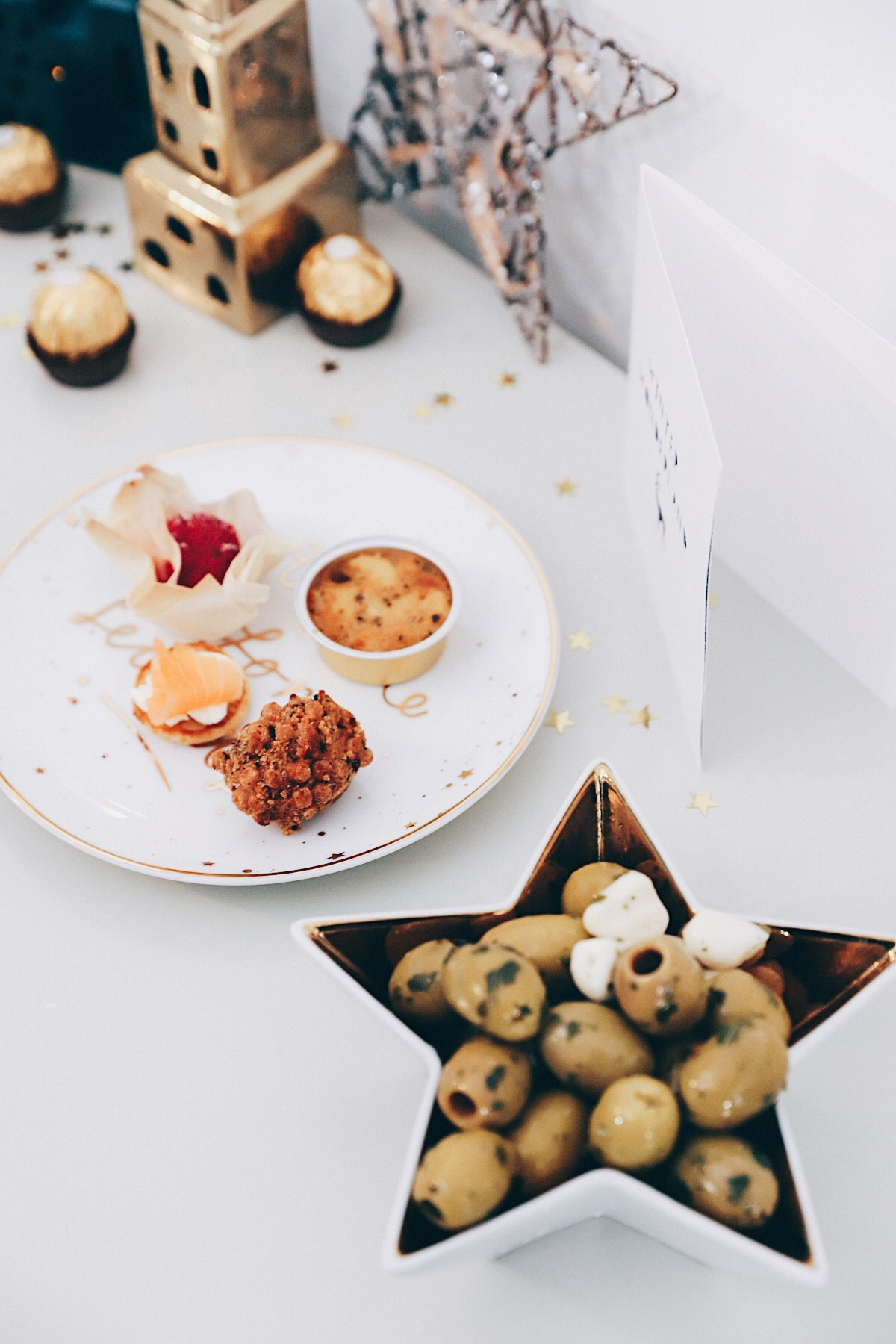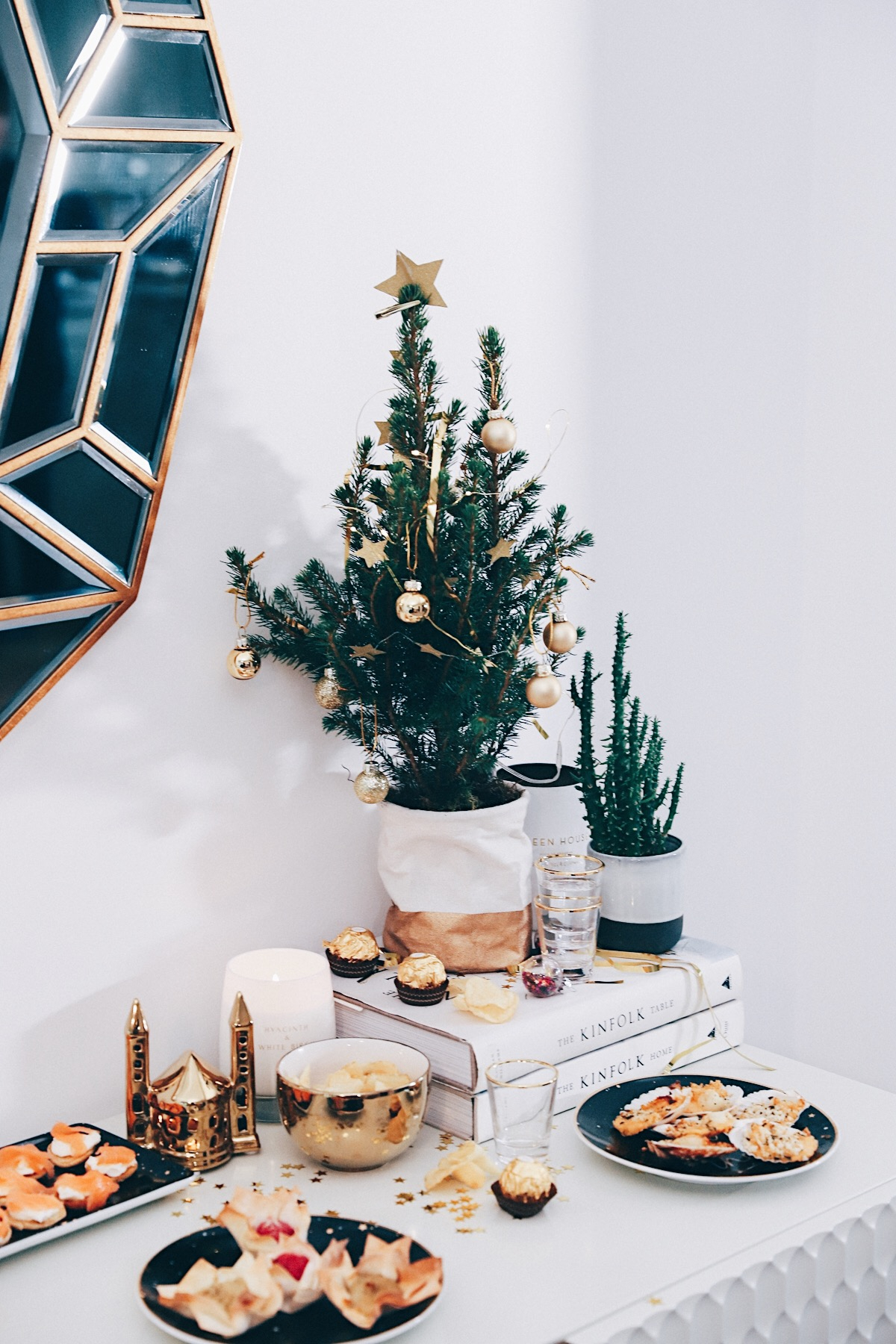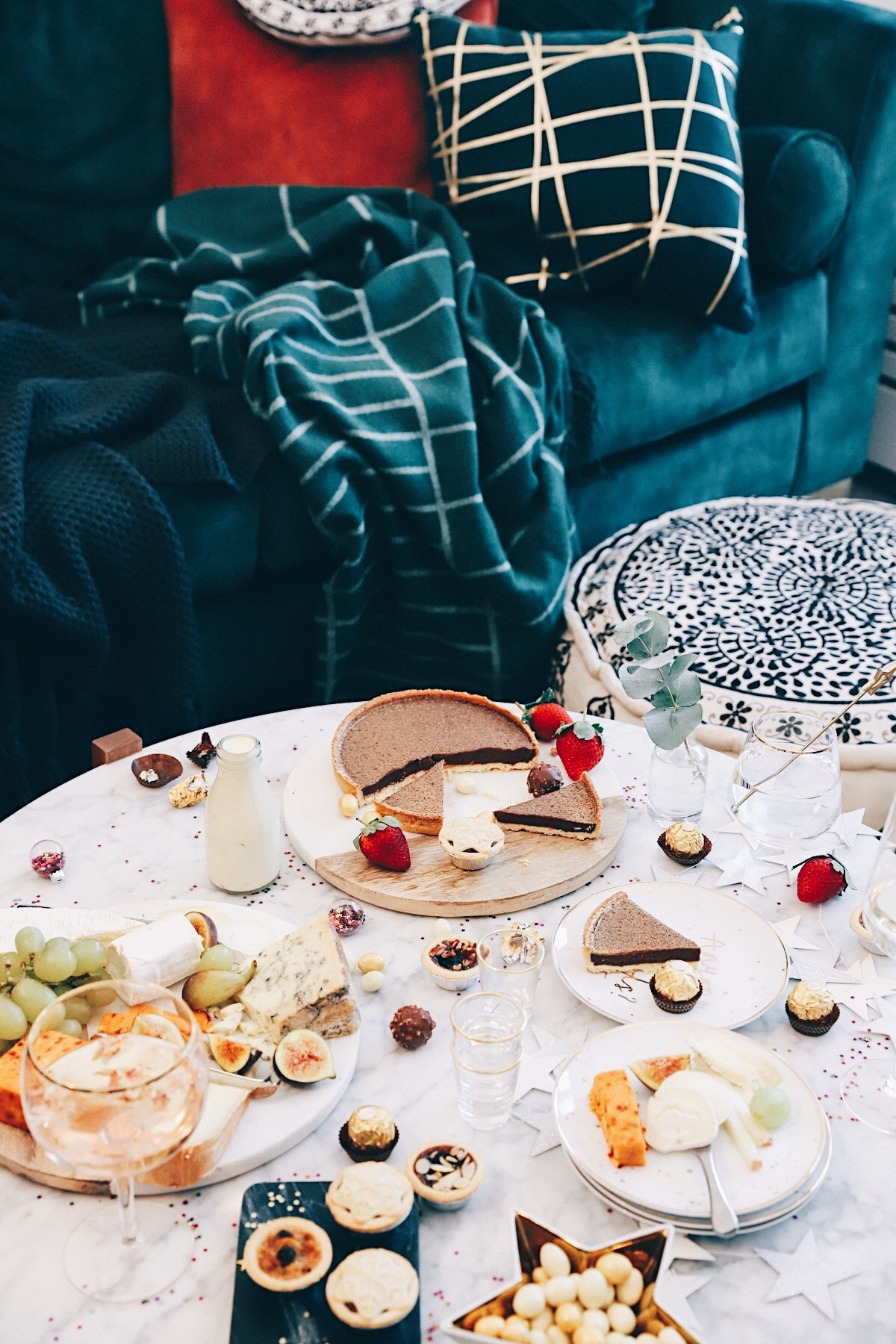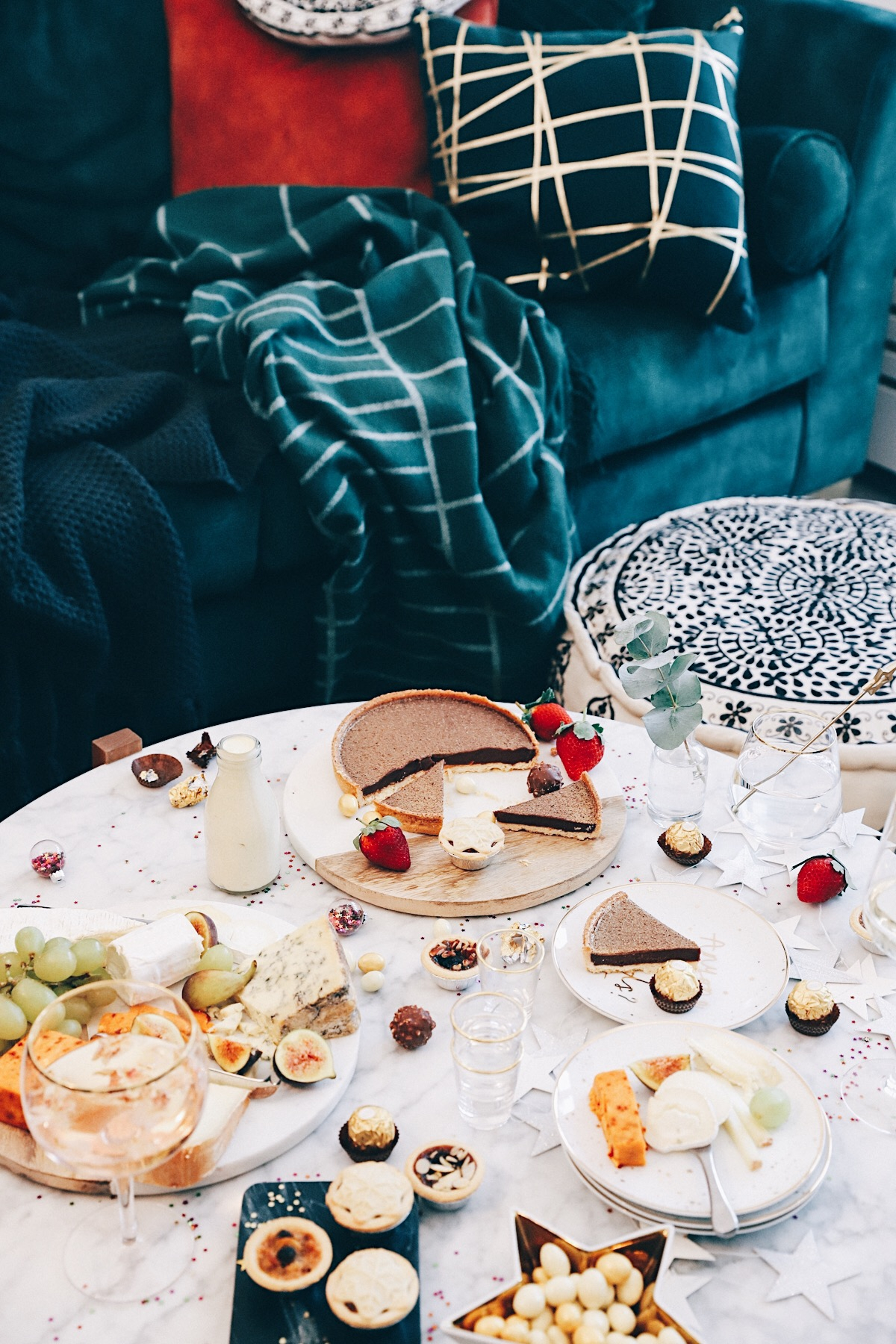 THE DRINKS.
There's something about holding a glass of fizz at Christmas that feels so much more special than usual… Maybe it's the Christmas lights, maybe it's the room full of your favourite people or maybe it's just cause the prosecco tastes THAT damn good… Whatever it is, lets not question it, lets just keep the glasses and laughter flowing! Drinks wise, if I'm hosting I usually pick something super simple… maybe pick one spirit and then change up the cocktail additions, or ya know what, just stick to everyones fave, wine! Whatever it is, keep it easy, keep it simple and keep it tasty!
These bar pieces are another Sainsbury's Home must have. Everything is perfect for Crimbo but also fab for 'in general' too… I love the gold rimmed glasses, the matching shot glasses and good god lets not forget the straws and drink mixers. HOW caute are they!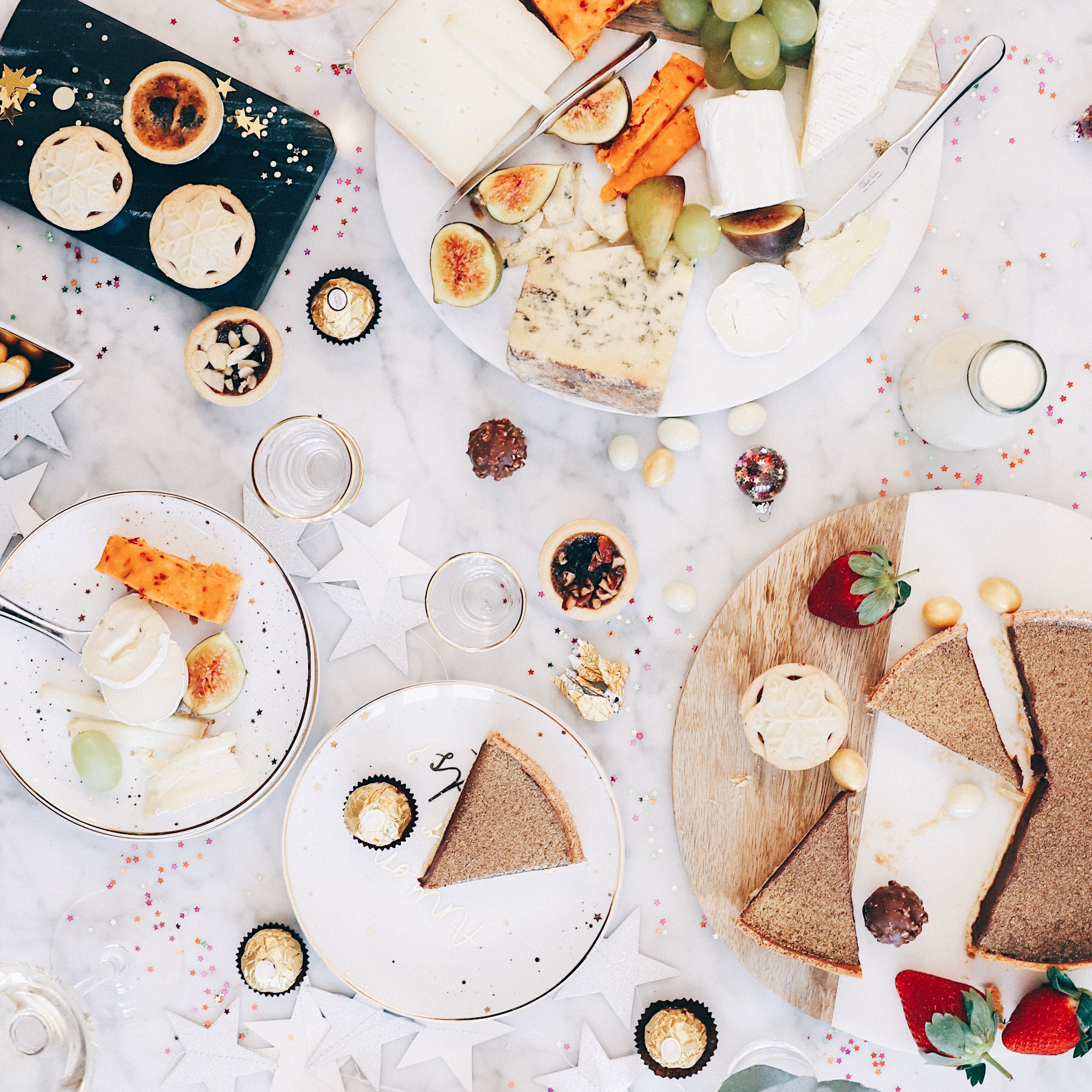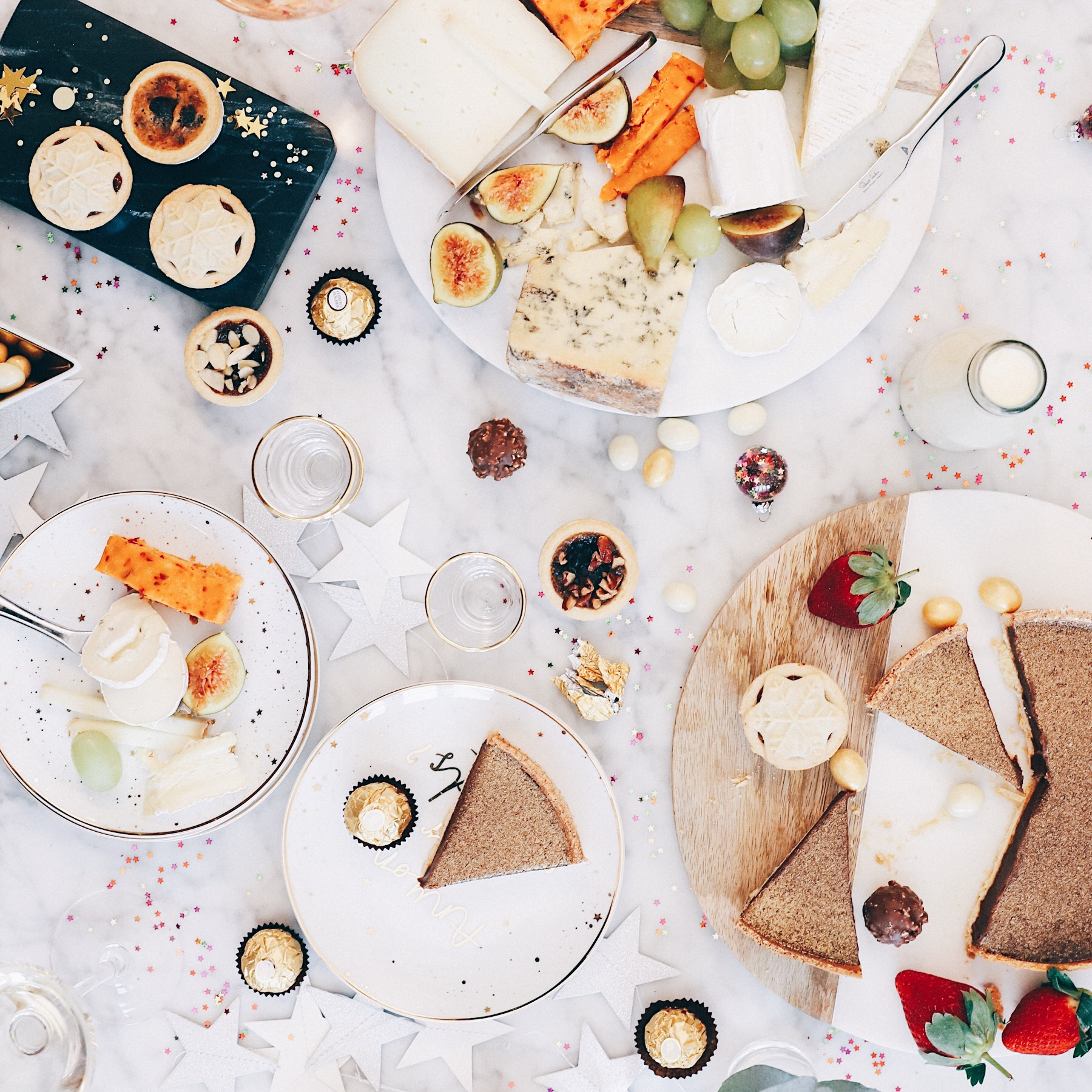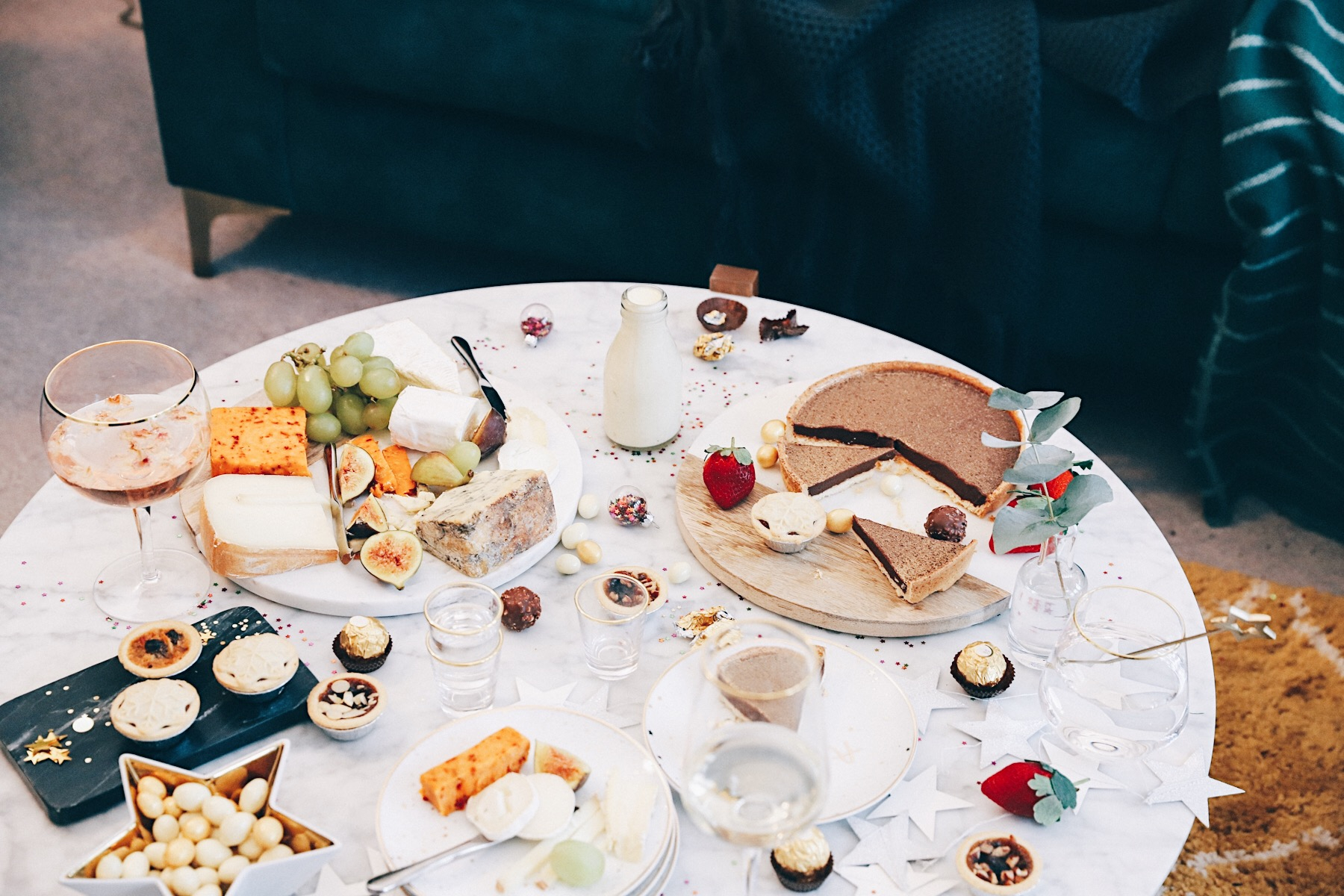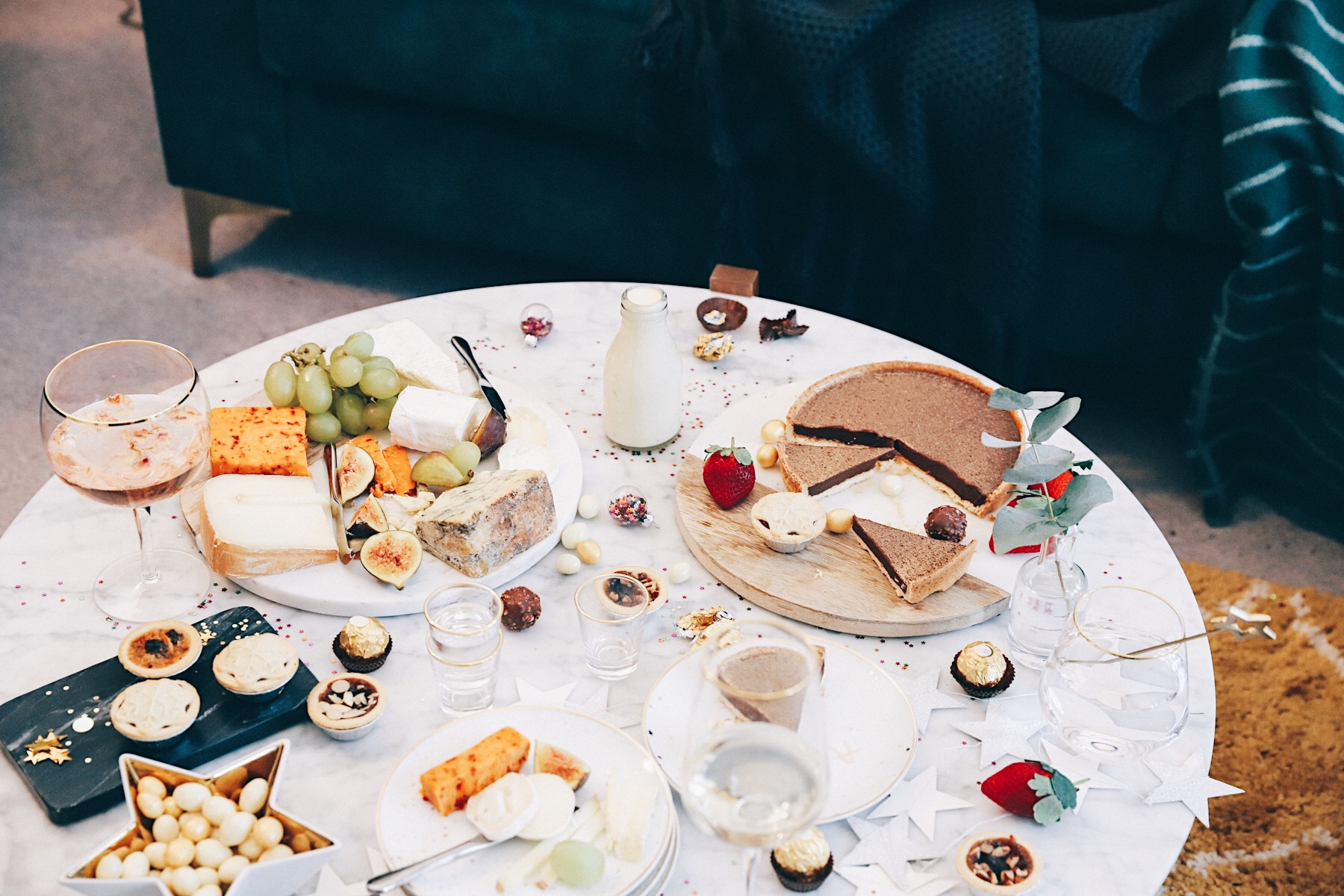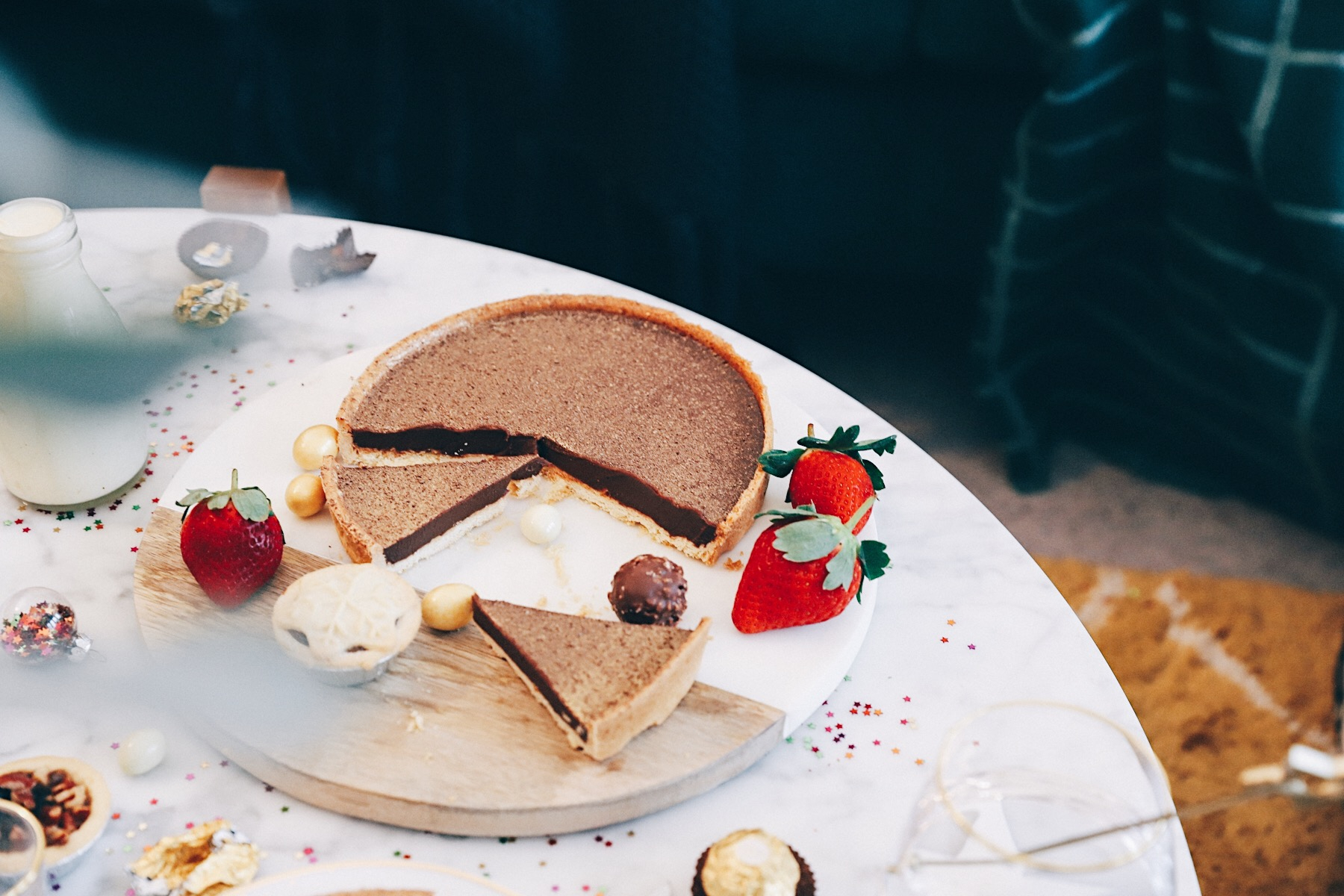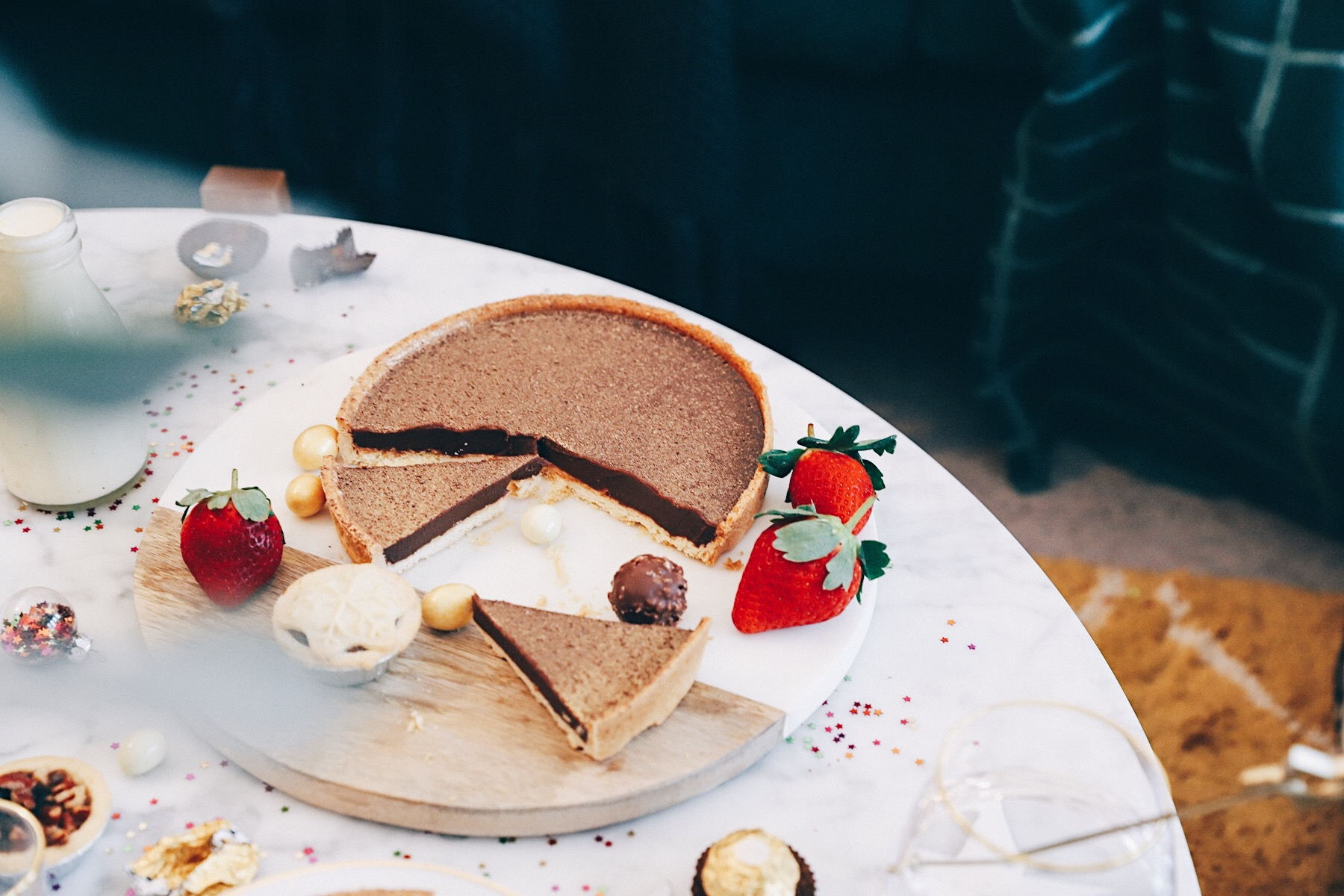 THE GAMES.
I don't know about your mates but mine are VERY into games. Like, very !. So, obviously, naturally, my Friendsmas has to include all the games. We have quite the collection from past years but dw if you don't! I often borrow ones I don't own off of my family or, ya know what, you can always ask if anyone fancies bringing some along too! That way you're most probably going to be introduced to something new and obvs the more the merrier!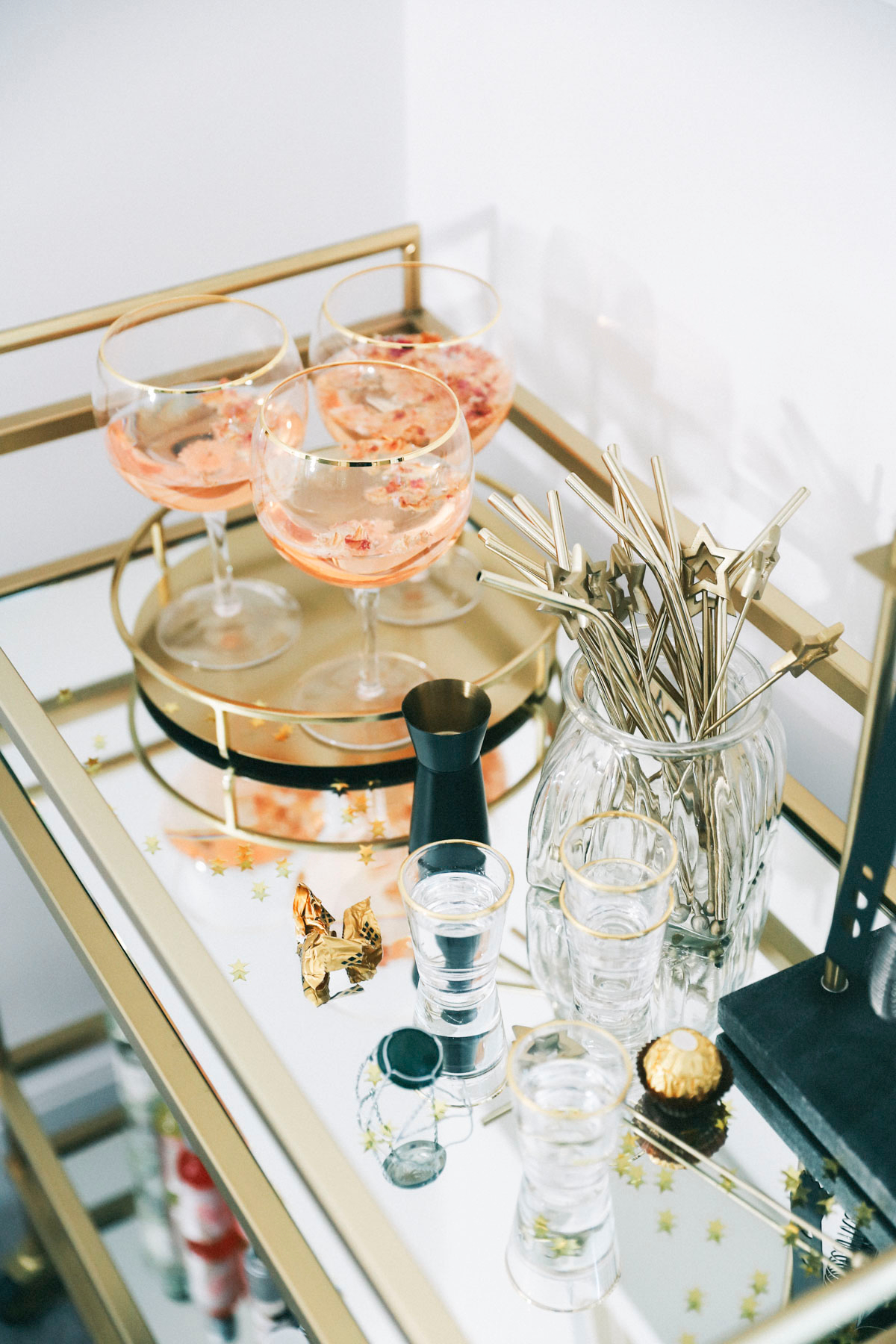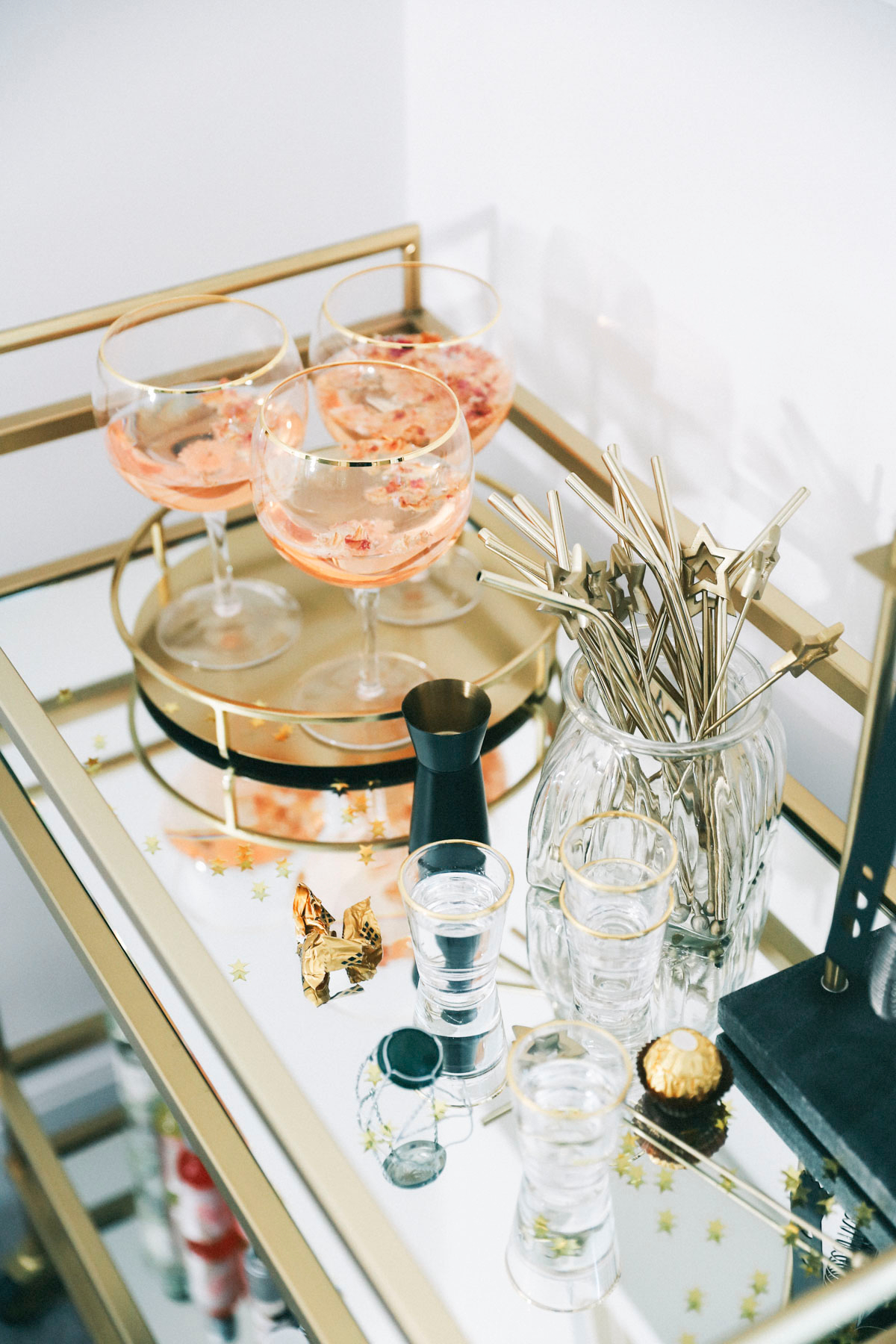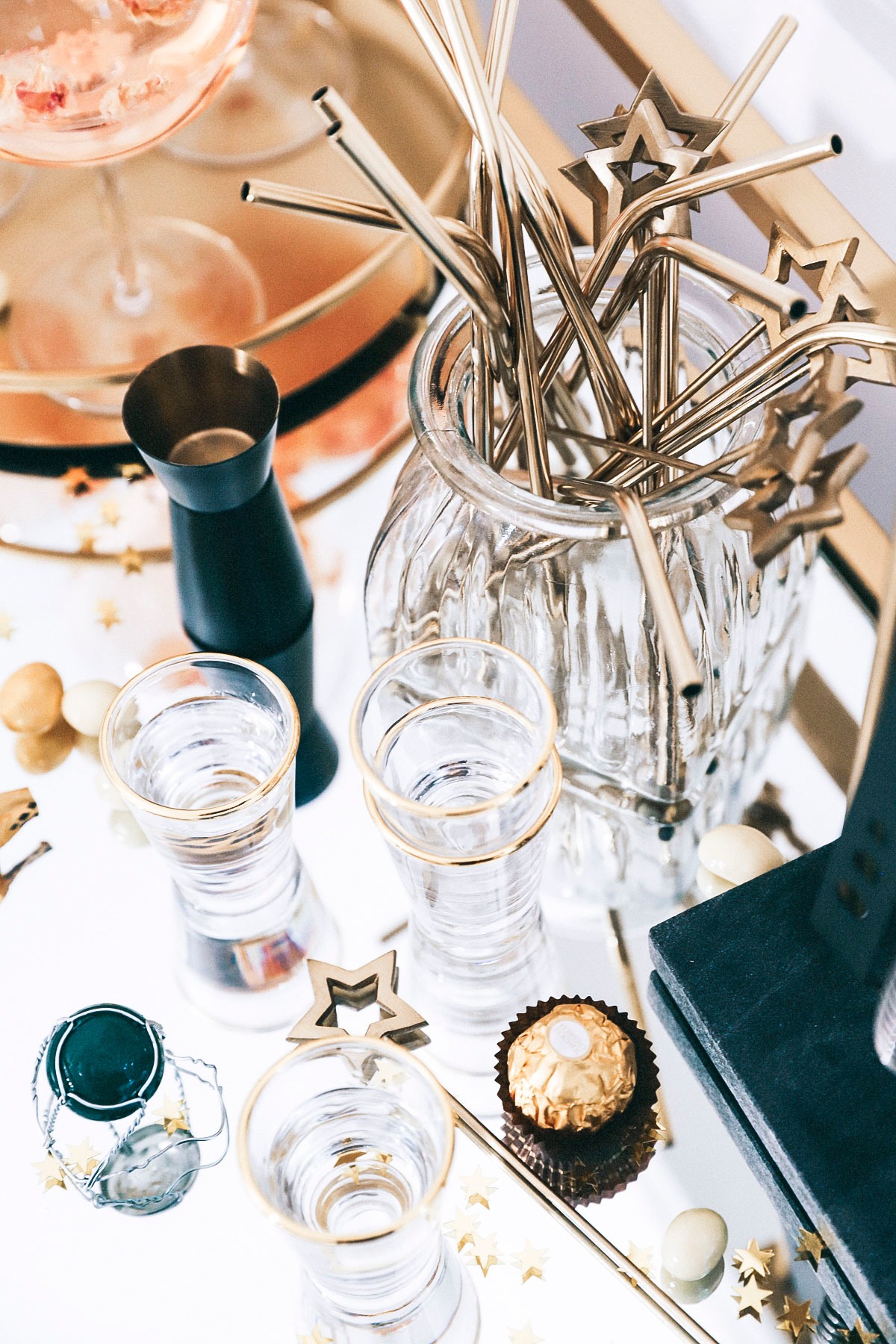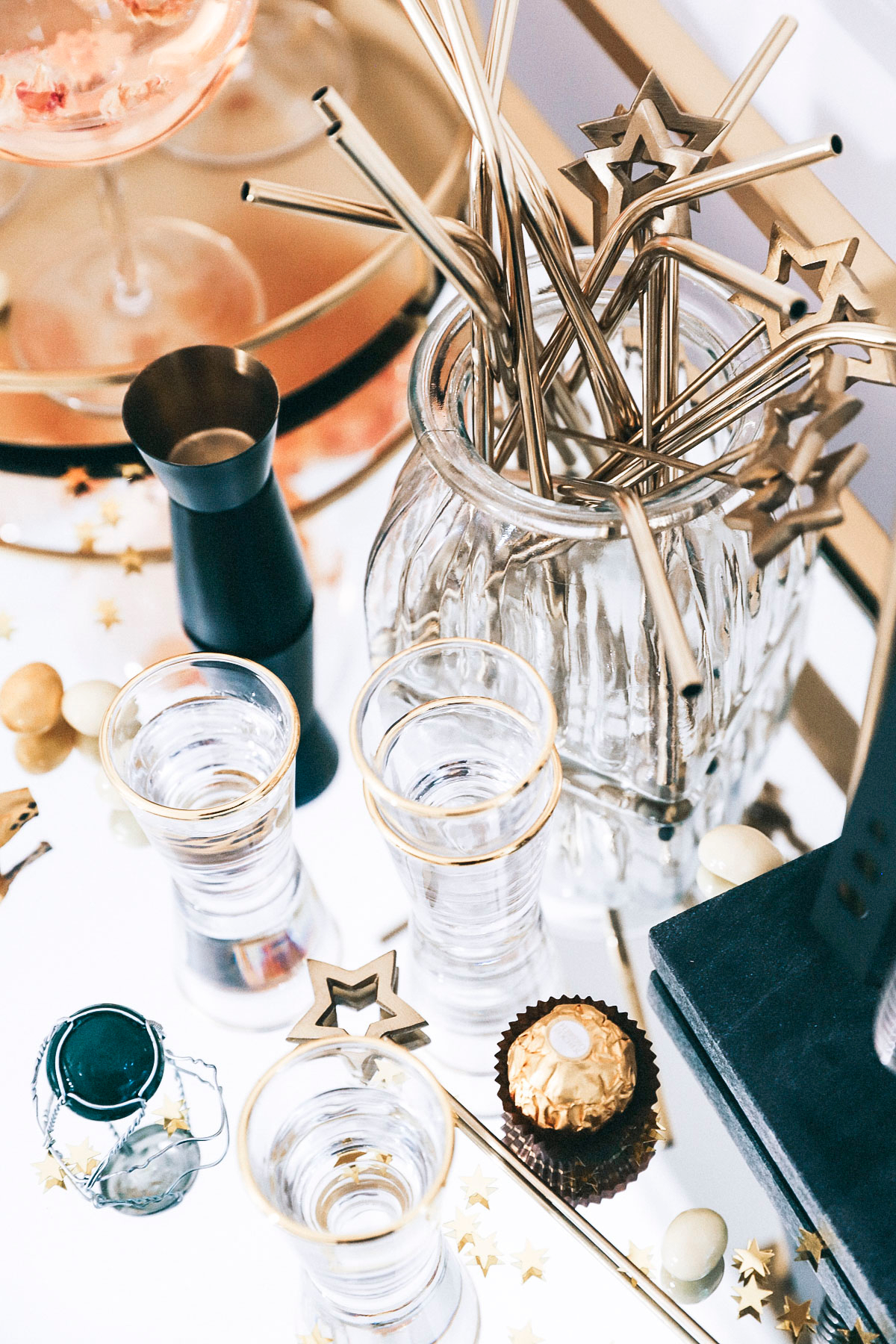 Woo! Okay! I think that's everything! I really hope you loved reading this post as much as I did writing it. And, if you wanna find out more about all the Sainsbury's Home Midnight Party collection you can call in your local Sainsbury's or right > here < ! ✨