This was not meant to be an outfit post…well not a planned one anyway. It's just that the minute the sun comes out I just wanna be outside and a few days ago Sean and I were out on a 'lil walk and then BAM I couldn't resist getting a few shots…the railings, the sun, the tall cream buildings TOO MUCH lushnesss..!! Therefore I give you this very unorganised outfit post. Some bits are new and some much older so I will try and find similar pieces to link! It's like the minute the sun is out everything changes, everyone is so friggin happy and I love living in Brighton just that bit more.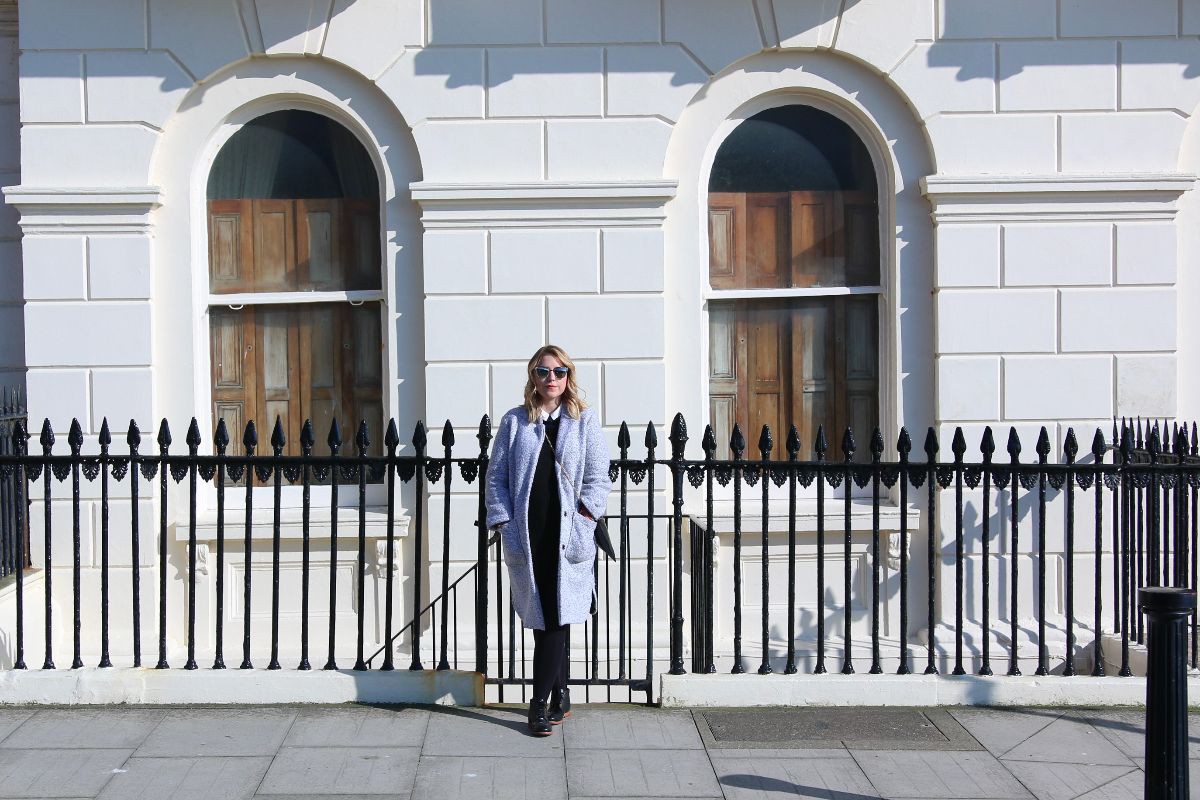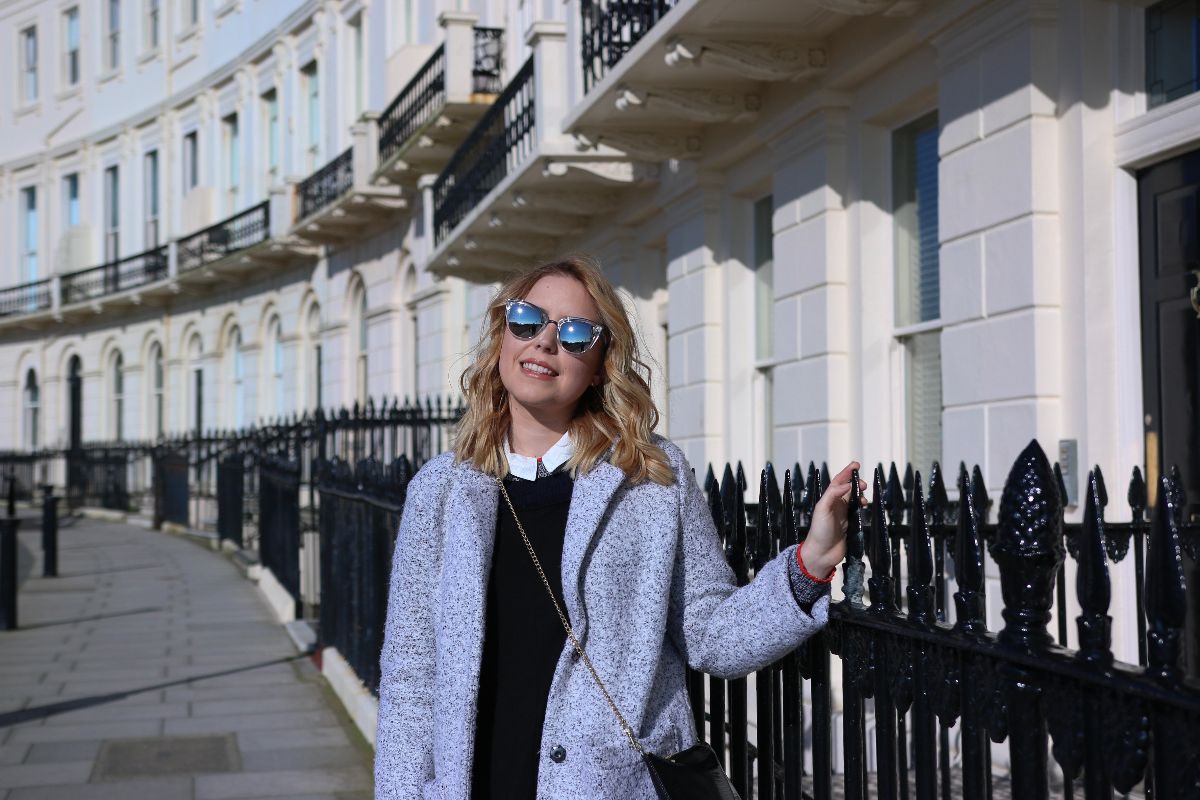 The coat
 (around £60): I've had so much wear out of this one, it's thick, but without being super heavy which is just what you need at this time of the year. Topshop are always awesome when it comes to coats and jackets, always have been. The sun may be shining a little more, but the weather can still be cold and crisp, meaning it's still totally appropriate for coat wearing to continue for a little longer.
The dress
 (£25): As you can probably tell by my very limited outfit posts I love a pinafore dress. They're so easy to piece together with, well, anything at all really. This one's from Asos and is actually like a t-shirt material which I was a bit unsure of at first, but now I just can't take it off! Its so comfy and soosoo easy to dress up a 'lil if you're feeling fancy!!
White shirt
 (£20): Collars are awesome, whether they're small, big, pointed, peter pan style…I love them all. The easiest way to make an outfit feel that bit more dressy, with minimal effort, is to add a collar! This one's a super thin cotton shirt from Topshop, great for layering up underneath other pieces!
Crop Jumper
 (£30): Another Topshop piece, this cropped long sleeved jumper top works a treat for layering under any outfit. I lovelovelove the added pop of orange on the collar and cuffs,  its all about the smallest touches hey?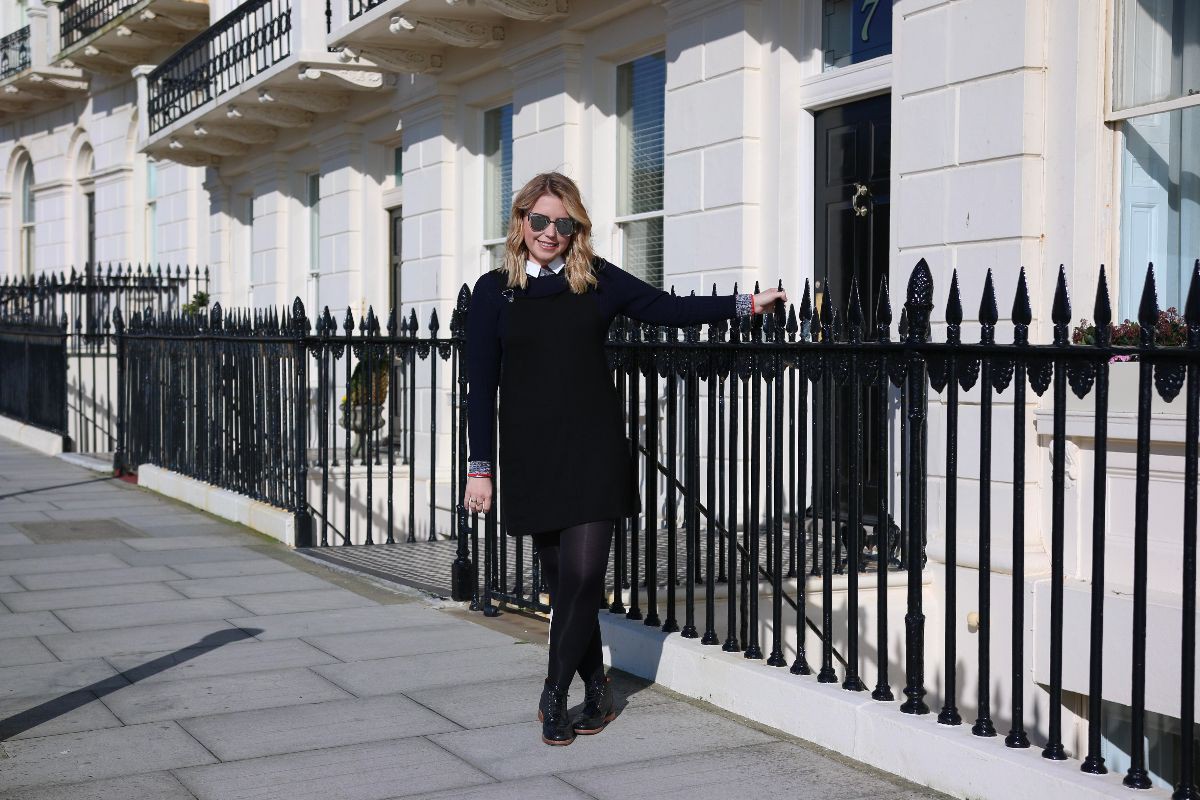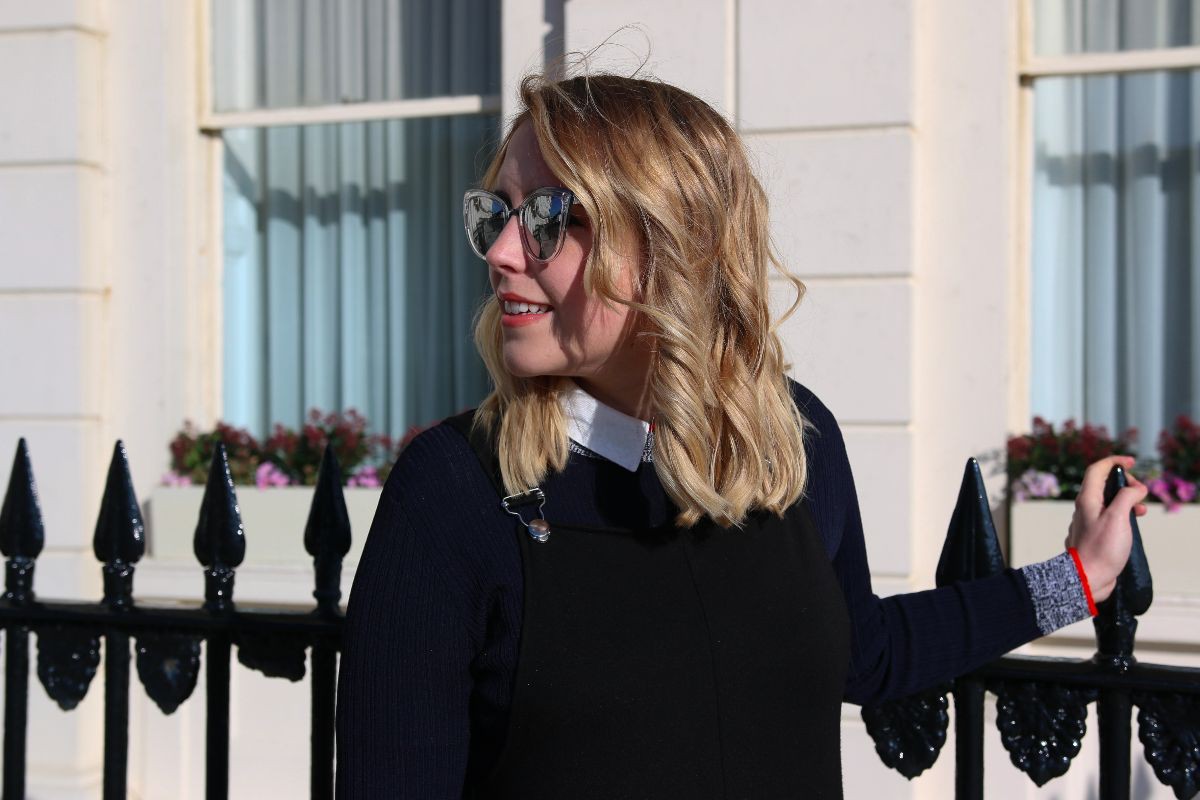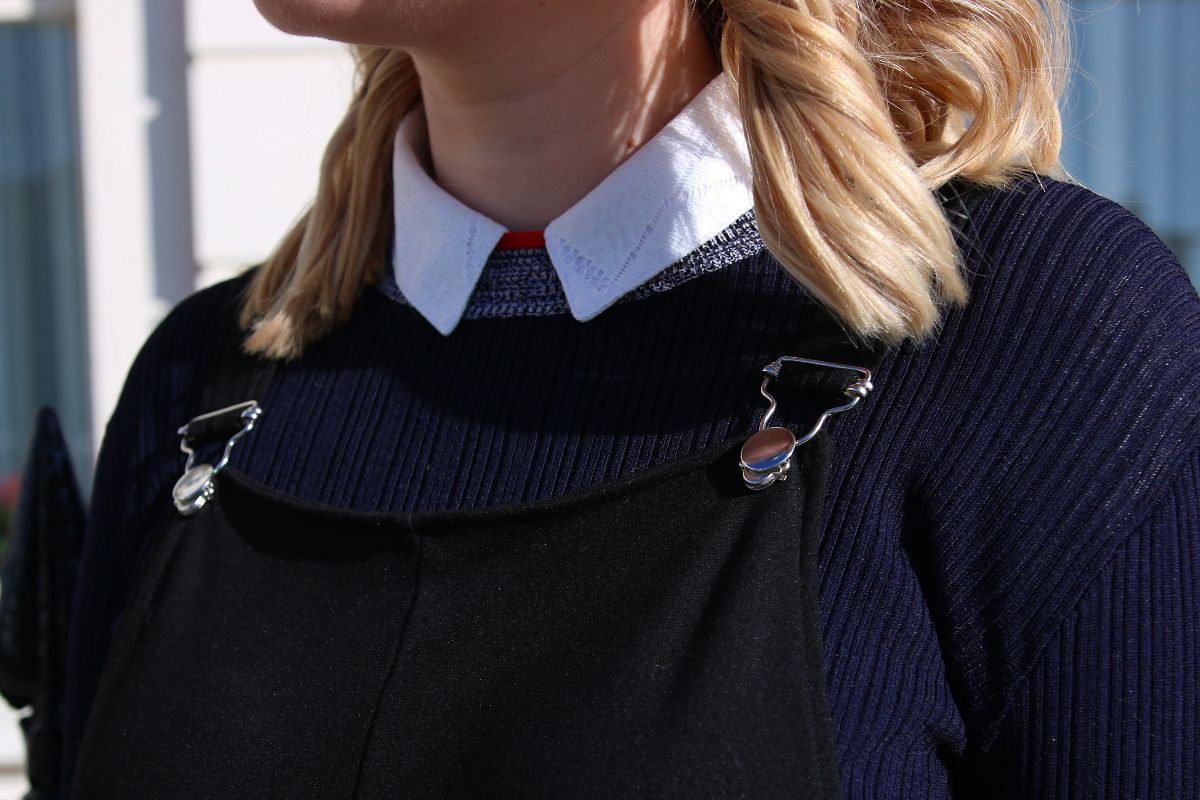 The sunglasses
 (£30): I'm usually quite boring when it comes to sunglasses – although I have a steady collection they're mostly monotone and pretty plain. These Quay ones are a little out there but I can't stop wearing them! They're a really good size, they're oversized, but without being HUGE and they just fit.
The earrings
 (£12)b:Whistles jewellery is just the best. I recently treated myself to a few pairs of their earrings as they're just soso pretty and super easy to wear! The simple design means they are really discrete, which I absolutely love. There's actually a seriously good sale on at the moment and these ones have gone down from £20 to £12…os check them out!
The bag
 (£80): Another new Whistles purchase is this bag. I had been eyeing it up for a little while and finally decided it was totally worth it…and I was right. It's the perfect size to grab your necessities and throw on just before you go out of the door!
The boots
: These are well over a year old now but I still get so much use out of them. Whether it's jeans or dresses they are so easy to pair with. Berties do some really lovely boots which are great quality. If you're on the look out I would definitely recommend!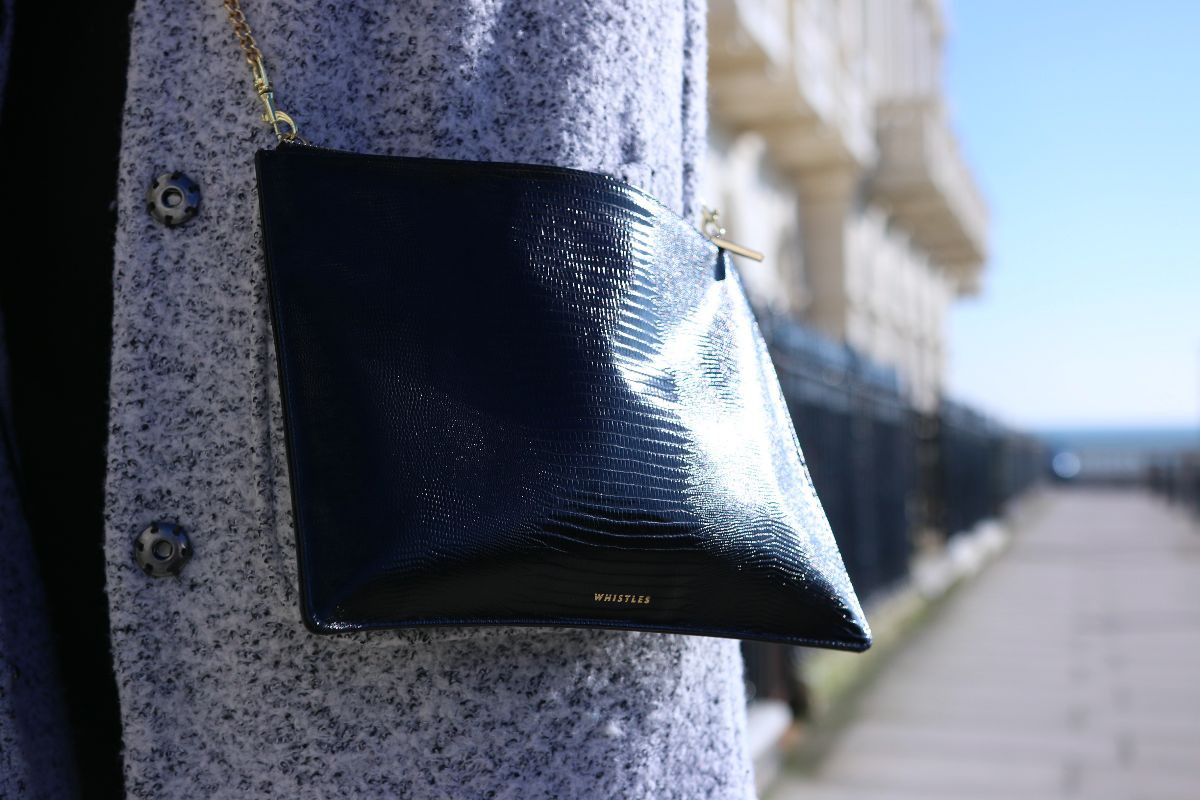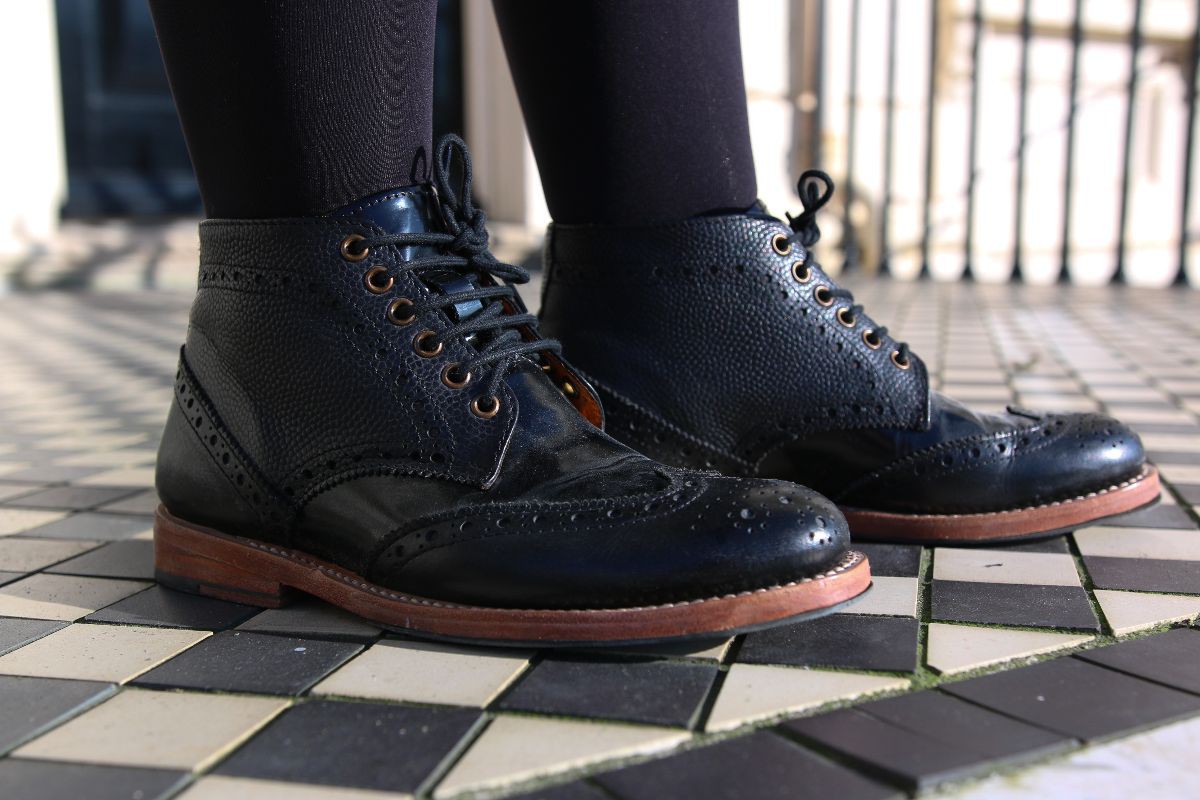 SHOP THE POST