This week I've come to an incredibly sad, but true realisation…I cannot bake, not one bit. Now this doesn't mean I don't still LOVE doing it, nor does it mean I'm going to stop any time soon, BUT what does it does mean is that somethings gotta give… SO, I've decided that enough is enough and after having one too many failed bakes recently, it finally hit me, the bit I LOVE soso much about baking is the story. Why I'm doing it, who I'm baking for, what cook book the recipe comes from and were they actually any good?
What I thought I could do, which would still allow me to keep taking photos of shit hot brownies and amazing sweet treats, is to introduce you to the why, the when and how behind the bake…what do'you think?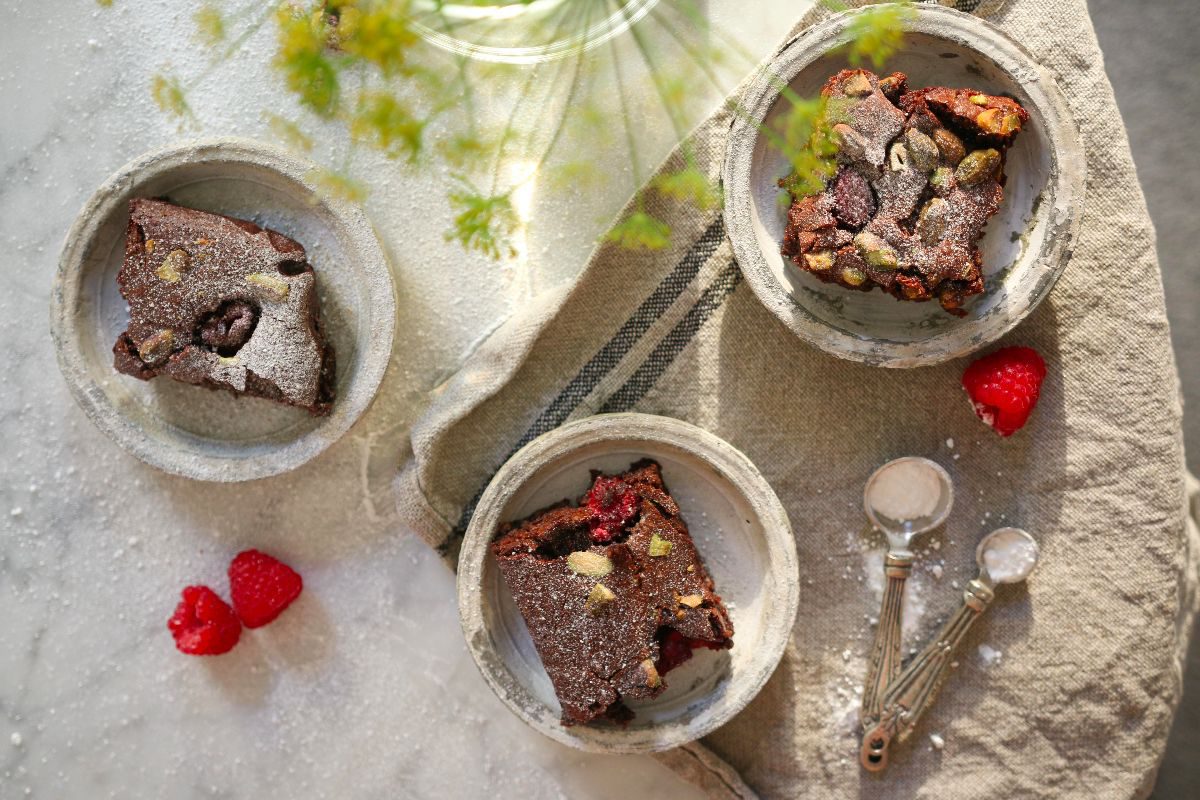 This week was my friend and trainer, Emily's Birthday. Now, I don't know about you, but the first things I think of when it comes to Birthdays is cake, well actually, any kind of sweet treat. SO, I turned straight to my cook book collection and went for a rummage…."a modern way to cook" by Anna Jones is one I've spoken about before, and the minute I saw these brownies I knew they would be PERFECT for a 'lil birthday treat!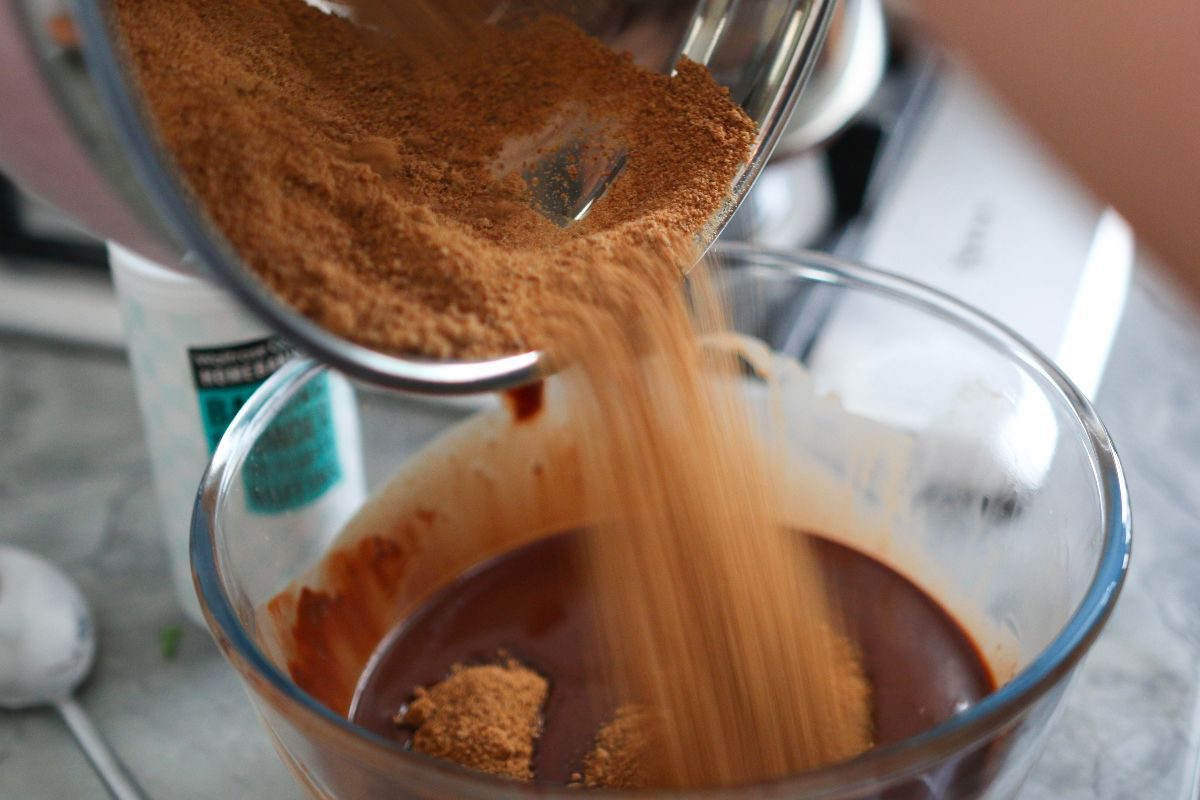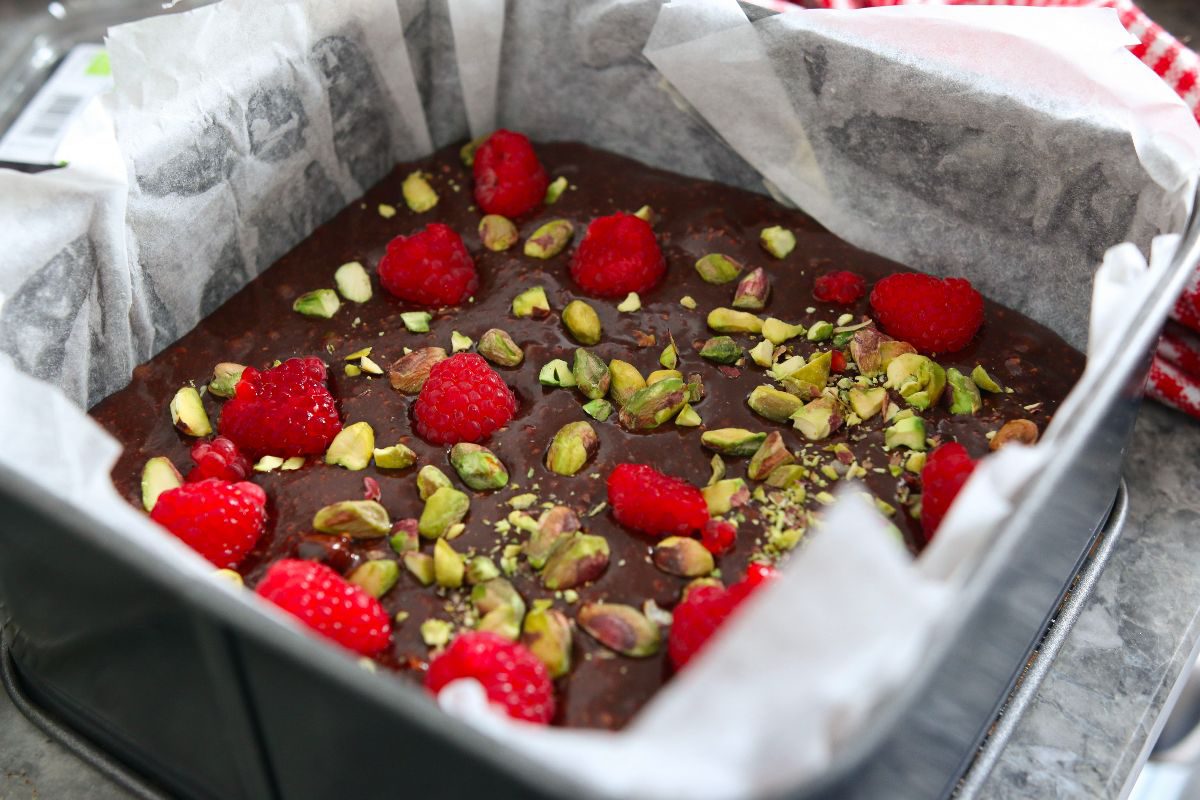 You will need:
 

3 free-range eggs, beaten

200g of dark chocolate

150g of unsalted butter

250g of coconut sugar (I actually used golden caster sugar as we had run out of coconut!)
---
1 teaspoon of natural vanilla extract

150g of ground almonds

125g of raspberries

50g of pistachio nuts
---
Let's do this:
Step one: Preheat your oven to 180c and grease a small brownie tin with a lil butter and then line with baking paper…I used a 20cm x 20cm tin as recommend, which worked perfectly!

Step two: Place a heatproof bowl on a pan of simmering water, just make sure that the water and bowl do not touch ! Pop 150g of the chocolate into the bowl along with your butter and allow to melt whilst stirring occasionally..MMMmm.

Step three: Once melted, remove from the heat and and mix in the sugar, followed by the beaten eggs, and then finally the vanilla, baking powder, ground almonds, and also half the raspberries and half the pistachios.
Step four: Roughly chop the left over chocolate and fold through the gooey mixture!
Step five: Pour your brownie mixture into your tin, and then finally scatter the remaining raspberries and pistachios on top before popping in the oven for around 25-30 minutes!

Step six: Once cooked, leave to cool for at least twenty minutes before cutting into pieces…trust me, this is important as you don't want it to collapse! The brownies should last between 3-4 days, so lot's of time to enjoy!

OHSOYUM!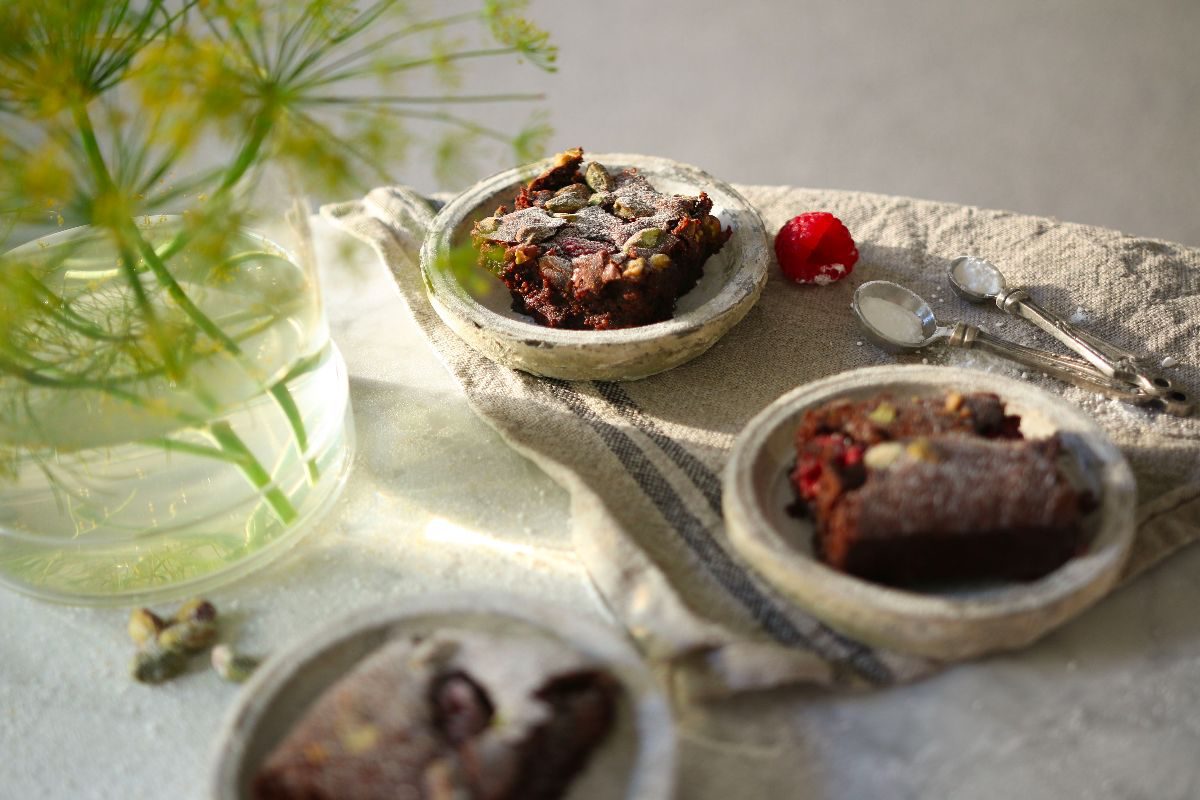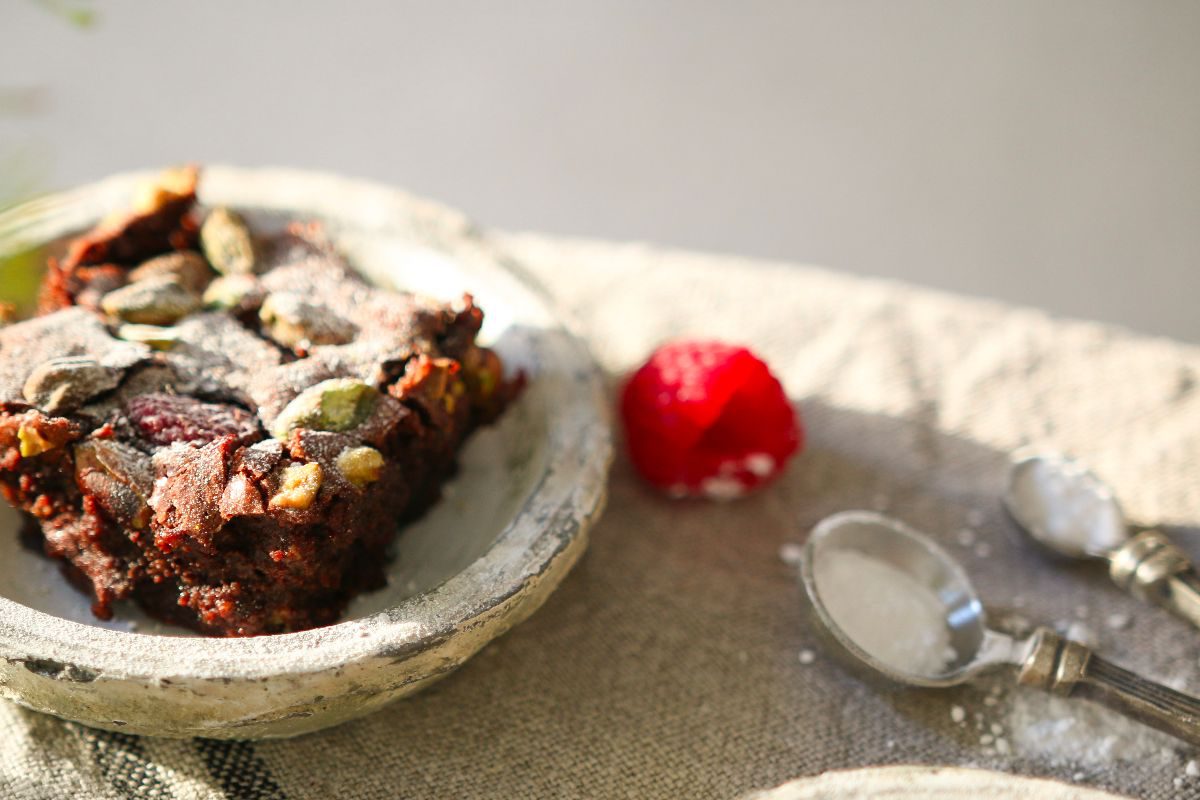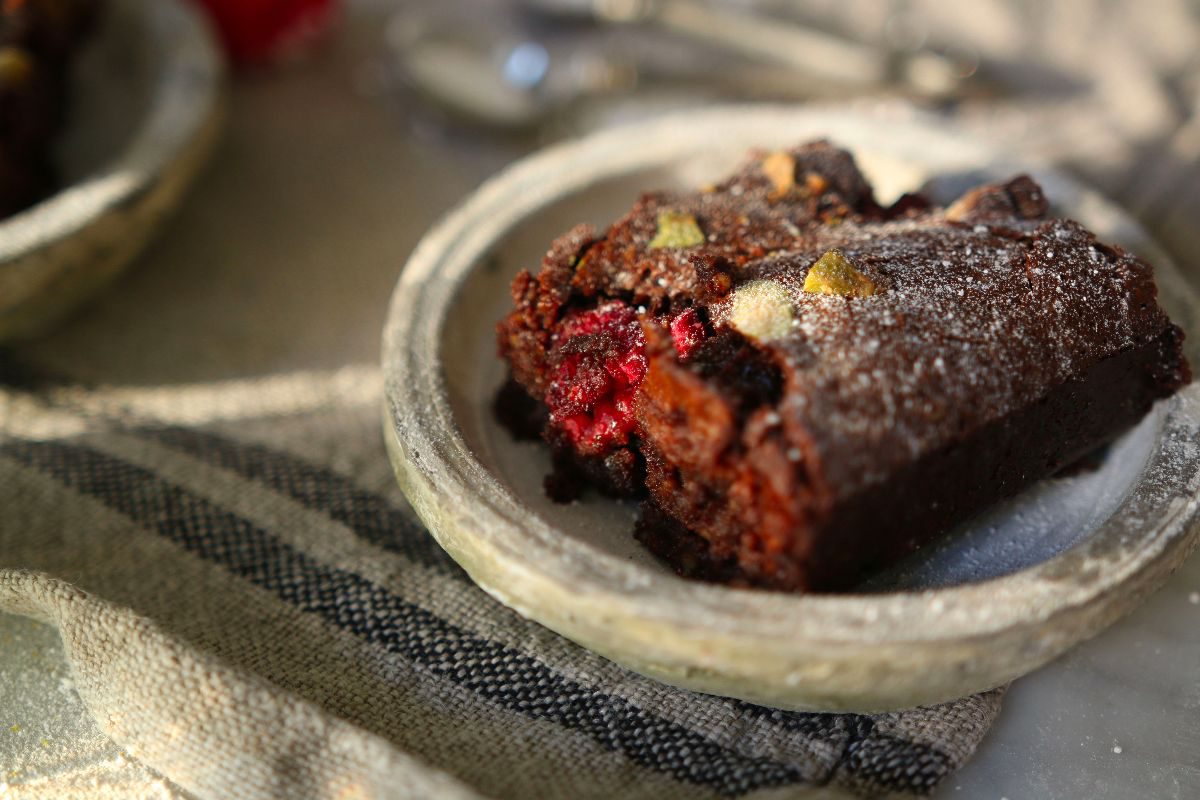 Okay, seriously, these were SO AMAZING. They were the perfect balance of gooey//chocolatey goodness…and made the PERFECT sweet treat gift! I was soso happy with how they turned out and actually it kinda feels like I'm getting my baking mojo back…just with other peoples beautiful recipes and not my own! This has completely solidified the fact I should stick to experimenting with the cooking side of things and not the baking…BUT I have totally loved following Anna's recipe, so if you're after some dreamy brownies, these are the ones!