Dreamy Chocolate Nut Bars.
New cookbooks are to me kinda like mini new fresh kitchen starts…. There's something so exciting about having a ~whole~ book filled with new things to make//bake//eat. That being said, let me introduce you to a little new fave of mine "Green Kitchen at Home" …. and you may just recognise this name as I adore these books – I've talked about them in the past, but this beaut is brand new and I literally started meal planning the second it arrived. With everything from "fridge favourites" to the what you will need "shopping list" to go with it, this book is so much more than just recipes and with crazy beautiful images to go alongside each dish, it's gorge just to look at alone…
Okay, so let's talk about these beauts… they are perfect for when ya fancy a 'lil sweet treat, they literally have it all. If you're into "no bake" kinda bars, you will love these. So easy to make and they last for weeks, so obviously I doubled the recipe and made a ton to keep in the freezer…winwinwin!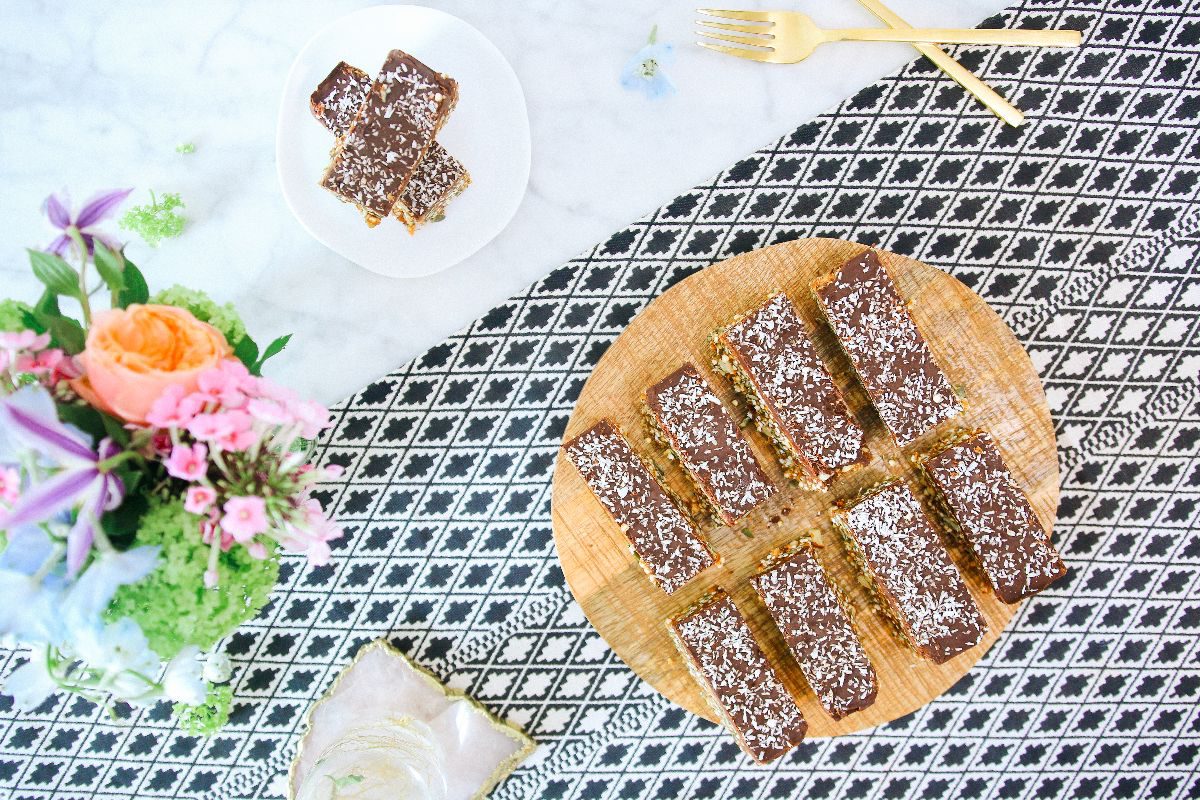 -For The Bars-
10 soft dates, pitted.

2 tbsp of virgin coconut oil.

250 ml of crunchy peanut butter, or any other nut butter!.

75g of pumpkin seeds, toasted.

1 tbsp of fresh ginger, peeled and grated.

40g of almonds.

30g of puffed quinoa.

a pinch of salt.
-For The Chocolate Topping-
100g of dark chocolate.
25g of desiccated unsweetened coconut.
---
~ Now I did actually have some puffed quinoa as I have it as a breakfast cereal quite often, BUT if you don't you can either pick it up from a health store or, to be honest, I'm sure Rice Krispies (although probably not  quite as "healthy") would definitely still do the trick! ~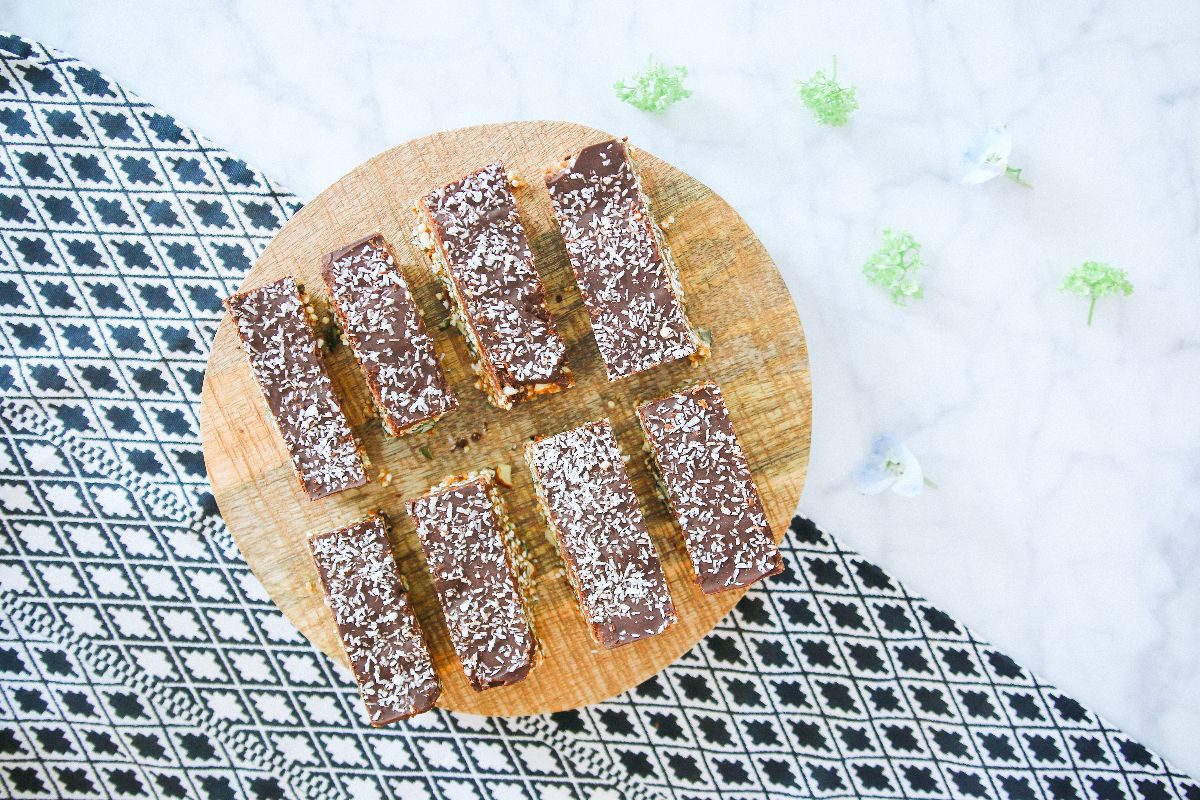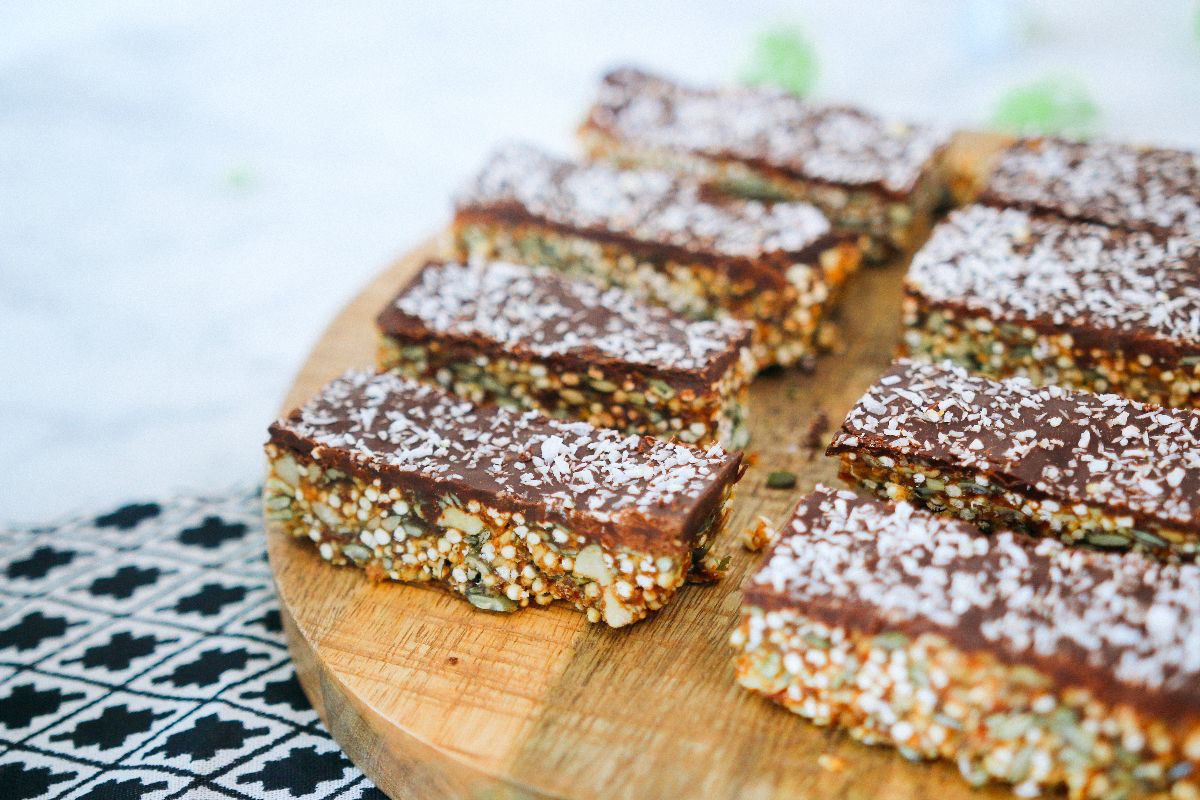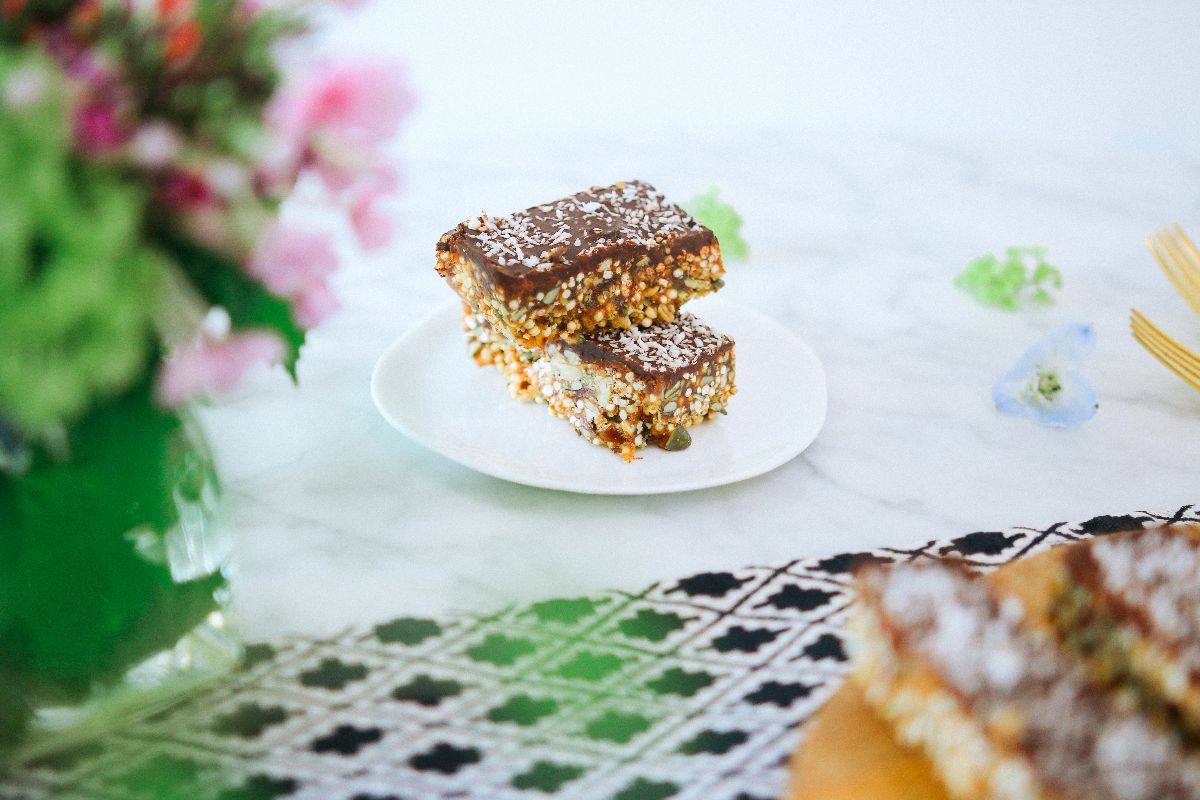 -Let's Do this-
Step one: Grease a 15 x 20 cm baking tin or line it with parchment paper.
Step two: Melt your oil in a medium sized saucepan on a low heat and then mash your dates with a fork and add to the pan alongside the nut butter and ginger. Stir for a couple of minutes and then remove from the heat and set aside.
Step three: Roughly chop your pumpkin seeds and almonds and then add them to the pan along with the puffed quinoa and salt. Stir well until combined!

Step four: Pop your mixture into your baking tin and then using the palm of your hand or the back of a spoon (coated in coconut oil), press the mixture down to create an even bar.
Step five: Place into the freezer whilst you prep the chocolate topping.
Step six: Melt your chocolate in a small bowl over a saucepan filled with boiling water. Be very careful  as this can be v hot – here is a detailed explanation as to how to melt the chocolate step by step.
Step seven: Remove your baking tin from the freezer and gently pour your chocolate over the bar whilst making sure it looks even and smooth.

Step eight: Let the chocolate set slightly and then sprinkle your coconut on top.

Step nine: Pop back into the freezer and allow to set for an hour.
Step ten: Nearly there (!!) Remove from the freezer and cut into bar like shapes – these can be stored in the freezer in an airtight container for a couple of months! YUM!